Scott Walker Refuses To Provide Transcripts Of Conversations With Nonexistent God
News
February 24, 2015 02:00 PM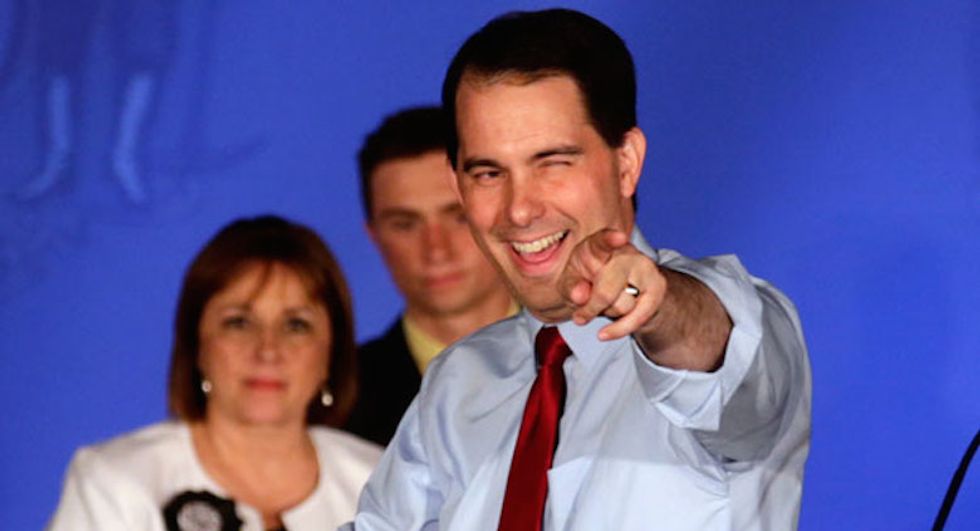 And so it came to pass that the Freedom From Religion Foundation (FFRF) submitted a lulzy public records request to the office of Christianist Wisconsin Governor Scott Walker. What, FFRF asked, was the substance of the Governor's conversations with one Jesus H. Christ, formerly of Nazareth?
---
The Office of the Governor in Wisconsin has no record of communications between Gov. Scott Walker and any deities, according to the office's legal counsel.

While it's on the record that the governor is communicating with higher powers like billionaire and political kingmaker Sheldon Adelson, that's where the paper trail ends.
BA-ZING! We think.
The request was submitted by Edward Susterich, an FFRF member who appears to be contemptuous of both the beliefs of theists and the precious time of one David J. Rabe, the assistant counsel in Walker's office who had to respond to Susterich's letter. The full request — the actual words he typed and then sent to the appropriate government agency — read as follows: "Since your terms as governor, please provide a copy/transcript of all communications with God, the Lord, Christ, Jesus, or any other form of deity." FULL STOP.
The Founding Fathers envisioned a nation of citizen-trolls like Edward Susterich, so Yr Wonket would like to congratulate him on getting an official response. This is how we call our elected officials to account. This is why an earlier generation of reformers passed a public records law in the first place.
A couple online petitions, a clever hashtag or two, and we'll be well on our way to watching Scott Walker win his third term as Governor. Heck, if the progressive left plays its cards just right, letters like the one from Edward Susterich might create a groundswell of contempt from religious believers and give Scott Walker the White House. Won't that be fun, you guys?
[Freedom from Religion Foundation]
Follow Dan on Twitter.