Screw The Polls, Here's How Every Democratic Senate Challenger Is Gonna Win
News
October 23, 2014 10:31 AM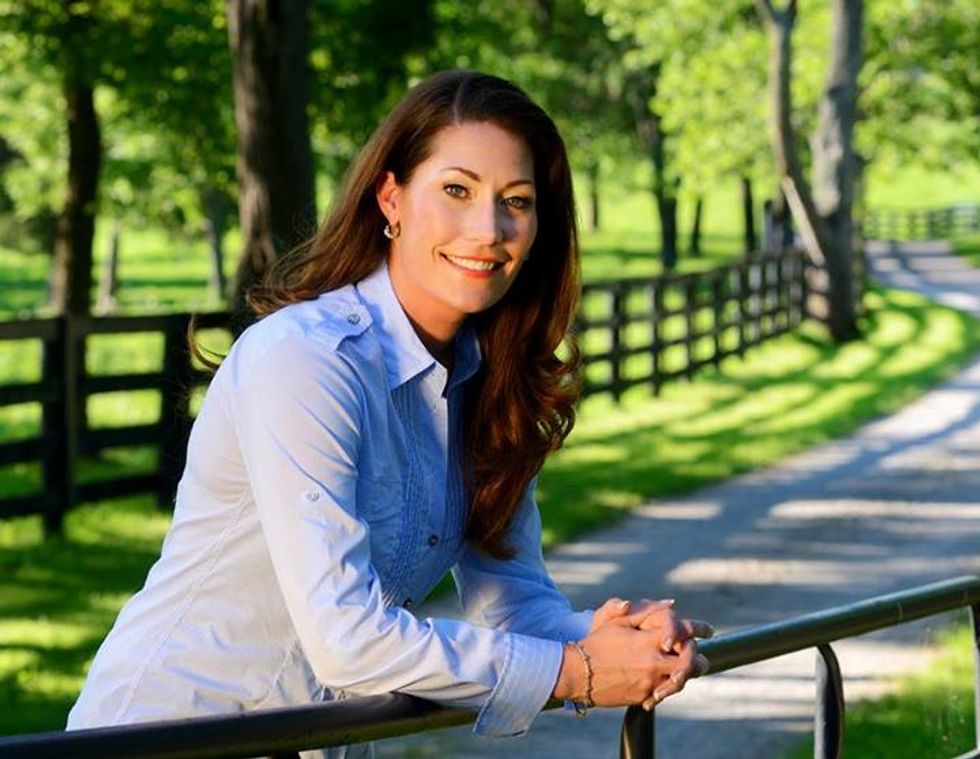 We have told you a bunch of made up reasons why every single endangered incumbent Senate Democratic is actually going to win and Nate Silver can go suck a poll of likely voters. Now let's examine the Dem candidates for open seats and those challenging vulnerable Republican incumbents. Can we use our powers of wishful thinking and nonsense to conjure an alternate reality in which they, too, will all prevail? We can!
---
GEORGIA
Michelle Nunn (D) vs. David Perdue (R); Perdue leads +0.8 (RCP)
Georgia's a good place to start if you're looking for actual good news rather than stupid gibberish. The Real Clear Politics average of polls has Nunn just 0.8% behind Perdue, and even better, all three of the most recent polls give Nunn a small lead. Apparently Georgians didn't take kindly to Perdue saying he spent "most of [his] career" outsourcing to Asia, like he was super proud of it. And now we learn that he's got a cool million or so stashed in a Swiss bank, which you could argue is just God's way of saying "I love you" -- except maybe Georgians won't see it that way.
IOWA
Bruce Braley (D) vs. Joni Ernst (R); Ernst leads +2.5 (RCP)
We're not sure who the real challenger is here, since Ernst is a mere state senator, and Braley is a representative in the United States Congress. Whatever, let's analyze it anyway. For a while it seemed like Iowa voters were responding positively to Ernst's very serious positions on Agenda 21 bicycle tyranny and pig castration, but this race looks to be tightening. While RCP still has this race leaning toward Ernst, they don't include two recent polls that basically show a dead heat. So what's going on? Was it Ernst's mealy-mouthed non-denial denial that she wants to amend the Constitution to ban abortion, which was basically just her pointing out that she is A Woman? And/or maybe people are offended by her views on the welfare state -- that we have "fostered… a generation of people that rely on the government to provide absolutely everything." Nah, that can't be it, because that is JUST A FACT, according to many voters who unaccountably believe that theirs was the last virtuous generation, despite how they are actually the ones who spent the last 30 years fucking up the economy and environment. We'll call this another race that we don't even have to bullshit. Dems have a good shot here.
KANSAS
Greg Orman (I) vs. Pat Roberts (R); Race is tied (RCP)
What even is going on in Kansas? Why are Kansans so mad at Pat Roberts? (He's an "establishment squish" probably, we don't know for real though and damned if we even care.) What happened to Chad Taylor, the Democrat who was running? (Trampled by bison.) Pat Roberts says the independent Greg Orman is a "liberal Democrat," which would be great except he's not. His campaign website says Reagan was one of his childhood heroes, and he featured a quote from Ross Perot in his high school yearbook. Sounds like a cool kid! But don't despair, commies! Orman considered running for Senate in 2008 as a Democrat and endorsed other Dems that year. BUT DID HE VOTE FOR OBAMA? Yes, in 2008. Then in 2012 he voted for Romney, because he has no core beliefs, which makes him the perfect Senate candidate.
KENTUCKY
Alison Lundergan Grimes (D) vs. Mitch McConnell (R); McConnell leads +4.4 (RCP)
Speaking of the opposite of just forthrightly saying whether you voted for Obama, Alison Lundergan Grimes is in some pretty serious trouble in Kentucky. Despite the hype that initially surrounded her candidacy, she's been steadily losing ground on Mitch McConnell -- who looks more like a baby owl than a turtle despite what other Wonkettes might think -- since May. She'll have to pull out some of those famous dirty Democrat tricks to turn things around, unless the Democrats decide to throw even more last-minute money at her. But which one? Let's go with "goodies," the free stuff Democrats give to people in exchange for their votes. For example, adequate health care, consumer protection, and clean air. Federal law prohibits Grimes from literally exchanging swag for votes, but what if she just bought 50,000 iPads with "Courtesy Alison Grimes" engraved on them, and left them lying around in key precincts? That might still be illegal, but when has that ever stopped the Democrats?
SOUTH DAKOTA
Rick Weiland (D) vs. Mike Rounds (R) vs. Larry Pressler (I); Rounds leads +9.8 (RCP)
South Dakota gets two senators, despite having a lower population than the Mall of America on an average Tuesday (probably), and this year's race features three candidates for one open seat. Republican Mike Rounds has a nice lead, but Independent candidate Larry Pressler, who respresented the state in the U.S. Senate as a Republican from the 70s to the 90s, attracts a feisty 22.8% of the vote in RCP's average. Where does that leave the Democrat, Rick Weiland? While the more recent polls have him closing the gap to Rounds, it's probably going to take some good old fashioned Democrat voter fraud to swing this one. Maybe James O'Keefe wants to do a shocking exposé in which he personally demonstrates how easy it is to vote for Rick Weiland 10,000 times? Failing that, maybe the New Black Panthers want to take a ROAD TRIP!
CONCLUSION
What the fuck, we thought we were gonna have to come up with a bunch of Dadaist poetry to explain how Democrats can win these open seats, but they're actually looking pretty good in the real actual world. Except Grimes, of course. She clearly needs to hose the flan and cry seahorse pine athwart the high horn sandwich organ if she's going to stand any chance. Fingers crossed!
Follow Alex on Twitter -- it's not as easy as not following Alex on twitter, but it's still pretty easy.
[RCP / Daily Kos / HuffPo / RCP / HuffPo / Salon / RCP CS Monitor / Orman For Senate / Daily Caller / RCP RCP / Wikipedia]