Sean Spicer Awakens From Beautiful Dream Where Trump Jr. Never Conspired With Russia
Russia
July 17, 2017 05:25 PM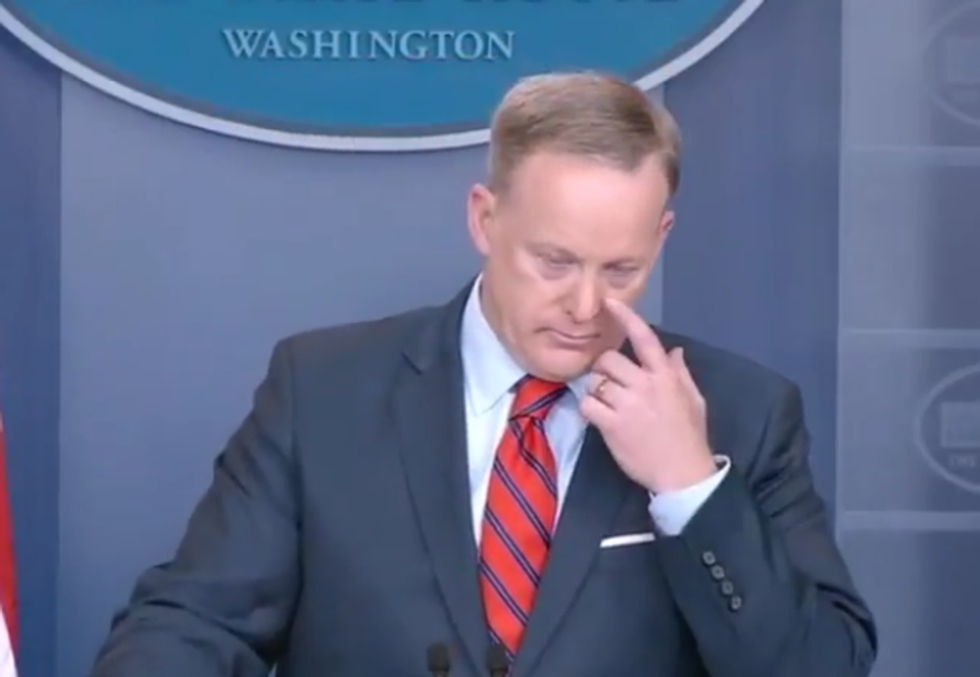 Go to YOU'RE FIRED.
---
Can somebody please run over to the White House real fast and make sure Donald Trump isn't locking Sean Spicer in the basement in the dark 24 hours a day, except for when he's doing his off-camera briefings? Does Trump heave Spicer down into a dungeon and ignore him at all times, except to throw down a brick of cinnamon gum every couple of hours? Because that is the only explanation for what Spicer said during Monday's off-camera briefing, about Trump Junior's Russian Collusion Conspiracy Crime Meeting with the Russians:
During an off-camera briefing with reporters, Spicer claimed that "the president has made it clear through his tweet, and there was nothing as far as we know that would lead anyone to believe that there was anything except for a discussion about adoption," referring to the original reason Trump Jr. gave for meeting with Russian lawyer Natalia Veselnitskaya.
Um.
So.
Did Sean Spicer read Fuckstump Junior's emails, the ones he TWEETED FROM HIS PERSONAL ACCOUNT, where he was all "I LOVE IT!" when presented with the idea of inviting some Russians into his private spaces, to share conspiracy dirt about Hillary Clinton?
Did Sean Spicer watch Fiddledick J. Trump II on Sean Hannity that night, where he admitted how disappointed he was that the foreign Russians promised him the sickest "oppo research" on Hillary, but he (allegedly) didn't get it?
Does Sean Spicer subscribe to Daddy Trump on Twitter?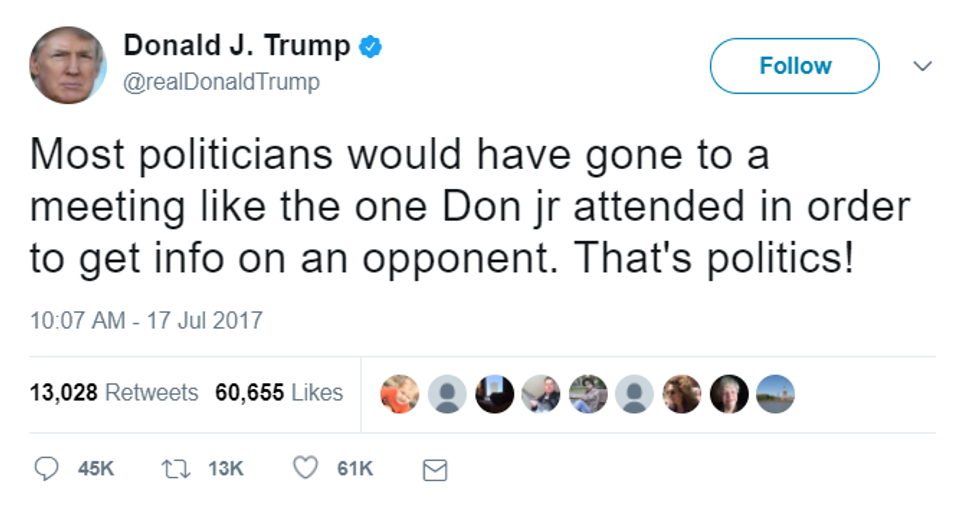 Did Spicer not see Trump in Paris last week, when he said Junior is a very good little boy, and, similar to the tweet pasted above, he said everybody would have taken that Russian conspiracy crime meeting?
Was Sean Spicer dead last week, but has miraculously risen from the dead, like a common Son Of Man?
Did Spicer masturbate himself into a week-long coma and miss all the breaking news? If so, STOP THAT, SEAN SPICER, everything in moderation, bro!
Again, did he not see Junior's emails? BUT HIS EMAILS, SEAN SPICER, BUT HIS EMAILS, BUT HIS EMAILS, BUT HIS EMAILS!
Man, we'd LOL right in Sean Spicer's face if the Trump administration wasn't full of pussies who are scared to face the press and the American people on camera.
Or maybe it's the thing Steve Bannon said, and Spicer's not doing on-camera briefings due to how he's bigger than a common 400 pound New Jersey election hacker these days.
Whatever, here's an open thread, for you to talk to each other, or not talk to each other. Your choice.
Wonkette salaries are funded by readers like you! If you love us, click below to fund our salaries!
Evan Hurst
Evan Hurst is the managing editor of Wonkette, which means he is the boss of you, unless you are Rebecca, who is boss of him. His dog Lula is judging you right now.
Follow him on Twitter RIGHT HERE.