Senate Can't Find Time To Get Anything Done, Goes On Spring Break For Two Weeks
News
March 30, 2015 08:30 AM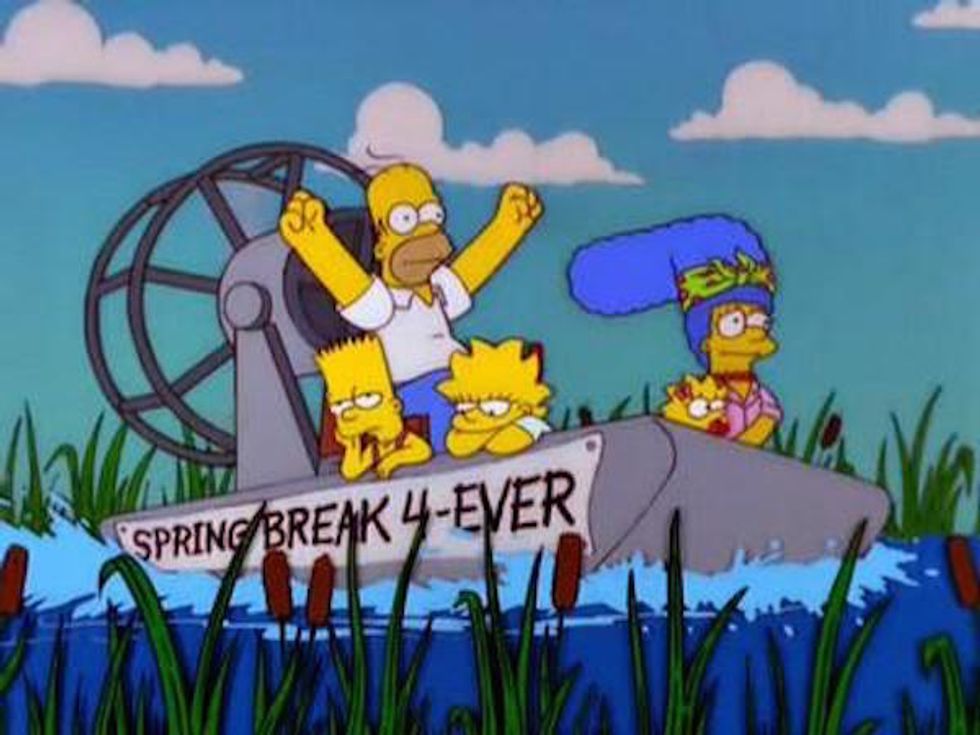 ---

Being a member of Congress really is the sweetest gig. You can suck at your job, get nothing done at all, collect a six-figure salary plus great benefits, and then take a vacation, because hey, you just worked so hard at not getting anything done, you've earned that break. Again:

The Senate went home on Friday for a two-week spring break without confirming Loretta Lynch as attorney general. By the time lawmakers return, it will have been more than five months since President Obama officially tapped Lynch for the job, and more than one month since the Judiciary Committee finally got around to giving her nomination its stamp of approval. In that time, the rationale Republicans have given for the delay has steadily devolved from highly questionable to flat-out nonsensical. Lynch's wait, meanwhile, has gone from unusually long to historically so. [...]

Majority Leader Mitch McConnell promised in January to give Lynch the "courtesy of a vote," and there was little reason to doubt she'd ultimately be approved if given the chance.

But darn the luck, Mitch McConnell just can't seem to find the time in the Senate's busy schedule to hold a vote on Loretta Lynch's confirmation. Sooo busy, you know, writing love notes to Iran to try to humiliate the president. And of course McConnell had to spend all the time researching "the law" to advise governors to ignore the latest Environmental Protection Agency regulations. But that's important business. Not like holding a vote to fill the position of United States attorney general. That can just wait ... and wait ... and wait. Maybe after the senators have gotten some good R&R, they'll come back refreshed and ready to do their job. But don't hold your breath.

The Arkansas legislature does not want California's wine filthying up its. Fine, more for us:

[T]he House advanced to the Senate a bill that could ban California wine from being imported to Arkansas. That represents about 90 percent of all wine sold in Arkansas, a alcohol lobbyist told the AP. The bill is meant to be explicit retribution for a California law, originally approved by voters, that requires all eggs sold in California to come from hens that are able to extend their wings and turn around freely.

Best idea ever or BEST IDEA EVER?

Why just learn your ABCs when you can be empowered by them? A new illustrated children's book from iconic City Lights press, Rad American Women A-Z, offers kids the chance to educate themselves on women's history and the alphabet at the same time.

You can learn -- and teach your kids -- the whole alphabet, feminist style, "from A (for Angela Davis) to Z (Zora Neale Hurston)." For example:

Click this link right here to buy this book for everyone you know (and help out your favorite mommyblog too).

Do you like Bloody Marys?

The first year, it was just—I don't know—a pickle, an olive, a small shrimp, and a celery stalk, of course. [...]

But one day, about two and a half years ago, I stuck a cheeseburger on a toothpick on a Bloody Mary and wrote on a Facebook post: "Am I going too far?" The next thing I knew, I had 100 comments. Everyone loved it. It seemed to me to be so ridiculous, but I got home and I sat down at the table and said to my wife, "Wow, I think we're on to something." [...]

Now there's this big Bloody Mary race. Everyone's doing it now—it's no longer just me. Everyone saw the popularity of everything, from the cheeseburger sliders to all of the kebabs that we put in, to the Bloody Beast and then the Chicken-Fried Beast, where we put a three-, four-, five-pound chicken on it. We can sell five to ten of those a week, or sometimes it can be up to 20 or 25 a week.

And yes, there are pictures.

Self-described "fat, one armed comedian Damienne Merlina" says you don't have to be a jerk to be funny. And she has a great response to -- aw, heck, just watch it:

Nanna's gettin' nude, for charity:

The stars of a charity calendar are in their 80s and 90s, but that didn't stop the men and women from an assisted living facility in Ohio from showing a little skin.

Miss March, who's 88, wears a green top hat and not much else in the calendar from Pleasant Pointe Assisted Living, and the centerfolds are two women in their 90s who seem to be playing poker with strategically placed oversize cards.

Happy Nice Time People watchedFriends again to see how it holds up after all these years:

Watching 10 seasons of Friends makes you realize some things: Ross was a jerk, a minor character had the saddest fate, and no one seemed to own a bra

Even though I was too young to remember Friends in its initial 1994-2004 run, I grew up watching the reruns so I knew the episodes pretty well. At least I thought I did, until I binge watched all ten seasons when the show became available on Netflix.

I finished "The Last One" at 3 am, and when I shut down my laptop and finally went to sleep, I realized that there are a lot of things off about Friends I didn't notice the first time around. And I'm not talking about obvious stuff like how it's impossible that Monica was able to afford that spacious two bedroom apartment in the Village even with her supposed rent control or how it's ironic that Ross and Rachel were billed as the series' top couple when they were only together for two out of the ten seasons. I'm talking about stuff you don't notice until you sit down and watch all 236 episodes all in a row. Buckle up, kids. I'm going to point out some stuff that will blow your mind.

Go click and read the whole thing and have your mind BLOWN.