Senator Mel Martinez Quits Early
News
August 07, 2009 12:27 PM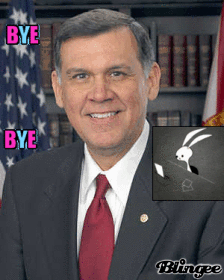 Everybody knew Senator Mel Martinez, the Florida guy who took advantage of what's known as "the Cuban Exemption" in order to become both a Republican and a Hispanic at the same time, would not run for re-election in 2010. But who knew he'd be resigning his seata year early?
---
Just a day after he "chose race over gender" by voting for fellow Latin person Sonia Sotomayor's elevation to the Supreme Court, Martinez threw in the towel. Why? To spend more time with his family, of course:
"My priorities have always been my faith, my family and my country and at this stage in my life, and after nearly 12 years of public service in Florida and Washington, it's time I return to Florida and my family," he wrote in a letter Friday morning to supporters.

"So today I am announcing my decision to step down from public office, effective on a successor taking office to fill out the remainder of my term."
One can only imagine the foul acts of sodomy, sin, and depredation he must be attempting to hide by pulling out the old "family" chestnut.
Anyway, now Governor Charlie Crist will have to appoint a replacement for Senator Martinez. Which presents sort of a dilemma for him, as he himself would like to be senator, but in like a year, not now. Will he just appoint himself and make everybody mad that he prematurely SEIZED THE REINS OF POWER without the approval of The People? Or will he appoint some bench-warmer to keep the seat toasty until next November?
Charlie Crist is not dumb, so we'll go with the second option here. (Plus, toasty seats.)
Sen. Mel Martinez resigns; Gov. Charlie Crist will appointment replacement [St. Petersburg Times]