Sexy Bill Clinton Turns Sexy 69 Haw Haw Get It SEX JOKES!
News
August 19, 2015 04:30 PM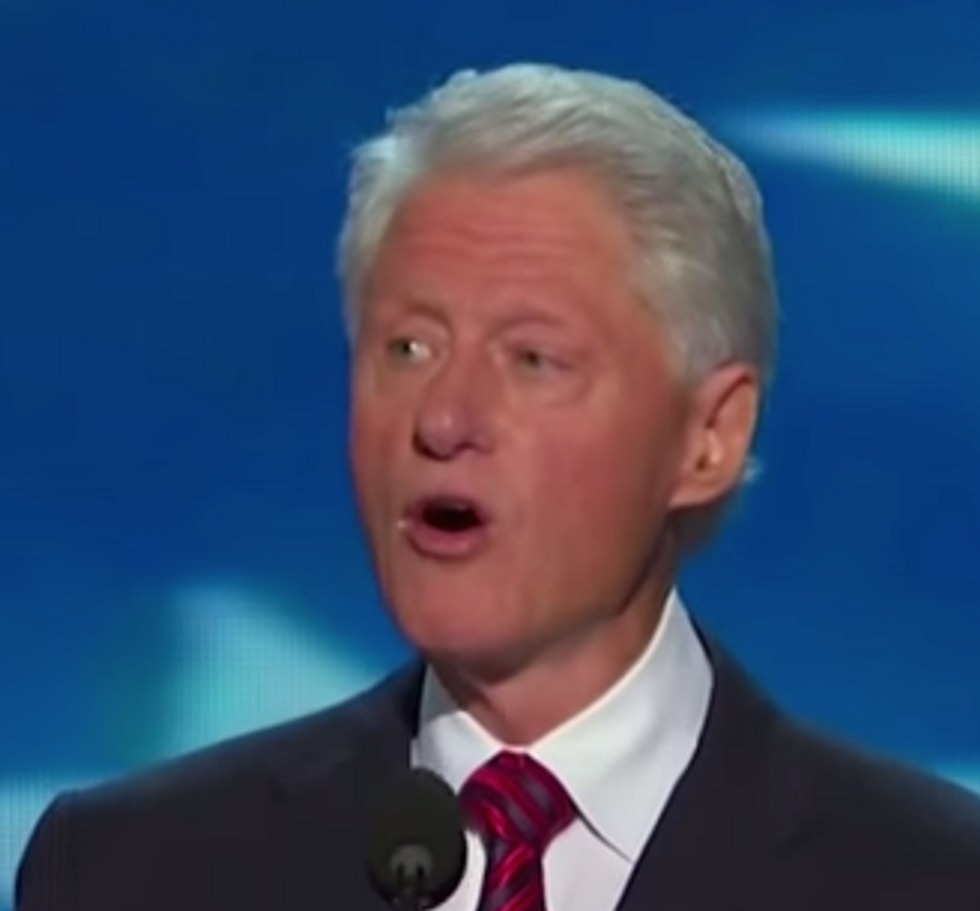 Insert your SEX JOKES
---
William Jefferson Clinton, aka Bill, aka Big Dawg, aka The Clenis, aka the future first man-lady of America, was born on a day that was exactly 69 years ago from this day, Aug. 19, and according to a little-known codicil in the corporate charter of Yr Wonkette -- which we do not have, what are we, a frickin' Fortune 500 company? STFU and just go with it -- we are contractually, legally, and biblically obligated to makes some sexy sex jokes, about sex, for your sextainment.
Because 69 is not just a number, it is also a code word double entendre urban thesaurus slang street term for doing sex with your mouth hole to another person's sex part, while they are doing sex to your sex part, with their mouth hole, like you are forming a six and a nine, with your bodies, GET IT? GET IT!?! Jokes, bitches!
This is especially high-brow comedic material right here, the Bill Clinton turns SIXTY-NINE!!!! thing, because of how he is also quite infamous for this one time that he got fellatioed, on his penis, by a lady who was not his lawfully wedded partner in various crimegates. So you can see how making references to Bill Clinton and oral sexual relations, on his 69th birthday, is especially funny, LOL and LIRL and whatever the too-busy-to-write-it-out acronym for giggling so hard out loud in real life is.
Some of you like Bill Clinton because how he makes you swoon in your down-theres when he plays the saxophone, which is not a sex euphemism, it is a real thing that he does with his mouth, to a musical instrument. (That is also not a sex euphemism. OR IS IT?)
Some of you hate Bill Clinton because you are Maureen Dowd.
Some of you are like "I am somewhere in the middle of all that, sometimes I like him and sometimes not." And fuck you people for trying to be nuanced and complicated, don't you know you are only allowed to feel one feeling about a person?
Anyway, we would offer to do all the penis cunnilingus to the former president's man parts, since that is what you are supposed to do when he turns 69, apparently, but we already gave him a hummer -- with our words -- a few weeks ago, in gratitude for the apparent epic trolling he did for us, by fondling Donald Trump's YOOOGE classy balls in just the right way, oh yeah baby, riiiiiight there, to make him run for president.
[contextly_sidebar id="lxrEbYei4fJewfdBsJpsJvJVDXtpXUAS"]
So instead, we'll just be in our bunk, watching this timeless classic of Bill Clinton speeching at the 2012 Democratic National Convention, when he made us forget all the reasons we sometimes do not like him, and instead made us remember why we are proud to be on the Blue Team, and also made us need to change our wet panties, if you know what we mean. (WE MEAN SEX STUFF.)
Happy birthday, Mr. President. Enjoy blowing out your candles.