Sexy Fashion God Donald Trump Does Not Care For Barack Obama's Super Bowl Outfit
News
February 03, 2014 05:11 PM
When you think "male fashion plate," who comes to mind? Tim Gunn? David Beckham? Haha of course not. You think Donald Trump because shiny ties and dead-squirrel-on-your-head hair is where it is AT. Mr. Blackwell Trump puts Obama on his worst-dressed list this year for failing to rock a signature sheentastic Trump-style tie during his Fox News interview with Bill O'Reilly.
---
"I definitely think he should have worn a tie," Trump complained to the hosts of Fox & Friends on Monday. "You know, he's the president of the United States, let him put on a tie. Bill was wearing a tie, not that he has to follow Bill. But Bill was wearing a tie. He's the president. It's a formal position, I think he should wear a tie." [...]

"It's sloppy, it's not appropriate, it's not presidential," Trump opined. "He's the president of the United States, let him put on a tie."
Also, too, why did he not kneel at the feet of O'Reilly and kiss his ring and apologize for personally ordering the IRS to murder everyone in Benghazi, hmmmm? Oh, and in case you were wondering if Trump would pass up an opportunity to pimp his own shitty clothing line, you did not count on the extreme sycophancy of Fox's Steve Doocy.
Mr. Trump, you make neckties," co-host Steve Doocy pointed out. "You should send the president a couple of them."

"You know, that's a great idea," the billionaire mogul replied. "You just gave me a great idea. Right out or Macy's, I'll send them immediately. But I do mean that and that has nothing to do with my ties. I mean, that has to do with the fact that he's the president, and in my opinion, that's what he should be doing."

"We could have given him a nice tie, there's no question about it."
We're sure that Bamz simply cannot wait to receive his prize pack of crappy ties from Trump. While you're at it, Donald, why not send him one of your shirts that makes everyone look like a fat cheap low-rung Jersey mobster?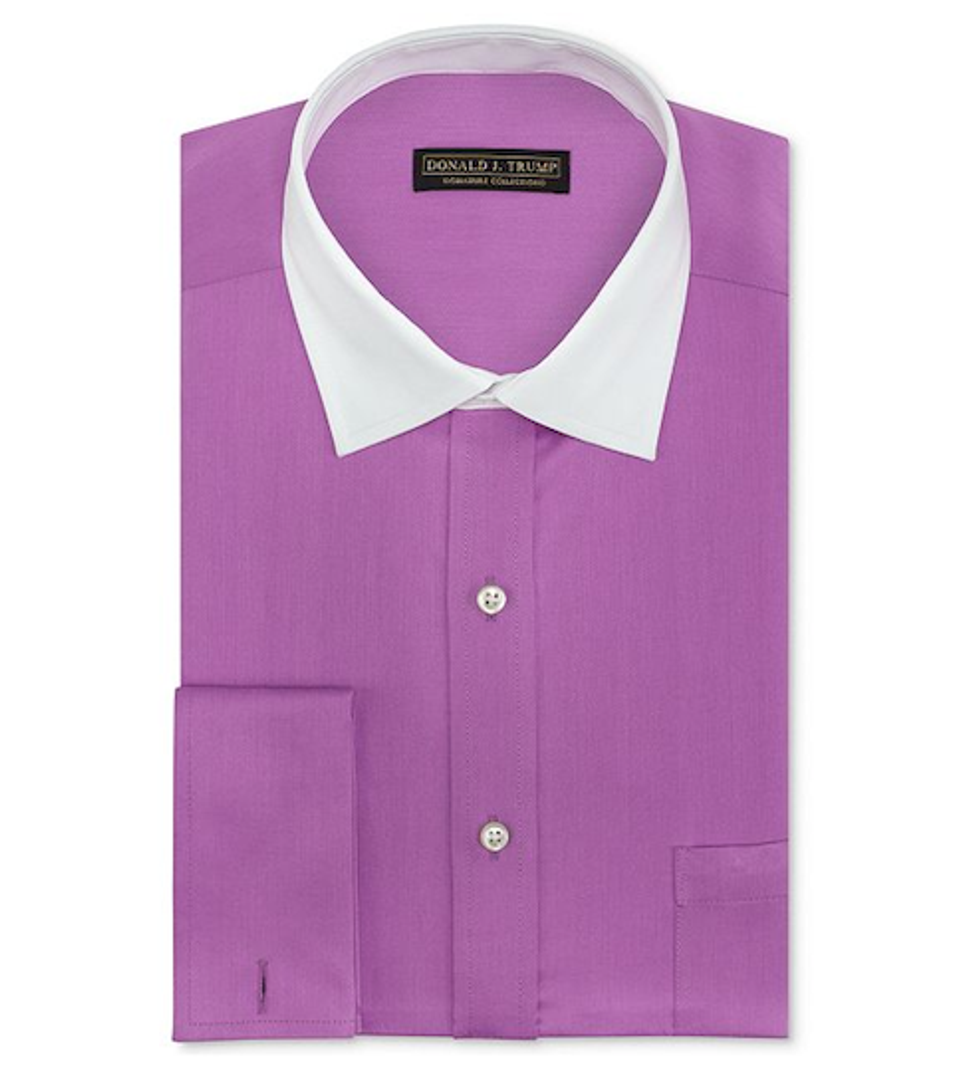 We are sure the White House staff are on pins and needles awaiting the delivery of clothing from Donald Trump. If Trump is feeling especially gracious, he could also throw in a case of his Trump water and some brain-blindingly tacky shiny gold-wrapped Trump chocolates. Who wouldn't want that? The complete Trump experience, coming soon to a president near you.