Slutty 13-year-old Whore Shouldn't Have Gotten Herself Raped If She Didn't Want To Be Called A Slutty Whore
News
June 12, 2013 09:55 AM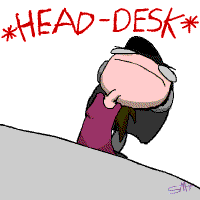 You know what is all kinds of fucked up and wrong and evil and worse than Hitler? No, not Obamacare. Or birth control. Or Mitch McConnell's officegetting bugged. Sit down, Republicans, we said not Obamacare.
---
No, the correct answer is: harassing a 13-year-old girl who was raped and impregnated by her rapist. Like so:
"I can't walk out the door without someone calling me a whore or slut," the girl said. "I used to have a lot of friends, or people I thought were my friends, but as soon as this happened I just isolated myself."

The repeated vandalism incidents at the family's home — including the words "whore" and "slut" scrawled on the garage doors — were reported to police. But [her mother] said no charges were filed because there were no witnesses to the acts.

Her daughter also has been the target of mean-spirited rumors and speculation that her pregnancy is the result of promiscuous behavior.
Right. Because nothing says promiscuous like getting raped. (Also, in what insane version of reality would it have been Just Peachy to treat a 13 year old this way even if her pregnancy had NOT been the result of rape? Was the town's pillory out for repairs?)
And no, she was not asking for it or wearing Rape Me Mascara or swinging her 13-year-old hips in some ambivalent way that might have suggested that maybe she wanted to be raped. In fact, she was pretty goddamned clear about being opposed to that whole being-raped thing.
The victim said he pushed her to have sex. Hoping to dissuade him, she told the boy she was on her period. But that didn't work. He kept pushing her, physically overpowering the 95-pound girl.

"I was telling him 'no,' 'no,' " she said, "but he wouldn't stop."
Well, if she wanted him to stop, maybe she should have said no, no, no. Seriously, everybody knows that when a girl only says "no" twice, she really means, Yes, please rape the shit out of me and knock me up with a baby. Duh, right?
But at least justice has been served, and the rapist is behind bars where he belongs because this is America, and that's how our justice system works, and while his decades-long incarceration can't undo the lifelong damage his violence has wrought upon this child, this 95-pound child, fer chrrisake, at least he will never harm another girl again.
You totally know where this is going, don't you?
The prosecutor said he will recommend the perpetrator be sentenced to the Indiana Department of Corrections, but [the girl's mother] said she fears he might only get probation. Beyond that, she's upset that he's been free since he was charged in January — and even after being convicted on three child molesting charges in May.
Uh, yeah. So on the one hand we have a serial rapist (oh, sorry, molester) who's strutting around town, free as a bird -- a bird that rapes children -- and on the other hand, we have a pregnant barely-teenager who gets called names and whose house gets vandalized because hey, her rapist is just a kid, only 17 after all, and while his victim should have known better than to get herself victimized, that whore, the poor 17-year-old rapist is just a juvenile so he certainly shouldn't be rotting in prison just yet. (Actually, yes. Yes he so fucking should. Now. Yesterday. Forever.)
Of course, that poor juvenile rapist could have been tried as an adult:
Legal experts say prosecutors and judges have significant leeway in dealing with juvenile offenders. That includes charging offenders as adults where their actions are especially egregious or they are close to 18.

Madison County Prosecutor Rodney Cummings, whose office is handling the case, said the confidential nature of juvenile proceedings prohibit him from talking about details of the case, including why the 17-year-old was not charged as an adult.
Aw, shucks, talk about dumb luck. Too bad they can't explain why this bastard was tried as a juvenile instead of an adult, but since he was tried as a juvenile instead of an adult, they can't explain it. Funny that. Maybe raping a 13-year-old girl, plus "two earlier cases involving a gun and a beating" is not considered egregious enough in Elwood, Indiana, which seems like a real nice place to live -- if you like raping little girls. If you are a little girl who's been raped and impregnated by said rapist, then maybe not so much.
[Indy Star via Think Progress]