Some South Carolina GOP Faction CENSURES Lindsey Graham
News
November 10, 2009 05:44 PM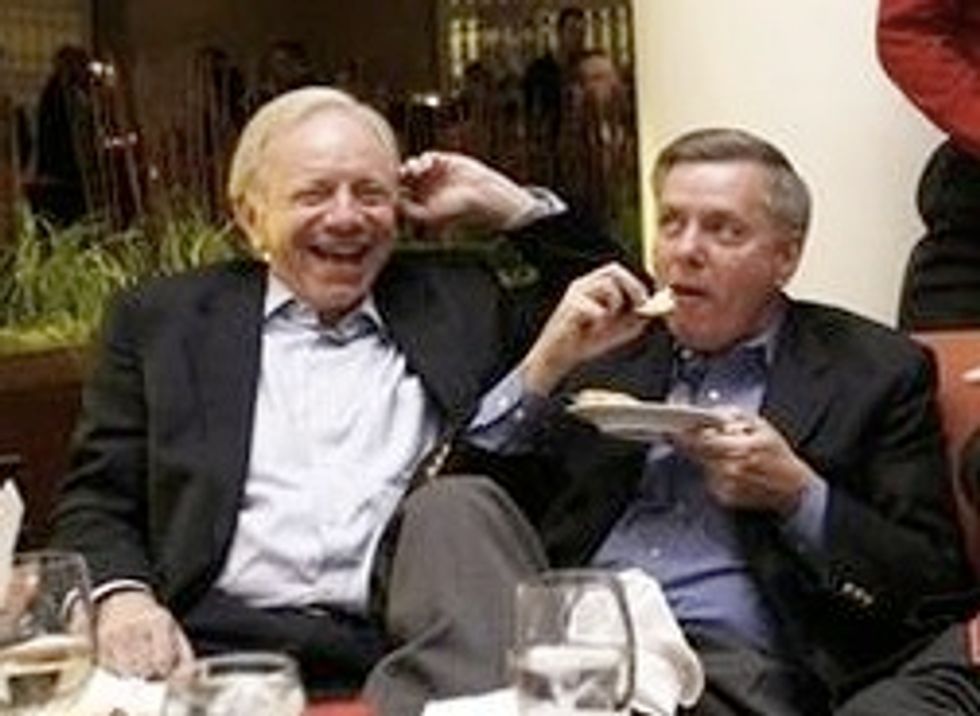 Beloved South Carolina Sen. Lindsey Graham is gay for three things: Joe Lieberman, John McCain, and acting like a responsible adult once every year or so, to no avail. It is for Lindsey Graham's latest bout with his third gayness that the Charleston County GOP has nowcensured him, which is the political term for "doing nothing of any value."
---
The Charleston County Republican Party's executive committee took the unusual step Monday night of censuring U.S. Sen. Lindsey Graham, R-S.C. because of several positions he has taken that clash with the GOP party line.

[...]

The resolution mentions Graham's cooperation with U.S. Sen. John Kerry, D-Mass., on energy legislation to his support for the $700 billion Troubled Assett Relief Program to his calling some opponents "bigots" when they opposed his immigration stance.
Right, well, they'd already gotten over his TARP support and his famous GRAHAMNESTY episode in 2007, so this is really about the fact that he recently co-wrote one column with John Kerry in the Washington Post a few weeks ago arguing that an energy bill might be good. CENSURE HIM!
The wingnuts, if rational, would realize that if the GOP offered up 15 Senators to vote for things like health care reform or energy reform, in exchange for certain demands, Barack Obama and Rahm Emanuel would be more than happy to acquiesce, and Republicans would be able to weed the bills of many of the things they find so scary that are now more likely to pass, without their participation.
But negotiation es tyranny! Tyranny es no no, freedom, etc.
Charleston GOP censures Sen. Graham [Charleston Post and Courier]