Sorry We Showed Up So Late To Reason's Party!
News
July 18, 2008 03:38 PM
We sent our Liz Glover and Jim Newell to the Reason happy hour/cocktail party that the Reason staff has every month to celebrate putting out their monthly issue. And then we waited for the funny report, and the fun video, but it never showed up, so we will just run this transcript that seems to cover what did or didn't happen. It's the "new journalism."
---
Jim N.
so last night Liz and i went to the Reason Happy Hour and it was pretty much a horrible failure, because we were late and Matt Welch had left and couldn't give me dirt on you, for blackmail. but...
Jim N.
i was talking to ol' dave weigel and this huge 300 pound guy in a suit and baseball hat, a mouth breather, comes over and starts talking to dave...
Ken L.
drew carey?
Jim N.
and then weigel says, obviously struggling with how to introduce me, "jim, this is... someone who works with ron paul"
Ken L.
nobody can give you anything for blackmail. i've posted every "bad" thing I've ever done, on the internet, and half of it's made up.
Ken L.
hahahah
Ken L.
weigel's boyfriend?
Jul 17
5:25 PM
Jim N.
and i was scared he would eat me if i said anything more, and ran for alcohol
Jul 17
5:25 PM
Jim N.
the end.
Ken L.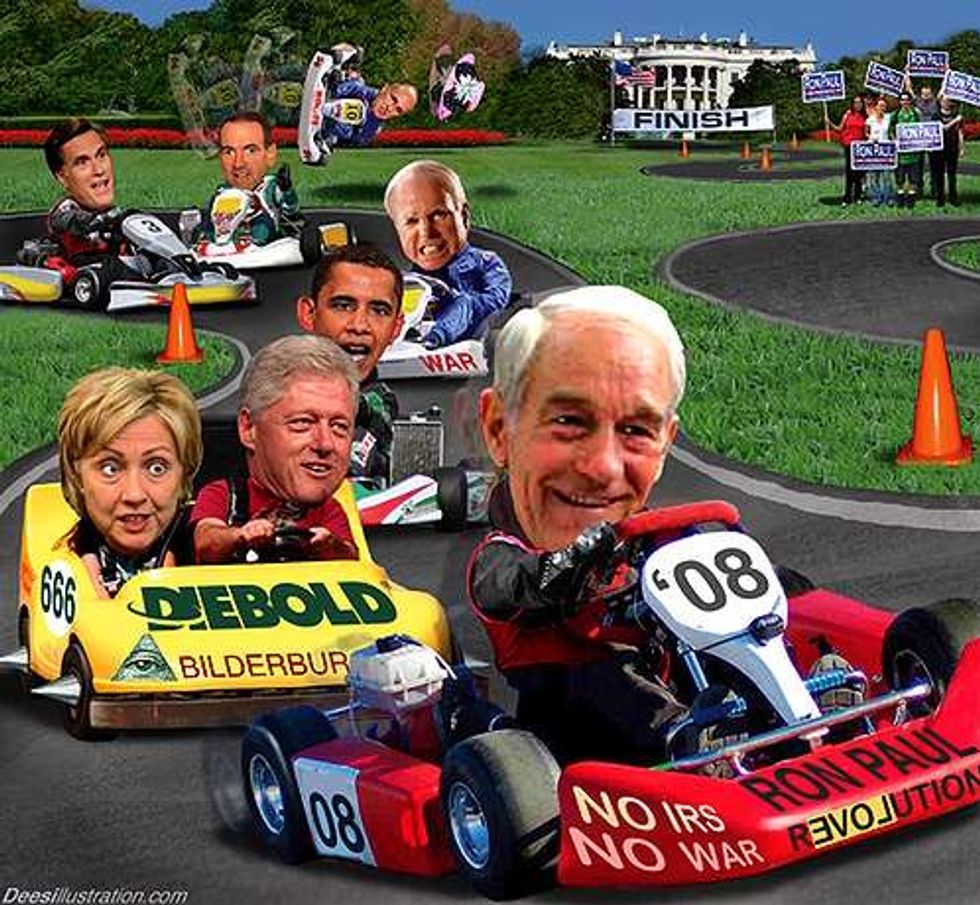 Jim N.
there's nothing more depressing than hearing libertarians, even the non-fringe ones, discuss the election
Jim N.
there is just nothing going for them in it
Jim N.
big government conservative vs. big government liberal
Jim N.
so they bitch and bitch and bitch
Ken L.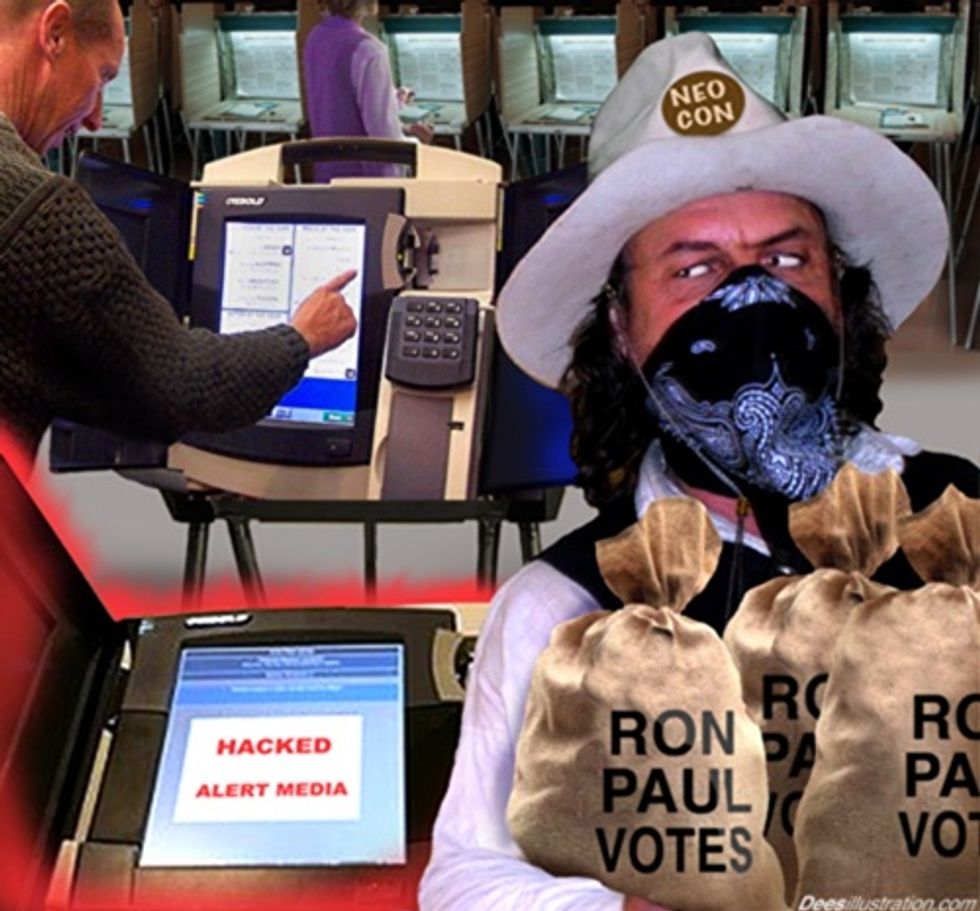 Ken L.
but there was NEVER anything for libertarians in a presidential election
Jim N.
true, but it seems clearer now than ever
Ken L.
i mean, i guess 1980, but there were only seven libertarians then.
Ken L.
was there anybody interesting at the reason party or did you get there so late you wouldn't know?
Jim N.
it seems that the republican party is having to openly abandon any pretense toward cutting government... it doesn't work at all, ever
Jim N.
no, no one interesting
Ken L.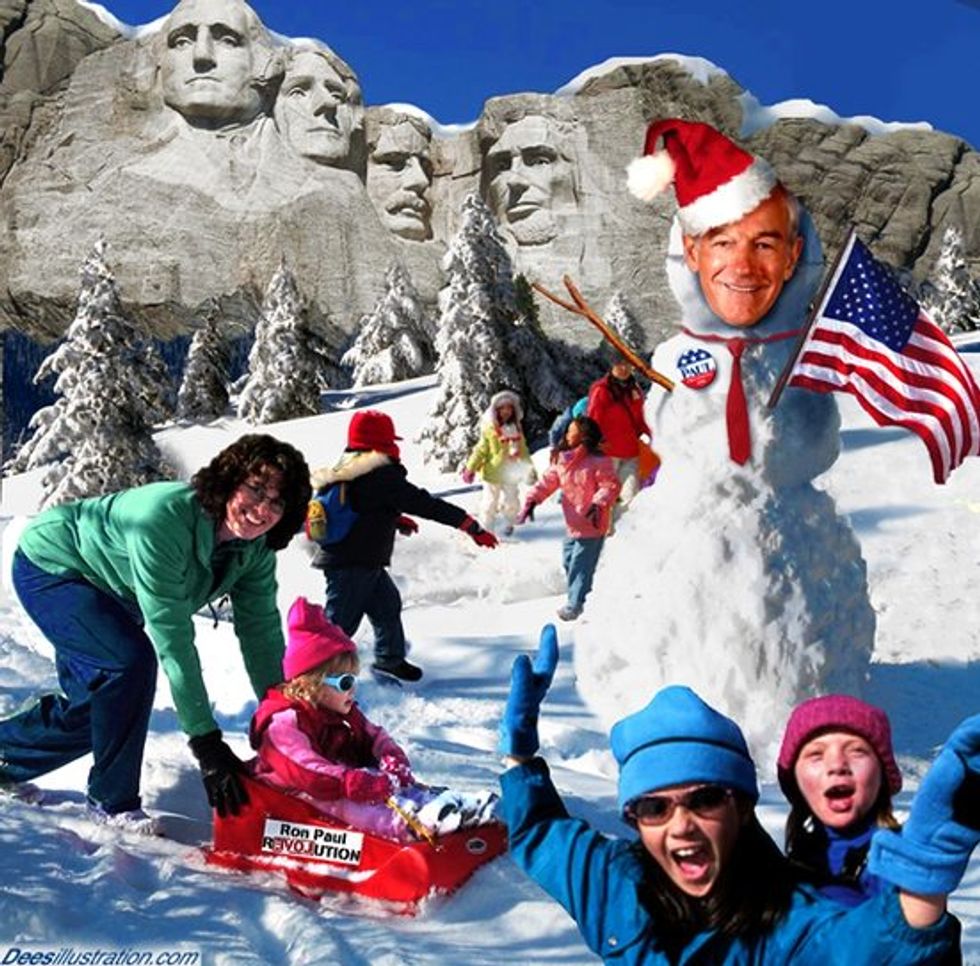 Jim N.
we talked to gillespie for like 5 seconds, because he was for some reason not wanting to talk to us
Ken L.
hates you?
Jim N.
it was strange! he sent me an e-mail a couple months ago saying that he really liked my stuff and hoped i'd show up for some of their parties. so i finally go to one, and re-introduce myself, and he exchanges pleasantries and goes away pretty quickly.
Jul 17
5:30 PM
Jim N.
otherwise i just met some fat kid who writes for the [REDACTED], and i hope i never have to talk to him again
Ken L.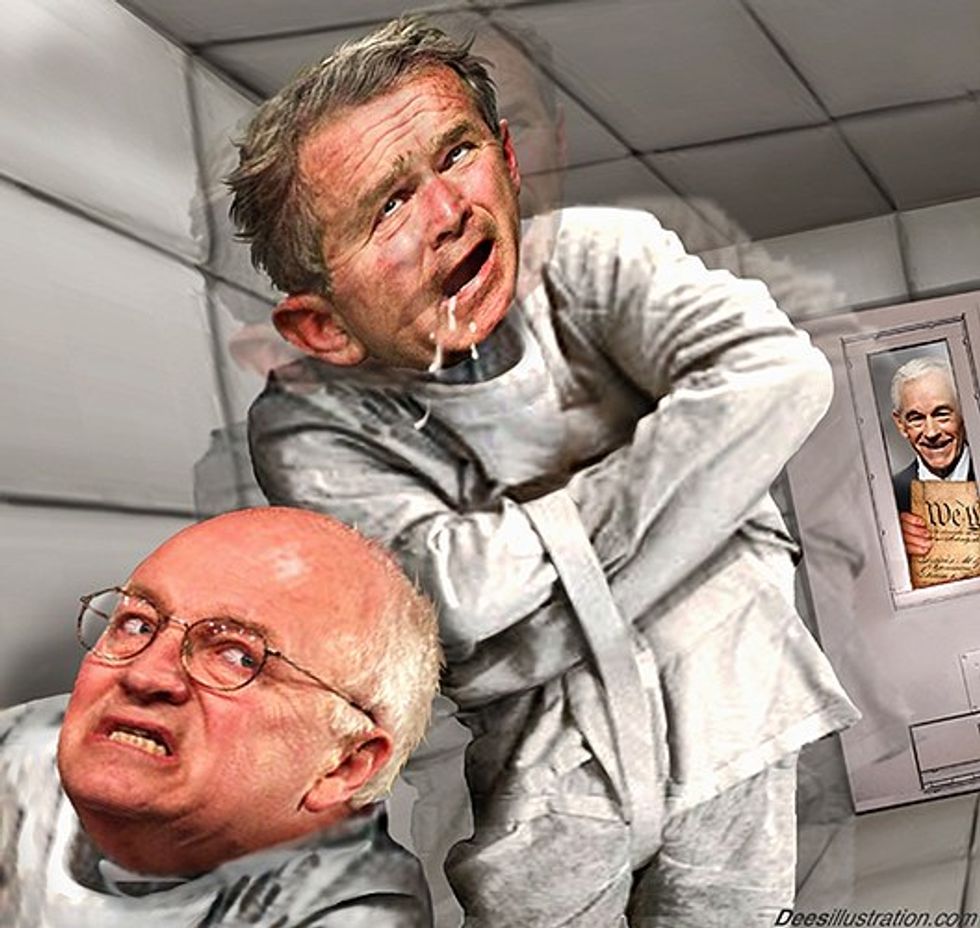 Ken L.
gillespie probably wanted to talk to sexy libertarian womens rather than you.
Ken L.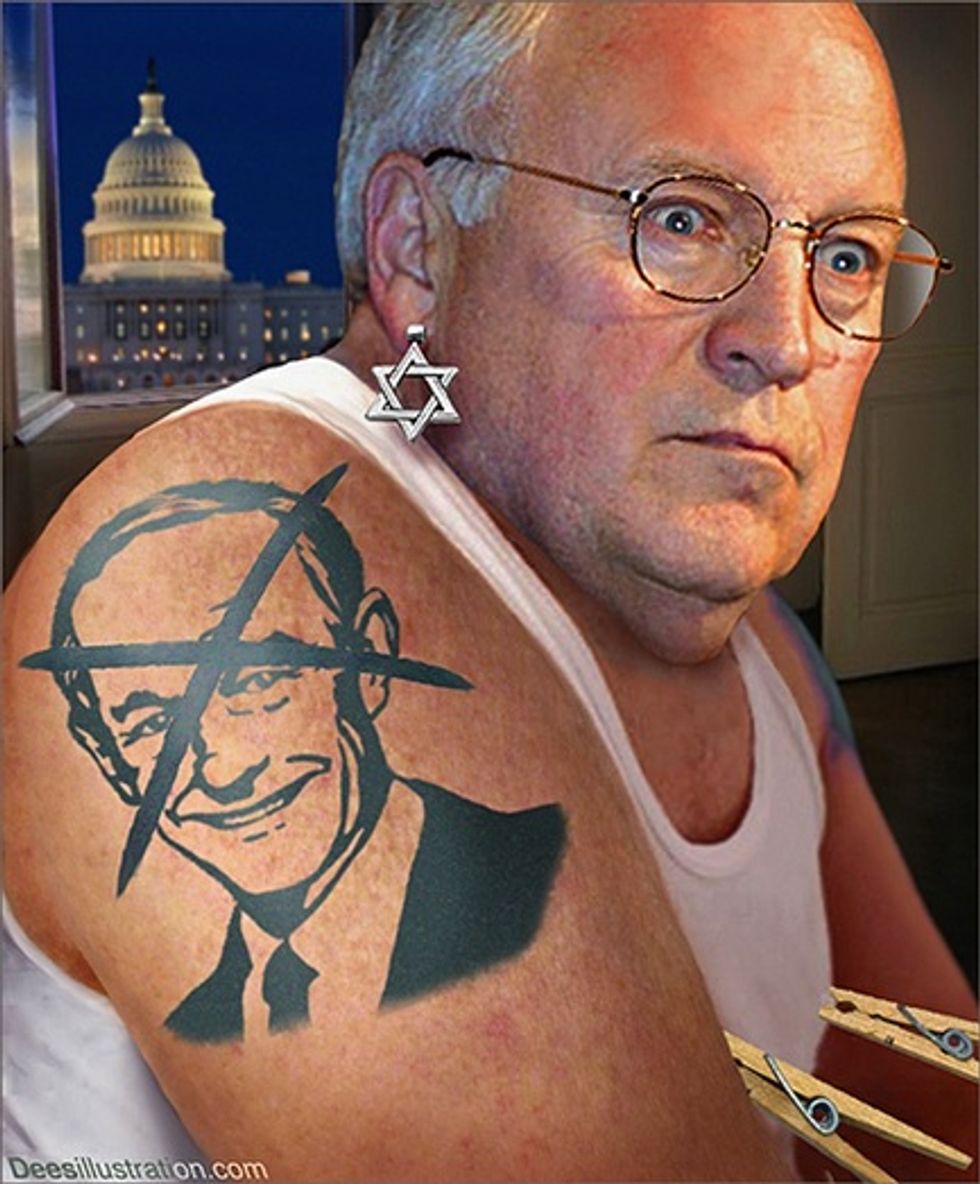 Jim N.
he was definitely doing that. he had on like a hawaiian shirt that was black and silver
Ken L.
yeah he's terrible
Ken L.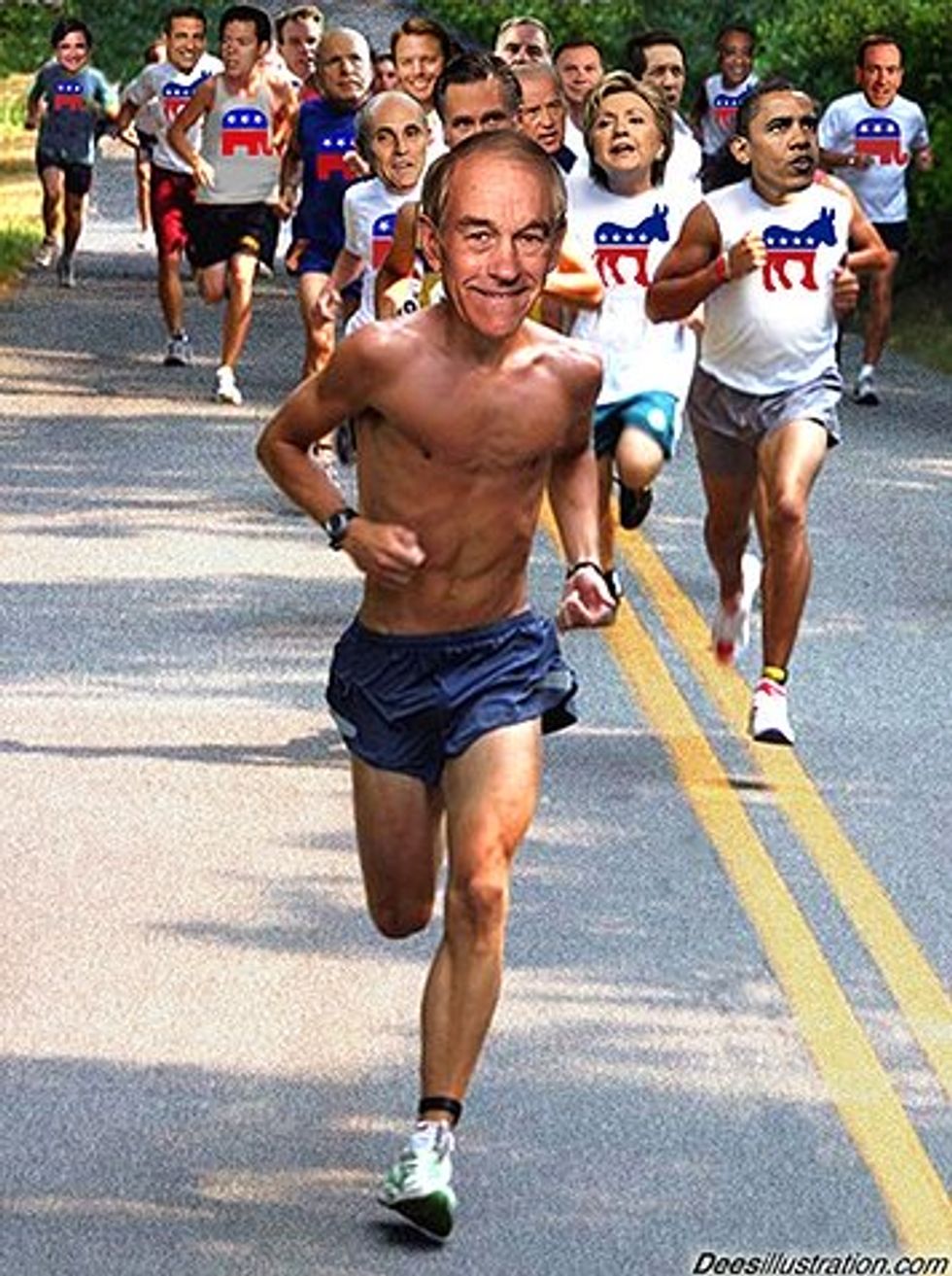 Jul 17
5:35 PM
Ken L.
you KNOW you love these arts!
Jim N.
i made them
Ken L.
i know that
Ken L.
so, convention:
Jim N.
and then haxxxored them into yr internet