St. Louis Rams Hurt Cops' Feelings By Reminding Them Ferguson Happened
News
December 01, 2014 01:55 PM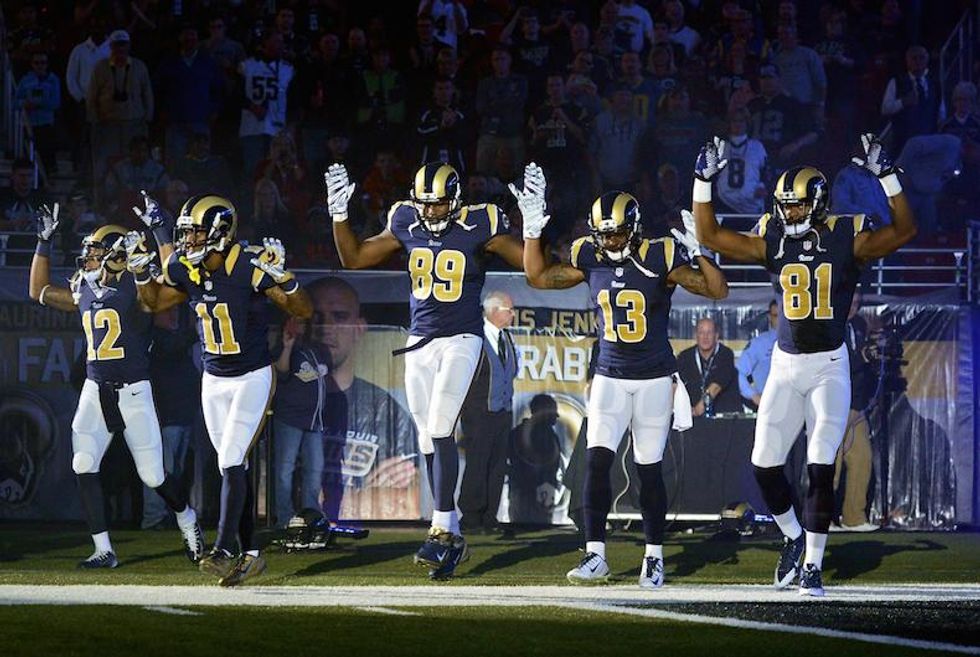 Five members of the St. Louis Rams entered the field Sunday while performing a "hands up, don't shoot" pose. That was enough to make outgoing Missouri State Rep. and St. Louis Police Officers Association business officer Jeff Roorda publish this totally measured and reasonable reaction.
---
The St. Louis Police Officers Association is profoundly disappointed with the members of the St. Louis Rams football team who chose to ignore the mountains of evidence released from the St. Louis County Grand Jury this week and engage in a display that police officers around the nation found tasteless, offensive and inflammatory. [...]

Roorda warned, "I know that there are those that will say that these players are simply exercising their First Amendment rights. Well I've got news for people who think that way, cops have first amendment rights too, and we plan to exercise ours. I'd remind the NFL and their players that it is not the violent thugs burning down buildings that buy their advertiser's products. It's cops and the good people of St. Louis and other NFL towns that do."
OH HO HO, Jeff Roorda will tell you how the First Amendment operates, put that in your pipe 'n smoke it, etc. Also, regarding all the hippity-hop thugs and how they're not buying things, Roorda is probably right: Lord knows no poor black person has ever bought a Gatorade, or a pizza, or batteries, or McDonald's. The very thought is beyond the proverbial pale.
Just in case you were wondering, Roorda is a Democrat, so that's fun. Jeff Roorda sucks, but we already knew that on account of his pre-Ferguson efforts to hide the identities of cops who shoot people. His full statement is here, and while it's chock full of dog whistles, it also contains some of the worst writing we've ever seen. Let us now laugh at what a shitty writer Jeff Roorda is, because it's really hard to laugh about racism among Missouri cops right now. This run-on sentence in particular deserves some kind of award:
Our officers have been working 12 hour shifts for over a week, they had days off including Thanksgiving cancelled so that they could defend this community from those on the streets that perpetuate this myth that Michael Brown was executed by a brother police officer and then, as the players and their fans sit safely in their dome under the watchful protection of hundreds of St. Louis's finest, they take to the turf to call a now-exonerated officer a murderer, that is way out-of-bounds, to put it in football parlance.
Do you see what Jeff Roorda did there, with the sportsball thing? Because out-of-bounds is a thing in football, and it is also a thing people say! Check yr petards, liberals, you done been hoisted from 'em.
Hey, here's more terrible writing!
Somebody needs to throw a flag on this play.
Stabs self in thigh with dull butter knife.
We hate to burst Jeff Roorda's bubble (mostly because we're afraid that a bunch of race-war slash fic is going to come spilling out) but the Rams players weren't doing what Roorda thought they were doing. Imagine that! A white St. Louis-area cop assigning erroneous motives to the actions of black men, who'da thunk?
Wide receiver Stedman Bailey said he and his teammates decided to make the gesture shortly before the game, and intended it to be something positive.

"Violence should stop. There's a lot of violence going on here in St. Louis. We definitely hear about it all, and we just want it to stop," Bailey told reporters after the game.

[...] wide receiver Kenny Britt took issue with the notion that Rams players were choosing sides in a heated community issue.

"We are here making sure something positive comes out of it," Britt said. "I'm not here for the police. I'm here for a great cause that could come out of this if people come together."
The NFL has said it will not discipline the five Rams players, which makes sense, because it's not like they were smoking weed or whatever.
Also, the Rams beat the Raiders 52-0 yesterday. Tough to argue with on-field results, Rep. Roorda.
Follow Dan on Twitter.