Steve Bannon Sorry For Biting Off Own Cock While Sucking It, Won't Make THAT Mistake Again
News
January 08, 2018 11:50 AM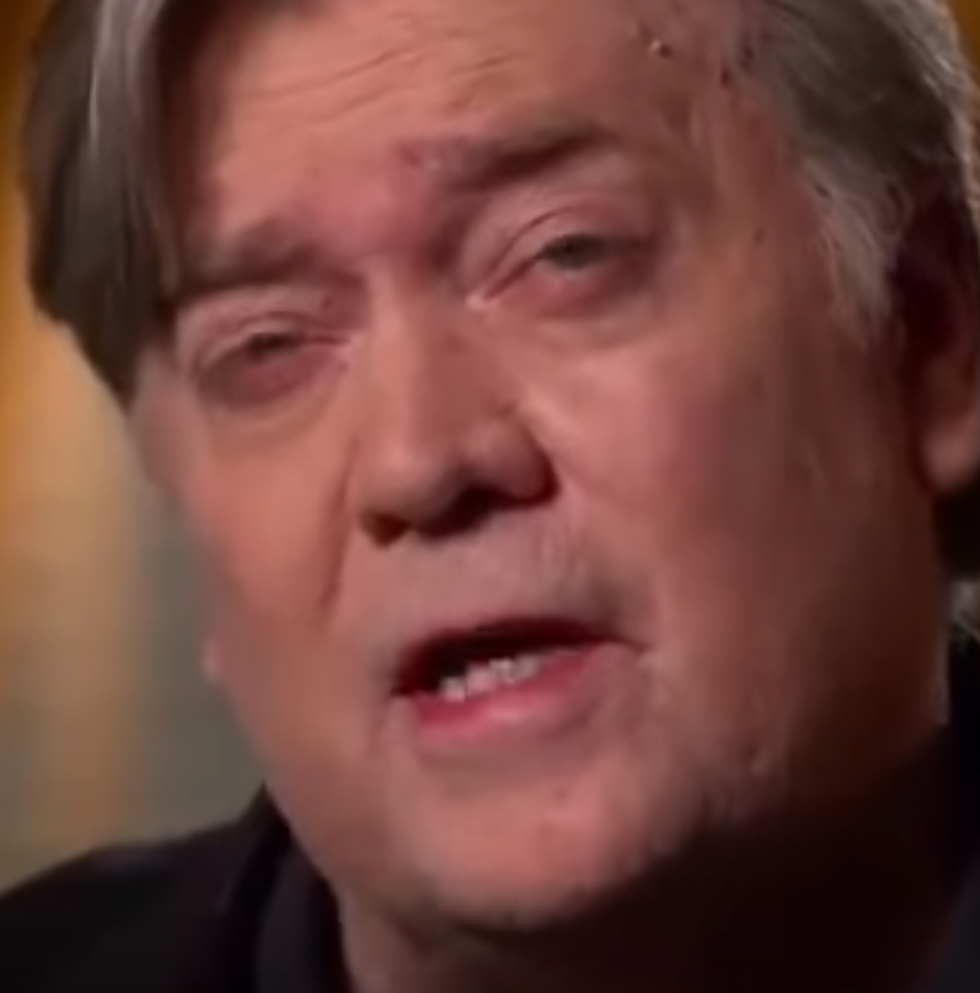 How can Trump say no to this face?
---
Steve Bannon is sorry. Sort of.
Steve Bannon is sorry he gin-farted into Michael Wolff's ears that Don Trump Jr. is a traitor and Ivanka is a dumb fuck. But he's not using the word "sorry."
Steve Bannon is sorry he hurted the feelings of Donald Trump The Stable Genius, who is stable and also a genius, like his former BFF Unfuckable Stephen Miller told Jake Tapper he is.
Steve Bannon is sorry he accidentally bit off his own cock while he was sucking it, which has led his sugar daddy and his sugar mommy Sheldon Adelson and Rebekah Mercer to pull their financial support, and he is sorry the board of Breitbart is holding very important meetings about whether or not Steve Bannon should get to keep his job as a blogger.
Steve Bannon is sorry he didn't say this about Don Jr.:
"Donald Trump, Jr. is both a patriot and a good man. He has been relentless in his advocacy for his father and the agenda that has helped turn our country around."
Steve Bannon is sorry he forgot to suck Donald Trump's cock while he was sucking his own cock:
"President Trump was the only candidate that could have taken on and defeated the Clinton apparatus. I am the only person to date to conduct a global effort to preach the message of Trump and Trumpism; and remain ready to stand in the breach for this president's efforts to make America great again."
When Steve Bannon said Don Jr. did treason with those Russians in Trump Tower, he was actually talking about naval ships and commie bastards and Hillary's uranium and he is sorry you are stupid and didn't understand his obvious point:
"My comments about the meeting with Russian nationals came from my life experiences as a Naval officer stationed aboard a destroyer whose main mission was to hunt Soviet submarines to my time at the Pentagon during the Reagan years when our focus was the defeat of 'the evil empire' and to making films about Reagan's war against the Soviets and Hillary Clinton's involvement in selling uranium to them."
Steve Bannon is sorry he wrote that terrible sentence probably, and also sorry he wasn't more clear about how, when he said Donald Trump Jr. is a traitor, he obviously meant PAUL MANAFORT is a traitor:
"My comments were aimed at Paul Manafort, a seasoned campaign professional with experience and knowledge of how the Russians operate. He should have known they are duplicitous, cunning and not our friends. To reiterate, those comments were not aimed at Don Jr."
Steve Bannon is sorry it took him literal days after his comments in Michael Wolff's book came out to say #SorryNotSorry.
Steve Bannon is REALLY sorry that this is all "too little, too late" for salvaging his relationship with Trump, according to Bloomberg and the Washington Post.
Steve Bannon is REAL SORRY he's having to say dumb apologies like this, for completely self-serving reasons:
"Bannon's apology had nothing to do with repairing the relationship with Trump," said Christopher Ruddy, chief executive of Newsmax and a Trump confidante. "It had everything to do with repairing his relationship with Trump supporters who read Breitbart and big donors he depends on."
But most of all, Steve Bannon is sorry his own poor choices have made him so sad he's locked himself inside his townhouse all by himself, likely crying into his pillow and stress-shedding gross old man body hairs all over his baseboards:
He has tried to convince allies in recent days that all will be fine — even texting one "onward!" — but he seems jolted and "even more manic than normal," in the words of one person who spoke to him. He has remained ensconced in his Capitol Hill townhouse, with a rope on the steps blocking people from approaching. "STOP!" a large red sign reads, urging visitors to check in downstairs.

"He knows he is at his lowest point," said one associate, who spoke on the condition of anonymity to discuss private conversations. "He won't tell you that, but he knows it."
:(
This has been a joyful blog post about how Steve Bannon is upset right now.
Follow Evan Hurst on Twitter RIGHT HERE.
Wonkette is fully paid for by YOU! Please click here to pay Wonkette's salary.
[Axios / Washington Post]
Evan Hurst
Evan Hurst is the managing editor of Wonkette, which means he is the boss of you, unless you are Rebecca, who is boss of him. His dog Lula is judging you right now.
Follow him on Twitter RIGHT HERE.