Teabaggers Hate Government Trash Collection Now
News
November 09, 2010 10:39 AM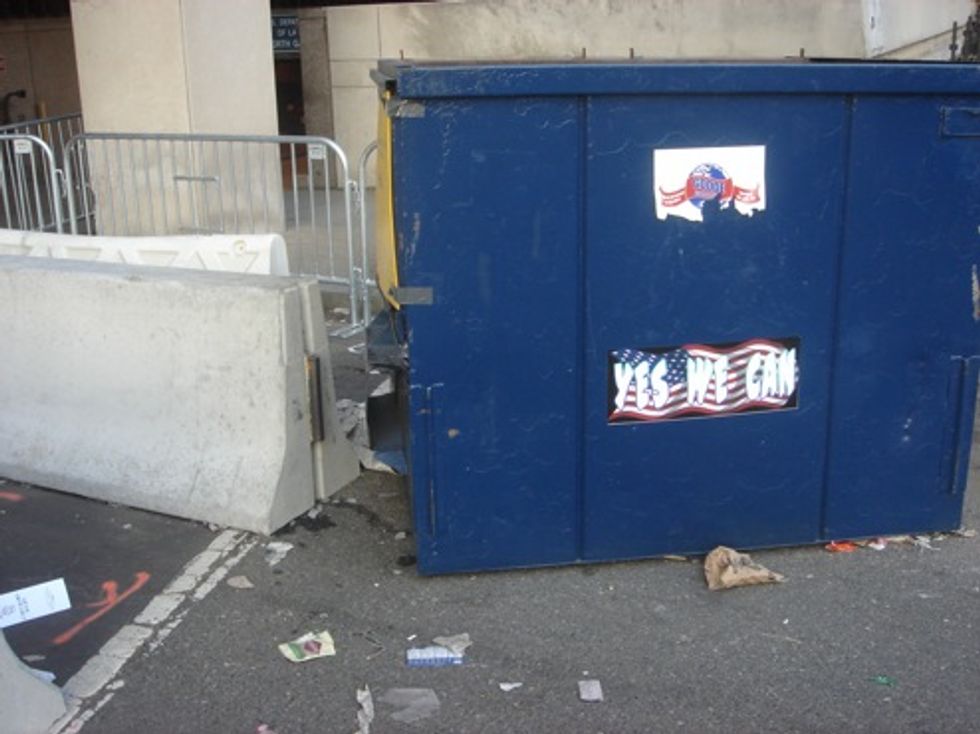 Teabaggers from Arizona are a special breed and are continually winning the craziest-Teabagger national championship, so it should come as no surprise that they havecome out in full force against a town's decision to hire one trash truck and start a curbside recycling program. This is socialism, of course, because a government hiring a crew of garbage men to pick up a city's and its residents' trash is a huge government intrusion that will destroy this country with the force of seven garbage Joseph Stalins. So the beleaguered town council had to sit through Teabaggers yelling at them in a five-hour public hearing and debate period.
---
On Thursday, a divided council approved a five-year contract with Allied Waste Services to be the single hauler and begin a recycling program. Residents currently can choose among five haulers and the town has no curbside recycling.
These Teabaggers are amateurs at being crazy. Where's the outrage over the government limiting them to only FIVE garbage companies in the first place? That's just as bad as being limited to one. Shouldn't they be able to pay who they want to take away their trash? Shouldn't they have the choice not to get rid of their trash at all? Shouldn't they live in their piles of trash, because that makes them the most free? The top Teabaggers at the Gold Level already do this. It's almost as if these local Teabaggers became rabidly angry over a particular issue they never gave any thought to, simply because somebody told them to. Imagine that!
And last week, a flier was circulated around Fountain Hills with an ominous icon and the phrase, "The Hills Will Have Eyes," and that claimed the "Fountain Hills Green Police" checked residents' garbage and recyclables, and as a result, "you are wanted for questioning."
Perfect! Makes a lot of sense! They are winning the war on logic!
Councilwoman Ginny Dickey, who also supported the measure, said she felt that her motivations were especially questioned because she is the only Democratic council member and worked for seven years at the Arizona Department of Environmental Quality.

"It seems counterintuitive, but in order for this proposal to pass, I believe I had to downplay the benefits of recycling," she said. "When ideology prevents rational discussion of a really pretty mundane topic, trash, there is no perspective. Everything is suspect, which paralyzes us."
Are those the lyrics to "America the Beautiful"? They sound like the lyrics to "America the Beautiful." [Arizona Republic via Gawker]