Environment
Billionaire creepazoid/visionary/cult figure Elon Musk announced yesterday that his car company, Tesla Motors, will no longer accept Bitcoin as payment for cars, because of concerns about the astonishing amount of energy used in making Bitcoin happen. As with many times when Elon Musk Says A Thing, the announcement set off a bit of a panic, with the value of Bitcoin plunging and cryptocurrency markets losing something like $385 billion in value yesterday.
In the announcement, Musk said he was "concerned about rapidly increasing use of fossil fuels for bitcoin mining and transactions, and especially coal, which has the worst emissions of any fuel," and while Tesla won't be selling off any of its Bitcoin holdings — about $2.5 billion, which seems like rather a lot — it will hold off any further Bitcoin trading until the cryptocurrency "transitions to more sustainable energy."
Now, before we go any further, let us reassure you that this is an energy and environment story, not a cryptocurrency story. You don't have to understand anything about no "blockchain" or "public ledgers" or anything, beyond knowing that in order to add a version of the scarcity that makes money "money," Bitcoin can only be mined with dedicated computers that must solve incredibly complex math problems in order to be able to trade the imaginary currency. (If you do want to understand Bitcoin more, then what is wrong with you, and you can find a good introduction in this Chris Hayes podcast, which is remarkably non sleep-inducing).
All that computing power eats up a lot of energy, as CNBC explains:
Critics of bitcoin have long been wary of its impact on the environment. The cryptocurrency uses more energy than entire countries such as Sweden and Malaysia, according to the Cambridge Bitcoin Electricity Consumption Index. [...]

So-called miners run purpose-built computers to s

olve complex math puzzles in order to make a transaction go through

. This is the only way to mint new bitcoins.

Miners do not run this operation for free. They have to shell out huge sums on specialized equipment. A key incentive of bitcoin's model, known as "proof of work," is the promise of being rewarded in some bitcoin if you manage to solve its complex hashing algorithm.
University of Sussex business professor Carol Alexander points out that the "difficulty" of the computing tasks necessary to make new baby Bitcoins has been increasing in recent years, resulting in higher energy usage. Miners have an incentive to locate their big damn computing facilities where they can get cheap electricity. In some cases, that's near hydroelectric plants, so good for them, but it also means a lot of operations in China, where cheap coal is more the norm.
Now, there's also some debate about how bad for climate Bitcoin actually is, because it's complicated. There's the massive amount of coal energy being used in China, but some Chinese regions, like Inner Mongolia, have actually announced they'll shut down crypto operations to reduce energy consumption.
Some proponents of Bitcoin insist that Bitcoin uses only a tenth of the energy of the conventional banking system, which sounds really nice until you consider that Bitcoin accounted for just .4 percent of the world's money supply in 2020, which means it's using a hell of a lot of energy for the amount of economic activity it represents.
Bitcoin fans also like to argue that cryptocurrency miners go where electricity is cheapest, and that means that as green power reaches parity with electricity generated by fossil fuel plants, then crypto production will use the green stuff. Already, CNBC reports, "In China, the province of Sichuan is known to attract miners due to its cheap electricity and rich hydropower resources."
But even that could represent a less than ideal scenario for the climate emergency, as Quartz explains:
The electrical grid will become less carbon-intensive over time, but that green energy could be absorbed by bitcoin, said Alex de Vries, a digital currency economist who authored Mar. 10 article in the journal Joule about bitcoin energy consumption. "Renewable energy that we could have used to clean up the grid will go to bitcoin mining instead," he said.
Ultimately, Musk's move may have more to do with public relations than anything else. The growing perception that cryptocurrency is bad for global warming may not be great for a guy who wants to sell electric cars as part of the solution, and shareholders may simply be far happier if they don't have to fend off accusations of climate hypocrisy.
It's also worth pointing out that Musk has been talking up a competing cryptocurrency, Dogecoin, which like Bitcoin relies on similar high-energy-use computing. But he's not selling Teslas in exchange for that one, at least not yet. On Tuesday, he asked his bejillions of Twitter followers if they'd like the option, and then he turned right around and said Wednesday that he was ending Bitcoin purchases of his cars out of concern for the environment.
Gosh, what a mercurial genius. Fuck him and fuck crypto. Let's just focus on getting green infrastructure built, please.
[CNBC / Why is This Happening? / Quartz / TechCrunch / Reuters / Photo: Bola Wheels, public domain.]
Yr Wonkette is funded entirely by reader donations. If you can, please give $5 or $10 a month to help us keep this thing going. Real American money, please.
Keep reading...
Show less
Crime
No murders though. Not yet.
In another data point arguing for the replacement of human beings by elephants or maybe manatees as the planet's top species, a Florida teen and her mother are facing multiple felony charges after breaking into student computer accounts to rig an election for high school homecoming queen.
Many media outlets are calling it hacking, but it's not exactly "hacking" if you already have administrator-level access to the computer system because you're a public school assistant principal, which is the case for the mom, Laura Rose Carroll. Her daughter, Emily Rose Grover, wanted to be homecoming queen last fall at J.M. Tate High School in Cantonment, Florida, a suburb of Pensacola.
Like any mom whose kid has a dream, Carroll helped out, not by printing up cheerful "Vote 4 Emily" T-shirts or helping her daughter with a speech but rather by using her access to the school district's FOCUS computer system. Carroll is the assistant principal of nearby Bellview Elementary School, so she had district-level access.
Maybe it'll make for a mildly amusing streaming movie. A lot depends on the screenplay and casting.
A Florida Department of Law Enforcement (FDLE) spokesperson explained this week that an investigation in November of last year found that the pair had accessed hundreds of student accounts to vote for Emily as homecoming queen.
In October 2020, hundreds of votes for Tate High School's Homecoming Court voting were flagged as fraudulent, with 117 votes originating from the same IP address within a short period of time," said a FDLE spokesperson.

"Agents uncovered evidence of unauthorized access to FOCUS linked to Carroll's cell phone as well as computers associated with their residence, with a total of 246 votes cast for the Homecoming Court."
Yet Democrats keep insisting there was no rigging of last fall's vote!
The thing about conspiracies is that it's really difficult to pull them off. Especially when one of the conspirators is 17 years old and thinks being homecoming queen is super important. Emily apparently told a bunch of friends at school about her neat trick, and word of the rigged election made it to the school district's student council coordinator. The evidence from the computer system, we'd note, was far more definitive than any of the loopy claims Rudy Giuliani made about the supposed skulduggery that elected Joe Biden.
On Tuesday, the Florida State Attorney's Office in Escambia announced that Emily, who was 17 at the time of the criming, would be tried as an adult. The Miami Herald lists the metric shit ton of charges she and her mom both face:
[Both] face multiple felony charges including third-degree criminal conspiracy; accessing computer systems, networks and electronic devices without authority; unlawful use of a two-way communications device to facilitate a felony; and criminal use of personally identifiable information of another person without consent.

Emily's charges include property crimes, fraud and public order crimes, according to court records.
Carroll was suspended from her job, because nobody wants an unprincipled principal, and Emily was expelled from the high school.
If convicted on all the felony counts, the two could go to prison for up to 16 years, which doesn't strike us as an especially good use of state resources. Relentless, court-ordered public mockery seems much more appropriate. Maybe they could be sentenced to a reality TV show that nobody watches, ever.
And this is your Open Thread!
Yr Wonkette is funded entirely by reader donations. If you can, please give $5 or $10 monthly, and if you do, maybe we'll tell you about the time Dok and a friend in 5th grade stuffed the ballot for an antique car contest so brazenly that the friend's dad's 1928 Franklin was disqualified. Oh, we just told you.
Keep reading...
Show less
coronavirus
Anyway, we're waiving 'intellectual property' for the coronavirus vaccines.
The Biden administration announced yesterday that it will support waiving intellectual property rights for coronavirus vaccines, a move aimed at more quickly getting the entire world vaccinated and ending the pandemic. US Trade Representative Katherine Tai announced the new policy in a statement, saying,
This is a global health crisis, and the extraordinary circumstances of the COVID-19 pandemic call for extraordinary measures. The Administration believes strongly in intellectual property protections, but in service of ending this pandemic, supports the waiver of those protections for COVID-19 vaccines,
As Rachel Maddow pointed out last night, the change in US policy had its roots in a July 2020 interview that then-candidate Joe Biden gave to healthcare activist Ady Barkan, who rose to prominence in the 2017 fight to prevent the repeal of Obamacare.
Barkan had pointed out that Donald Trump had refused to join the international effort to develop and share vaccines, and asked Biden, "If the US discovers a vaccine first, will you commit to sharing that technology with other countries? And will you ensure there are no patents to stand in the way of other countries and companies mass-producing those life-saving vaccines?"
Biden replied enthusiastically and without hesitation: "Absolutely, positively. This is the only humane thing in the world to do."
Biden made good on part of his pledge to Barkan right after being sworn in, with his executive order stopping the US from leaving the World Health Organization and joining Covax, WHO's program to get vaccines to the developing world.
Committing to waiving IP protections for vaccines took more time, but the decision was accelerated by the horrific explosion of coronavirus cases in India, which has been seeing 400,000 new cases per day in the last week. In April, Indian Prime Minister Narendra Modi discussed lifting the US patent protections in a call with Biden. Ramping up vaccine production through waiving IP restrictions is aimed at halting the spread of B.1.617, a highly infectious COVID variant first found in India, which has also been identified in the US.
Biden had already committed last week to making more raw materials for vaccines available to India's large pharmaceutical industry.
The Washington Post reports that Ambassador Tai had
spent weeks meeting with advocates and opponents of the proposal, which had divided the White House. Some administration officials focused on the domestic coronavirus response have cautioned that waiving protections on the vaccines could spark new competition for ingredients that could disrupt global production.
Up to now, the US had opposed an October 2020 World Trade Organization proposal, sponsored by South Africa and India, to waive IP rights temporarily until the pandemic was brought under control. An actual waiver plan would have to be agreed to by all 164 member nations of the WTO, and now that the US has committed to the process, those negotiations should go faster. On Twitter yesterday, Ady Barkan praised the administration's support of a waiver as "great news," and urged the US to make sure those negotiations don't get bogged down.
This is great news. @potus did the right thing and has dropped US opposition to the #TRIPSWaiver. Now the US mu… https://t.co/h8LRAFxVjn

— Ady Barkan (@Ady Barkan)1620243859.0
The administration's move has been opposed, predictably, by pharma companies and by Republicans, who have offered a range of arguments against the idea. Some of the claims are clearly dishonest, like the argument by a biotech CEO who said it would take years for other countries to build new factories and get them ready to produce vaccine — as if countries like India didn't already have a robust pharma industry. Same for the panic over China stealing US biotech secrets, which sometimes boils down to "Oh no, fewer people might die and China will take credit!"
Other claims, like the idea that drug companies simply won't bother developing new drugs if they can't have a guarantee of unlimited profits, sound a heck of a lot like the twaddle we hear from the GOP whenever any company anywhere faces regulation or taxes. The most compelling concern I've seen is that worldwide vaccine production could actually be slowed if too many players are competing for limited ingredients. That at least seems plausible, but it also sounds like the sort of thing that could be worked out in the WTO negotiations over the IP restrictions. (Let me hasten to add that I am not an international trade expert — but that Katherine Tai sure as hell is.)
Stocks for the three companies making vaccines for the US market dipped some yesterday, as the Post reports, but not disastrously so:
The stock prices for Pfizer-BioNTech and Moderna fell sharply after the news broke on Wednesday afternoon, although they made partial recoveries before the end of trading. Pfizer's stock made an almost full recovery, closing almost flat on the day, while Moderna's stock fell by about 6 percent on the day as investors processed the change in policy. Johnson & Johnson's stock remained largely flat.
We have a sneaking feeling Big Pharma will somehow survive. More importantly, so will millions of people.
[AP / CNBC / Business Insider / WaPo / Reuters]
Yr Wonkette is funded entirely by reader donations. If you can, please kick in $5 to $10 a month so we can keep you up to date.
Keep reading...
Show less
Tech
Yesterday, Fox News BREAKING NEWS ALERTed, "Trump launches new communications platform months after Twitter, Facebook ban." Yes, Donald Trump launched his very own antisocial media site, where he rants and no one can reply. Just hours later, Facebook's "quasi-independent" "Oversight Board" announced that Facebook was just and proper in suspending Trump's account following the January 6 insurrection. So for the moment, Trump won't be returning to Facebook. But the board also faulted Facebook for imposing an "indefinite" suspension, saying that by imposing a "vague, standardless penalty" and then asking the Oversight Board to make a final decision on Trump's status, the company was avoiding its responsibilities.
The board gave Facebook six months to review the case and apply a penalty consistent with Facebooks's actual policies, which would mean either permanently yanking Trump's account, or suspending it for a specific period of time. Might we suggest 200 years? So in six months, we'll see what Facebook decides to do (it will decide Trump is a threat to democracy who deserves "free speech," we bet).
Trump's former chief of staff Mark Meadows took to Fox News to whine that this is a "sad day for America," because Facebook is still picking on him for inciting a little light treason.
So it's pretty great that Donald Trump happened to set up his very own Tumblrspace, Donald J Trump Dot Com Slash Desk, where he can LiveJournal all his feelings about the current world situation, just like he used to on Twitter, but with no troublesome replies.
Here's an example from today, in which he whines not about the Facebook decision (that'll probably come later) but about his enemy du jour, Rep. Liz Cheney. He clearly loves being freed from Twitter's nasty 280-character limit, as well as from reason and standard English.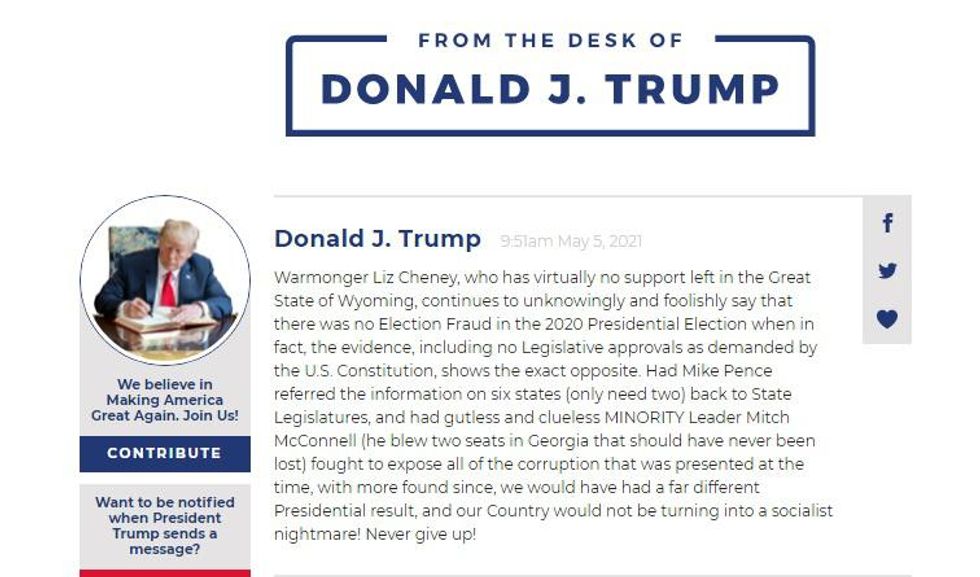 We should note that, for a guy with lots of older followers, the text on this site is teensy-tiny. Here's the rant:
Warmonger Liz Cheney, who has virtually no support left in the Great State of Wyoming, continues to unknowingly and foolishly say that there was no Election Fraud in the 2020 Presidential Election when in fact, the evidence, including no Legislative approvals as demanded by the U.S. Constitution, shows the exact opposite. Had Mike Pence referred the information on six states (only need two) back to State Legislatures, and had gutless and clueless MINORITY Leader Mitch McConnell (he blew two seats in Georgia that should have never been lost) fought to expose all of the corruption that was presented at the time, with more found since, we would have had a far different Presidential result, and our Country would not be turning into a socialist nightmare! Never give up!
We have no way of knowing whether Trump actually wrote that, or whether it's an AI just spitting out random Trumpian grievances.
As a "communications platform," Donald J Trump Dot Com Slash Desk is pretty minimalist. You've got the tweetlike rants, and an option to repost them to Facebook or Twitter. There's also a "like" option, which Techdirt reports can't be undone. It's a lot like giving money to a Trump campaign that way.
We tried "liking" a post, though, and clicking the little heart actually did nothing at all that we could see. It's the Big Like! We probably should check our bank balance.
And of course there's the donate button, which is the whole deal.

The site just went up yesterday, but it's been backfilled with Trumpian wisdom going back to January 24, when he endorsed Sara Huckabee Sanders's candidacy for governor of Arkansas. Why, there's even a helpful "News" link, which brings up a list of posts that looks exactly like this: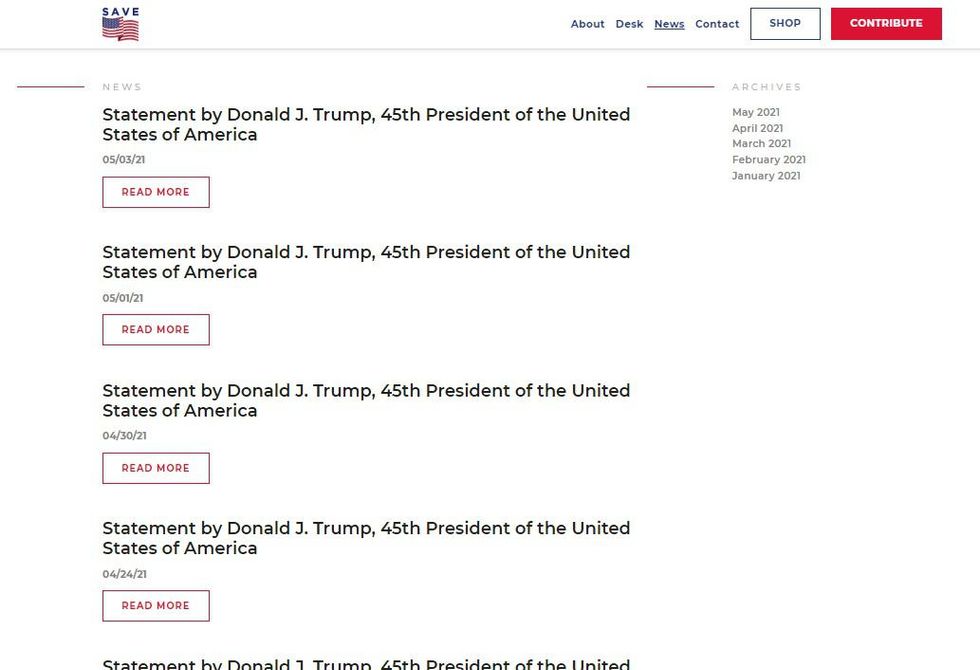 (For variety, if you scroll all the way down to April 20, you'll find a post titled "Statement from Highly Respected Pollster, John McLaughlin")
A video posted yesterday proclaims the site will be a "beacon of freedom" and a "place to speak freely and safely," at least if you are Donald J. Trump, 45th President of the United States of America. There is nothing the least bit interactive about the site, which is how the internet should work, after all. As at Yr Wonkette, comments are not allowed, except really no kidding there's just no option.
Techdirt notes that Donald J. Trump Dot Com Slash Desk may eventually evolve into a long rumored Trump social media site. If it does, the terms of service don't seem unconditionally free-speechy:
Although Save America has no obligation to do so, it reserves the right, and has absolute discretion, to remove, screen or edit any User Content posted or stored on the Sites at any time and for any reason without notice, and you are solely responsible for creating backup copies of and replacing any User Content you post or store on the Sites at your sole cost and expense. Any use of the Interactive Areas or other portions of the Sites in violation of the foregoing violates these Terms of Service and may result in, among other things, termination, or suspension of your rights to use the Interactive Areas and/or the Sites.
And not surprisingly, for all the Right's whining about the absolute right to Free Speech, the site also lists, in detail, any number of things that are not allowed by users, should there ever be more than one. Just look at the first couple categories of Forbidden Stuff!
User Content that is unlawful, libelous, defamatory, obscene, pornographic, indecent, lewd, suggestive, harassing, discriminatory, threatening, invasive of privacy or publicity rights, abusive, inflammatory, fraudulent, deceptive or misleading;

User Content that would constitute, encourage or provide instructions for a criminal offense, violate the rights of any party, or that would otherwise create liability or violate any local, state, national or international law;
Presumably, that'll eventually be revised to allow people to call for invading the US Capitol.
[Facebook Oversight Board / AP / Techdirt / Image from Cameron's World]

Yr Wonkette is funded entirely by reader donations. If you can, please help us keep our little GeoCities site going with a $5 to $10 monthly donation. Maybe together we can bring back the <blink> tag!
Keep reading...
Show less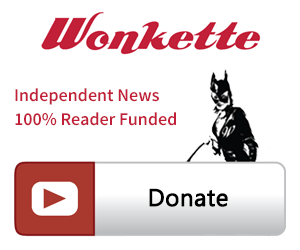 ©2018 by Commie Girl Industries, Inc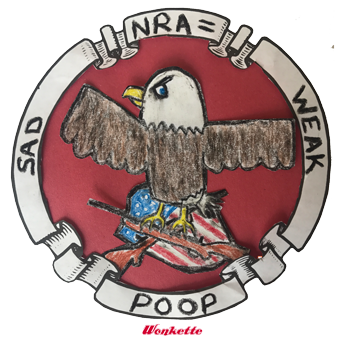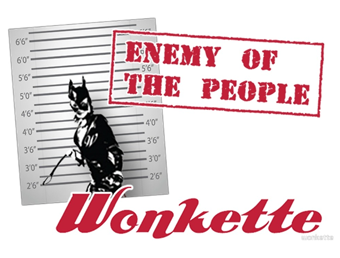 This Is Not An Ad
Privacy