Tech
Now is either the time to bury it or double down. Haha, we mean bury it!
The world's cryptocurrencies and NFTs and Dutch tulip markets all went into the shitter this week, with enormous losses in value in the weird janky digital "money" that seemed kind of fishy to most people. How bad was the collapse? Something called Luna that was worth $85 last week is suddenly worth a penny now, and that is apparently a really big deal, CNET reports. Big swings in cyrpto currencies like bitcoin and ether are "notoriously volatile assets reacting to tempestuous economic conditions." But this Luna thing is like, bigger, and maybe you'll understand the following two paragraphs:
What's much more unusual, and much more important, is the collapse of the luna cryptocurrency and its associated TerraUSD (UST) stablecoin. You may not have heard of UST before, or know what a stablecoin is, but it's a big deal. Billions of dollars in crypto wealth has been vaporized, sending shockwaves throughout the whole market.

There are two intertwined stories here: That of the UST stablecoin and that of luna, both of which are part of the Terra blockchain. The UST coin is designed to retain a value of one US dollar at all times, but depegged on Saturday and has since fallen to as low as 30 cents. Then there's luna, the centerpiece of Terra's ecosystem. Its value has collapsed in one of the most stunning crypto crashes ever recorded.
Can't Geordi just reverse the polarity of the phase emitters and send a tachyon pulse into the temporal rift? That always did the trick in the old days.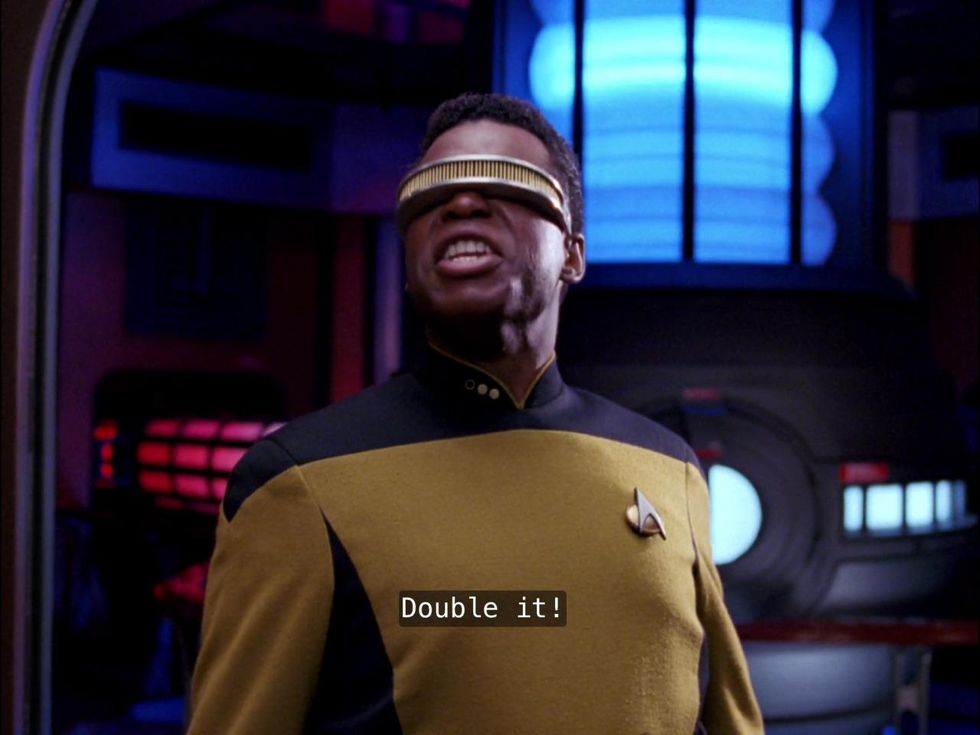 Now, before you go getting your hopes up that this means the end of the crypto mining bidness, which uses extremely powerful computers to do math calculations that prove the computers' worthiness to poop out more crypto, which eats up tons of (often coal-generated) electricity and is therefore a terrible thing for the planet, I need to tell you that nobody who follows this stuff thinks this is in any way the end of the crypto business. Well, shit.
We were going to try to summarize how the Terra / Luna thing went bad based on the CNET article, but it too went all tachyon and quantum and I couldn't follow it, in that way that in grad school I'd think I was reading a paragraph of Derrida, but then realized I was wondering what to have for lunch, and most of the time it turned out to be the taco truck.

But I didn't give up, dear reader! I abandoned my initial backup plan of listing all the possible alternative phrases to "down the shitter" and instead looked at the good old New York Times, which explains this week's crash wiped out more than $300 billion in imaginary but also very real computer wealth, and that's something I can more readily get my head around:
The moment of panic amounted to the worst reset in cryptocurrencies since Bitcoin plummeted 80 percent in 2018. But this time, the falling prices have broader impact because more people and institutions hold the currencies. Critics said the collapse was long overdue, while some traders compared the alarm and fear to the start of the 2008 financial crisis.
The crash, the Times says, is part of an overall trend of investors getting itchy about risk, what with war and inflation and interest rates, only moreso with crypto, which has fallen more steeply than stocks: The S&P 500 is down 18 percent in 2022, but Bitcoin is worth 40 percent less than it was at the start of the year. "In the last five days alone, Bitcoin has tumbled 20 percent, compared to a 5 percent decline in the S&P 500."
The Times also explains that the TerraUSD implosion happened because for all the talk of its value being tied to the dollar, it wasn't actually backed by other assets; its was tied to this Luna thing that was allegedly more stable, but wasn't, and oopsie! The whole wobble even affected the value of another stablecoin called "Tether," which actually is backed by cash and other assets, but it lost value from its usual one Tether thingy to one dollar rate. That was bad, although Tether at least recovered.
Reuters reports that today, after all that imploding, crypto is starting to stabilize, and that, hooray hooray, "broader financial markets have so far seen little knock-on effect from the cryptocurrency crash." Terra, however, remains in the shitter, although it's up from a penny to 11 cents today.
In conclusion, we can say with absolute confidence that in no time at all, crypto bros will have forgotten all of this and will continue to be insufferable. Or not. I'm just glad my money is safe where it's always been, spent before I can invest it.
In conclusion, what do you get when you cross a mafioso with a deconstructionist?
An offer you can't understand.
Hey, that works for crypto, too!
Yr Wonkette is funded entirely by reader donations. If you can, please give $5 or $10 a month to help us keep bringing you the news, and if you want to donate cryptocurrency, just recalibrate the primary sensor array like everyone else.
Keep reading...
Show less
Tech
Elon Musk announced Tuesday that if his Twitter takeover goes through, he'd swiftly restore Donald Trump's Twitter account. We all saw this coming, but now it's official and potentially life-threatening.
Musk dropped the news during remarks at the Financial Times's Future of the Car conference. You'll recall that Musk makes frequently recalled vehicles in addition to his future work turning Twitter into a free-range troll farm.
"I do think it was not correct to ban Donald Trump, I think that was a mistake," Musk said. "I would reverse the perma-ban. ... But my opinion, and Jack Dorsey, I want to be clear, shares this opinion, is that we should not have perma-bans."
Musk called Trump's Twitter ban a "morally bad decision" and "foolish in the extreme." He doesn't think Twitter should ban users permanently, but instead should consider temporary suspensions or timeouts. Of course, rightwing trolls like Trump will still cry censorship over both, and since they're incapable of modifying their behavior, they'll either face regular suspension (a de facto ban) or Twitter will just throw up its hands and let them smear crap over the cyber walls. It's not a mystery where this is headed.
Let's take a quick trip back to the distant past of last year. Twitter was always more lenient with Trump's tweets than it was with the average user. Facebook and Twitter generally allowed world leaders a wide berth to break most but not all of their rules. Vox explains that they cited "the public interest and newsworthiness of almost anything world leaders had to say." The obvious problem here is that LoserBoy298 sharing racist memes and conspiracy theories to an audience of 100 people is far less dangerous than the literal president of the United States doing the same but to audience of millions.
PREVIOUSLY: Elon Musk Can Buy Twitter And Turn It Into A Troll Site, But He Can't Force Anyone To Stay
Trump spread gross lies about a dead woman who once worked for Joe Scarborough. Her widower begged Twitter to remove the tweets, but Twitter refused. Trump raised lynch mobs on Twitter against congressional women of color, and spent the months after his 2020 election loss tweeting increasingly unhinged outright lies about the election. There's a direct line between this and the January 6 insurrection.
Twitter finally banned Trump on January 8, stating that recent tweets had violated its policy against glorification of violence. There's no evidence Trump or his faithful MAGA cult have cooled down. The threat persists.
Trump has infamously used Twitter to smear women. In 2017, he tweeted, "Lightweight Senator Kirsten Gillibrand, a total flunky for Chuck Schumer and someone who would come to my office 'begging' for campaign contributions not so long ago (and would do anything for them), is now in the ring fighting against Trump. Very disloyal to Bill & Crooked-USED!"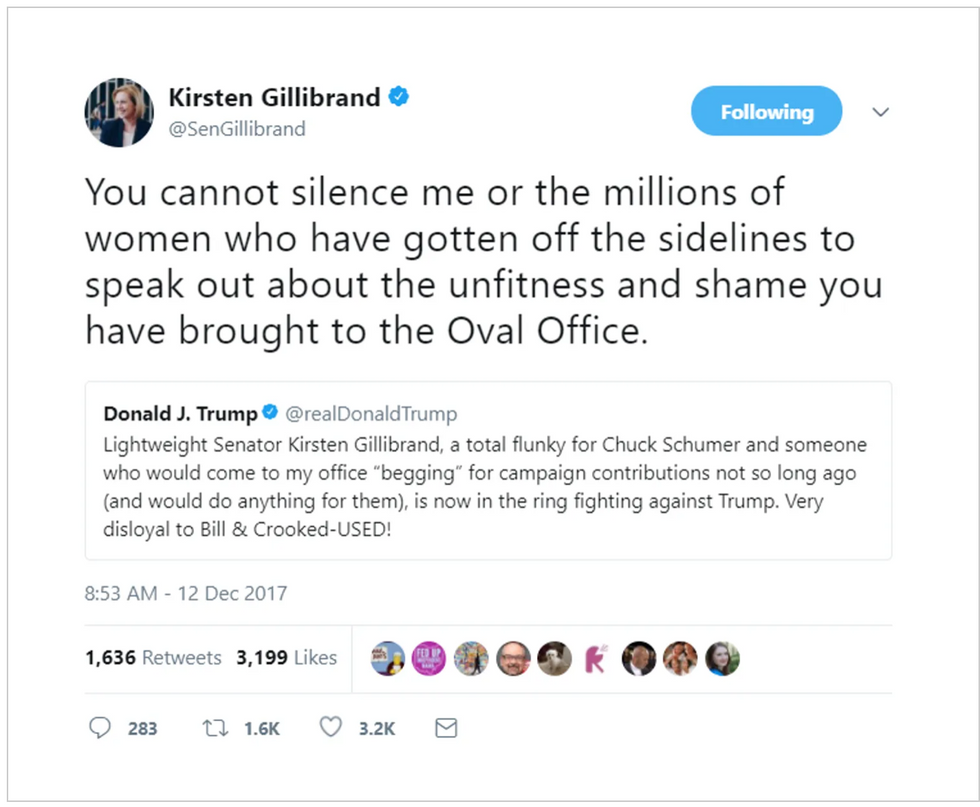 Twitter
But it wasn't all fun and gross sexual harassment games. Trump also got into dick-waving contests with equally unhinged world leaders, where the winner gets to end human civilization. For instance, this charmer:
"North Korean Leader Kim Jong Un just stated that the 'Nuclear Button is on his desk at all times.' Will someone from his depleted and food starved regime please inform him that I too have a Nuclear Button, but it is a much bigger & more powerful one than his, and my Button works!"
Trump was especially dangerous during his (we hope) last year in office. He tweeted "LIBERATE VIRGINIA!" and "LIBERATE MICHIGAN" and "LIBERATE MINNESOTA" during the early days of pandemic shutdowns. We were barely a month into a global health crisis and Trump was already encouraging revolt within Democratic-controlled states.
PREVIOUSLY: President Lazyass Livetweeting Fox, Inciting Armed Insurrection A Tiny. TYPICAL FRIDAY!
Trump casually threatened extrajudicial violence against citizens during the unrest after Minneapolis cop Derek Chauvin murdered George Floyd: "I can't stand back & watch this happen to a great American City, Minneapolis. A total lack of leadership. Either the very weak Radical Left Mayor, Jacob Frey, get his act together and bring the city under control, or I will send in the National Guard & get the job done right … these THUGS are dishonoring the memory of George Floyd, and I won't let that happen. Just spoke to Governor Tim Walz and told him the Military is with him all the way. Any difficulty and we will assume control, but when the looting starts, the shooting starts. Thank you!"
(Any correct punctuation above is probably a typo on my part. Sorry.)
After Trump lost the election, he went over the edge with an endless barrage of lies that eventually incited an insurrection against the US government. Laundering money for the mob is a more respectable vocation than providing a platform for Donald Trump and his MAGA cult.
Musk insists that "banning Trump from Twitter didn't end Trump's voice. It will amplify it among the right. And this is why it was morally wrong and flat-out stupid." Unfortunately, he's not entirely off the mark here: Once Trump was banned, his spokesperson started tweeting out whatever he scribbled in crayon on nearby bathroom tissue, effectively bypassing the ban. So-called journalists like Maggie Haberman would share his screeds in full (that ain't "reporting," Sally). So, in a way, it's like he never left.
However, Musk thinks Trump won't return to Twitter even after the ban is lifted. He's got his own cool new platform, Truth Social, that he struggles to correctly name. Trump is equal parts evil, lazy, and unfaithful. We're sure he'll slink back to Twitter with much fascist fanfare.
Follow Stephen Robinson on Twitter.
Do your Amazon shopping through this link, because reasons.
Yr Wonkette is 100 percent ad-free and entirely supported by reader donations. That's you! Please click the clickie, if you are able.
Keep reading...
Show less
Nice Time
Wingnuts fret it's Obamaphones all over again.
President Biden yesterday announced that 20 internet companies will start providing low-cost broadband internet service to low-income Americans, as part of a deal growing out of last year's Bipartisan Infrastructure Law. The infrastructure bill already offered $30-a-month subsidies to help low-income folks pay for internet (the subsidy increases to $75 in tribal areas). Those subsidies are available to millions of people. Now, the 20 internet providers will set up a new tier of broadband plans that cost just $30 per month, so with the subsidy, the plans will will be free for as many as 48 million families.
At a White House Rose Garden event yesterday, Biden said, "High speed internet is not a luxury any longer. It's a necessity." The AP adds,
Biden noted that families of four earning about $55,000 annually — or those including someone eligible for Medicaid — will get a $30 monthly credit, meaning about 40 percent of Americans will qualify.
The subsidies, through the Affordable Connectivity Program, were a top goal for Biden and other supporters of the infrastructure bill, particularly as the pandemic highlighted the "digital divide" that means low-income homes don't have reliable internet access. That was dramatically illustrated by a viral August 2020 photo showing two little girls sitting on a curb outside a Taco Bell so they could use the restaurant's wifi to do homework on school-issued laptops.
2 of our children trying to get WiFi for their classes outside a Taco Bell in East Salinas! We must do better & solve this digital divide once &for all for all California students\n\nCALIFORNIA NEEDS A UNIVERSAL BROADBAND INFRASTRUCTURE BOND FOR OUR STUDENTS\nhttps://link.medium.com/7Ir6Dyo5f9\u00a0pic.twitter.com/cAbXNJ6F7x

— Luis Alejo\u2696\ufe0f (@Luis Alejo\u2696\ufe0f) 1598423880
Biden referred to similar scenes in his remarks, noting that families had also resorted to parking outside fast food restaurants just so kids could do their homework, and adding that telemedicine had become a vital part of healthcare delivery during the pandemic. He was not afraid to get folksy, either:
You know, the need for high-speed Internet is — is a little bit like what used to be probably what my grandfather talked about: needing to have a telephone. It's pretty consequential. And it's only going to keep growing, this need. High-speed Internet is not a luxury any longer, it's a necessity.
The AP notes that the 20 internet providers who agreed to lower rates for low-income folks
provide service in areas where 80% of the U.S. population, including 50% of the rural population, live, the president said. Participating companies that offer service on tribal lands are providing $75 rates in those areas, the equivalent of the federal government subsidy in those areas.
Consumers can check to see if they qualify for the new service at getinternet.gov, which also includes a link to apply for the program. Basically, it's available to families making up to 200 percent of the poverty level, which varies with family size. People also qualify if they're already participating in several federal anti-poverty programs, like Medicaid, SNAP (food stamps), Supplemental Security Income (SSI), free or reduced-price school lunches, and even Pell Grant education support. Full list and application linky here, or people can also call (877) 384-2575.
This could be a heckin' big deal, as the AP points out:
"It might be a game-changer," said Marty Newell, coordinator for Rural Broadband Policy at the Center for Rural Strategies in Whitesburg, Kentucky, where he said slow internet has plagued residents and businesses alike.

Newell said he wanted to see more about what the program will mean going forward, but that his main question is — given that increased broadband access has generally been a bipartisan issue in Congress -- "What took them so long?"
The infrastructure law also provides funding to build out broadband in rural areas where internet is currently slow or unavailable, which is sorely needed so that folks can get access to Wonkette and clear out the cobwebs from watching all that Fox News. The infrastructure law provided $65 billion for expanding broadband; most of it will go to grants for states to improve their networks, even if red state governors brag about how great that is but barely mention where the money came from.
Biden also said the administration would continue working to increase competition in the broadband market, to bring lower prices to all internet users. Among those initiatives is an effort to end exclusive internet deals where landlords only allow renters to choose one internet provider in places where several options are available. And, of course, getting broadband built where it's currently not available at all.
All told, this is pretty damn good for America.
[AP / White House / FCC / WaPo / Photo: Nenad Stojkovic, Creative Commons License 2.0]
Yr Wonkette is funded entirely by reader donations. If you can, please give $5 or $10 a month so we can keep bringing you the nice time stories!
Keep reading...
Show less
White Nonsense
And maybe this paddle game and remote control ...
Elon Musk is all set to acquire Twitter, which it seems pleases no one who actually works at Twitter. Ben Shapiro — an evil ventriloquist dummy that came to life — declared yesterday that Musk should just fire everyone at the company because they're all liberal. That should reinforce Musk's supposed commitment to free speech!
I'm not sharing video of that twerp, but here's what he said:
Musk needs to come in and he needs to fire everyone. I mean, everyone! Twitter has hundreds, if not thousands of employees.

There's been studies done of the donations, the political donations of the people working at Twitter. 98.7% of all donations from the people working at Twitter went to Democrats in the last election.
Forgive me for stating the obvious here but Ben Shapiro is bone-dead stupid. I last worked in corporate management a decade ago, but I still think it matters whether a corporation employs "hundreds" or "thousands" of people. That's the sort of minor fact you'd want to confirm before proposing mass layoffs.
PREVIOUSLY: Nothing Makes Ben Shapiro Madder Than Capitalism Working For Poor People
Twitter has about 7,000 employees. It's actually a relatively small company compared to Facebook, which employs 71,970 full-time employees as of December 2021. (Facebook hired 10,000 people just in 2020.) Twitter is based in California, which is an at-will employment state. Musk can fire all the employees he wants but he can't do so for unlawful reasons. That includes an employee's race, gender, disability, sexual orientation, religion, and yes their political beliefs and affiliation. Someday Harvard Law is going to demand its diploma back.
Considering why most conservatives like Shapiro would want to fire someone, an employment lawyer could save time just telling them that "at-will" employment isn't actually a thing. All their motivations for terminating people are probably already illegal.
But wait, you might ask if you're also a stupid person, Shapiro just believes that people who donate to Democrats can't competently execute Elon Musk's grand vision:
It doesn't matter what rules Elon Musk sets top-down if the so-called 'Twitter Deep State' is still implementing its favored policies. Because this is the thing, Donald Trump found this out when he was president.
What Trump discovered is the US Constitution, which deliberately set up checks and balances against aspiring despots. The presidency isn't a dictatorship, and all those supposed "Deep State" members didn't resist him out of spite. There were just all these pesky laws Trump kept wanting to violate.
If this deal goes through, Musk is free to turn Twitter into 8Chan, and the employees are free to leave (the 13th Amendment is just as relevant as the First). Some might even stay and help implement his mad dream. However, Shapiro is assuming ill intent from liberal employees without actual evidence, which is inherently prejudicial and discriminatory. Let me explain this like Shapiro's a two-year-old: You can't buy a company and fire the Black employees because you think they're all shiftless, you have to actually write down if they're showing up late.
You can name the policy top-down but if everyone at the State Department hates your guts, they're just going to undermine your policy.
Shapiro is a tiny tyrant, a less persuasive Yosemite Sam, who can't understand that leadership requires more than just brute force. Sometimes your employees have the leverage. Of course, Shapiro's the one who suggested Amazon resolve its labor disputes by just firing everyone. That's also not entirely legal — or even a little.
PREVIOUSLY: Ben Shapiro Gonna Make His Own Razors, And His Own Disney, And, And, And ... Other Stuff Too
If Shapiro ever bothered to actually research any topic he discusses before opening his stupid mouth, he'd know that tech employees in general skew young (ageism is an issue in the industry). President Joe Biden decisively won voters under 44. It's likely the so-called "Twitter Deep State" are also college graduates, and Biden won college-educated voters of all races.
But even if Musk could legally impose some conservative affirmative action recruitment drive and not have the site explode during his first week in charge, he'd still need to consider Twitter's customer base. Remember them? Close to 60 percent of Twitter's almost 400 million users are between the ages of 25 and 49. (Almost 40 percent is between 25 and 34.) A third of Twitter's users have college degrees, and 27 percent of its users live in urban areas while 18 percent reside in rural areas.
Shapiro has Daily Wire mugs for "leftist tears," and that's fine for his angry little corner of the Incelnet. However, that's not a promising business model for a global corporation.
Follow Stephen Robinson on Twitter.

Do your Amazon shopping through this link, because reasons.
Yr Wonkette is 100 percent ad-free and entirely supported by reader donations. That's you! Please click the clickie, if you are able.
Keep reading...
Show less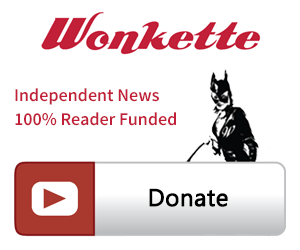 ©2018 by Commie Girl Industries, Inc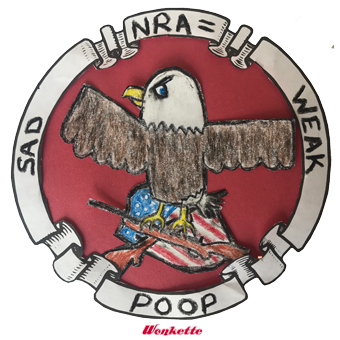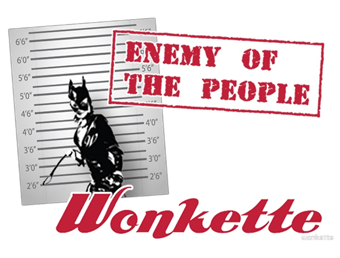 This Is Not An Ad
Privacy