Terry Jones Wins Foreign/Muslim Car For Not Hosting Koran-Burning Picnic
News
October 15, 2010 10:08 AM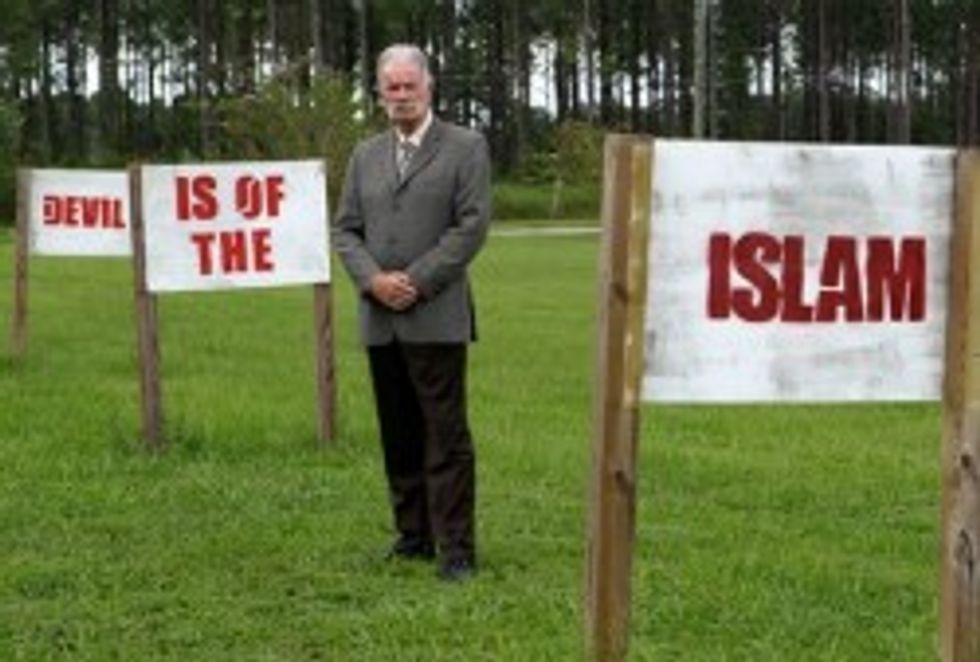 We are really tired of Muslim-loving chickenshit Terry Jones, but apparently this Florida swamp creature won a free car for not burning Queerans. (Writing that sentence makes us want to blow our brains out with the shotgun we still need to buy, before Obama's gay activist judges rule the Second Amendment is illegal.) Let's just get this over with: A New Jersey car dealership promised to give Terry Jones a free car if he canceled his Koran-burning potluck. Not justany free car though: it's a Hyundai Accent, i.e. foreign, ergo "the devil." Terry Jones knows that Hyundai Motor Company is spelled 현대 자동차 주식회사 in South Korean Arabic-Symbols, right? Does Terry Jones also know that the first edition of the Koran -- the one with the awesome forward by Muhammad -- was written in South Korean Arabic-Symbols? Burn that car, Terry. Burn it.
---
Or maybe Terry should only "threaten" to burn the car, and then a dirt bike dealership will offer to give him an American-made dirt bike, if he promises not to burn the foreign car? It's worth a shot! Anyway, what is the deal with this New Jersey car dealer, "Brad Benson"?
In 2003, Benson offered another newsmaker — Saddam Hussein — a new car if he fled Iraq. That commercial wasn't as successful, and Benson pulled the ad after two days, replacing it with one apologizing for any offense that was taken.

The Quran commercial was part of a regular "idiot award" segment Benson has singled out others for, including Lindsey Lohan, Mel Gibson and Roger Clemens.

"We don't have your typical car commercial," Benson said.

But they are memorable — and effective. Three years ago, he was selling 60 cars a month, he said. Today, that number is between 500 and 600 — making him one of the state's most successful dealers.
"America." Enjoy your Muslim car, Terry Jones, you asshole! [Savannah Morning News]