Thanksgiving Wonkabout Style: Turducken For All
News
November 24, 2009 03:53 PM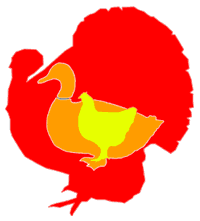 Some 400 years ago the Pilgrims and Indians dined together to celebrate a bountiful harvest, and then the nice Pilgrims gave the Indians smallpox blankets and killed just about all of them. To commemorate this glorious occurrence in our nation's history, we get the Thanksgiving holiday, and if you're sticking around and braving a visit from your family, don't worry, there will be plenty of things to do in the District.
---
And if you're not cooking your Thanksgiving meal, there are quite a few places where you can go out to eat. Just be sure to make a reservation, last week.
Art and Soul: At this southern food restaurant you can enjoy buttermilk biscuits, cornbread, turkey, maple-glazed ham, mashed potatoes, chicken/apple stuffing and pies of the apple, pecan, and pumpkin varieties. And you even get leftovers: everyone is sent home with a roast turkey sandwich with gravy and cranberry sauce on the side. YUM.  Cost is $55 per person.
CommonWealth:Spend thanksgiving at a British Pub. Why not? They're offering a three course meal, including turkey, roast beef, collard greens and two different kinds of stuffing. Best part: it's also an excellent spot to watch the football games. Cost is $35 per person.
Rasika: You can spend thanksgiving with Indians of a different sort! Rasika is offering its normal menu, but is also serving a special plate of pistachio-and-cranberry-stuffed turkey breast with saffron-and-cashew sauce, butternut-squash bharta, and chili Brussels sprouts for $16.


Or, if you're too lazy to cook or even make a reservation, you can order in a complete Thanksgiving meal from Marvelous Market,Organic To Go,Zola Wine and Kitchen or just about any supermarket in the area. A best bet for pies isDangerously Delicious Pies in the Atlas District.
What to do with the family until they leave and you get your life back:
Theater: See George Balanchine's The Nutcracker. The Pennsylvania ballet puts on what is considered to be the best production of this classic.
Museums: The Smithsonian Museums will be open on Friday and it will be crowded! Other museum options include the Holidays on Display exhibit about the holidays and commercialism at the Museum of American History or "Oil," photos by Edward Burtynsky at the Corcoran.
Run: Before you indulge in pounds of turkey and stuffing and pie and more pie, you can participate in the Turkey Chase, a 10K race, a 2-mile walk/run in Bethesda or the DC Turkey Trot for Hunger, a 5K that raises money for So Others Might Eat.
National Harbor: Head to the National Harbor for their Tree Lighting and Fireworks event. The evening includes the lighting of a 65-foot Christmas tree, a fireworks display, a light show, and singing from some people who won a reality show that no one ever watched.
Give:This holiday season you, yes, even you, can do something good for the world. Food pantries are running low on food this year and here in DC you can donate food to Bread for the City,The Capital Area Food Bank, or Food and Friends. You could even be super nice and volunteer at any of these places to prepare or deliver food.


Happy Thanksgiving!