The Top Four Times Judges Dunked On Trump Last Week! Your Trans-Travel-HUD-ACLU-Splainer!
SCOTUS
December 26, 2017 03:19 PM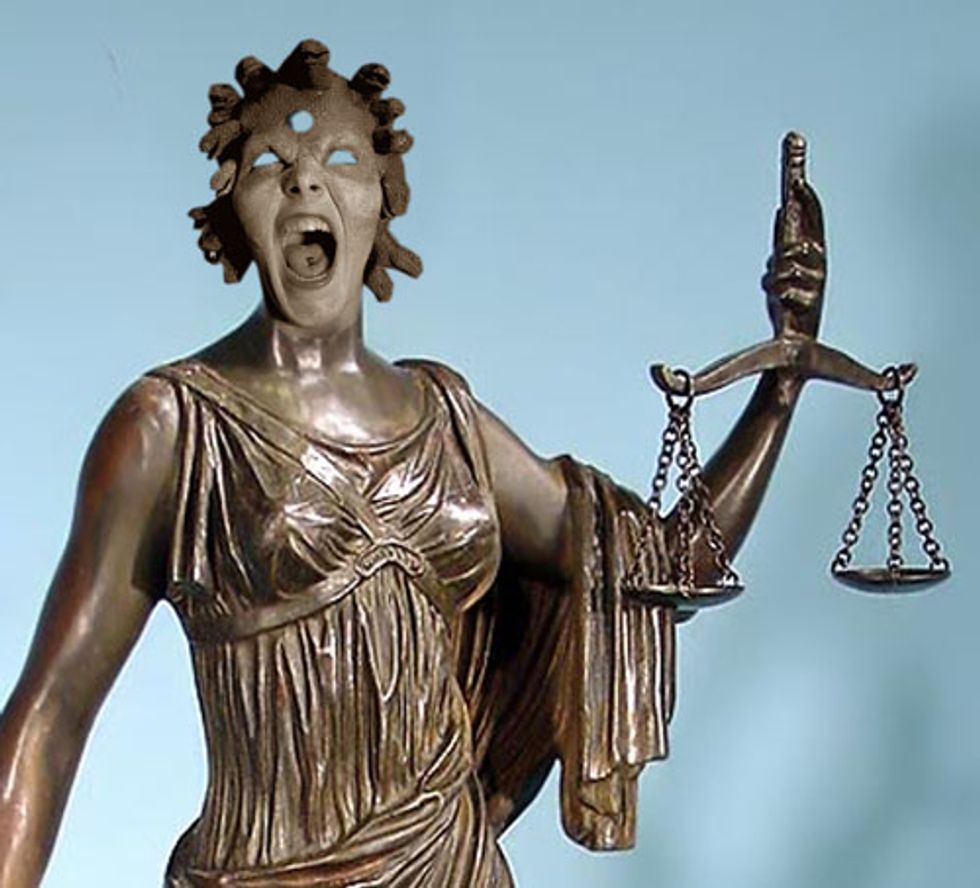 While grateful Americans were reveling in their newfound ability to say Merry Christmas without fear of arrest and transportation to the gulags of North Dakota, the courts were delivering a rapid-fire round of smackdowns to the Trump Administration. These cases are all guaranteed to be appealed, so let's hit them all quicklike so we can be ready for whatever fuckery awaits, okay?
---
Travel Ban
On Friday, the 9th Circuit found parts of Trump's latest travel ban illegal, but stayed their injunction on enforcement until the Supreme Court can weigh in. Essentially, the Court held that the president can only ban certain classes of immigrants based on a finding that they will harm the country. Jumping up and down shouting NATIONAL SECURITY and TERRORISM and SCARY BROWN MUSLIMS is not sufficient.
National security is not a "talismanic incantation" that, once invoked, can support any and all exercise of executive power under § 1182(f). [Citation omitted.] Section 1182(f) requires that the President make a finding that the entry of an alien or class of aliens would be detrimental to the interests of the United States. That requirement has not been met.
The president has some power over immigration, but he can't simply "wipe out" every Congressional statute on the subject by invoking terrorism. Because this isn't an autocracy. YET.
Transgender Military Ban
Again with this shit! Remember back in July when Vicky Hartzler (R-Satan's Hoof) said that there would be no Wall Money unless the military stopped paying for gender reassignment surgery? Then Commander Impulse Control tweeted out a transgender military ban and pretended it was the generals' idea? Since then, military leaders have been trying to distract Trump while desperately begging the Court to let them put this off for another six months. In October, the DC District Court issued a Did I Stutter? I Think Fucking Not! Order telling them to begin accepting trans recruits on January 1, and yesterday a panel of three judges from the US Court of Appeals for DC affirmed the decision. Trans troops came out based on the assurance that they would not be discharged, potential recruits enlisted, there's been zero evidence on the record that the presence of trans people in the armed forces harms the military, and it violates due process to yank the rug out from under them.
HUD Voucher Rules
Get excited people, it's the Administrative Procedures Act! Yes, okay, that sounds mind-numbingly dull. But it's the law that says Trump can't just cancel Obama-era regulations without notice and public commentary, and it's an important tool in slowing down the GOP as they rape and pillage their way through every federal regulation that keeps us safe.
In 2007, HUD was sued by activists because the formula to determine rents on housing vouchers effectively segregated poor and minority renters in depressed neighborhoods -- if vouchers are calculated based on the average rent over an entire metropolitan area, poor people will NEVER be able to rent in a nicer neighborhood. In 2016, HUD agreed that it would calculate rent subsidies based on zip code, rather than across the entire region for 24 metropolitan areas. This rule was to take effect January 1, 2018, but was postponed without the required period of notice or commentary this past August.
The NAACP sued, and Friday the DC District Court told HUD to STFU already with their mumbling that the new rule was "worrisome" and maybe would result in fewer subsidized units on the market. Ben Carson will be so pissed when he comes out of hibernation and finds out! So, show a little respect for the APA!
ACLU v. Mattis
On September 12, a US Citizen claiming to be an ISIS fighter surrendered himself to a group of Syrian rebels. The rebels handed him over to the US military and then ... NOTHING. The US has labeled an American citizen an enemy combatant and held him incommunicado and without counsel for 100 days, despite the man's repeated requests to access a lawyer. Worse still, they refuse to divulge his identity so that his relatives might step forward to contest his detention. When the ACLU filed a habeas petition in October, the government argued that the ACLU lacked standing because they had no authorization from the man's family, which is chutzpah!
Last week, the New York Times reported that the military was considering transferring the detainee to Saudi Arabia (presumably because he also holds Saudi citizenship), and possibly forcing him to renounce his US citizenship as part of the deal.
We don't mean to shout, but what the everloving fuck is going on?!?! If the military can memory hole an American citizen, they can frankly do anything at all. So we are relieved that Judge Tanya Chutkan on the DC Circuit has finally ordered the government to allow the ACLU "immediate and unmonitored access to the detainee" and NOT to transfer him to a third country. Which is appropriate and also ABOUT FUCKING TIME.
Here's a great Twitter thread from NatSec lawyer Steve Vladeck on the issue.
1. Here's a short #thread on the pros and cons of last night's ruling by Judge Chutkan in favor of the @ACLU in its suit on behalf of the (still unnamed) US citizen who's been held as an "enemy combatant" in Iraq since September 14:

(Ruling: https://t.co/7K0QSmg1tL)

— Steve Vladeck (@steve_vladeck) December 24, 2017
Unless the government files an emergency appeal, presumably the detainee will meet with counsel this week in Syria.
Okay, Wonkers. That's your quick and dirty rundown on Friday's massive law dump. We'll keep you posted. And quit giving us that look! You know damn well you weren't going to read four articles on boring legal shit over Christmas weekend! Why you always gotta guilt-trip us like that!
(NO PROJECTION! NO PROJECTION! YOU'RE THE PROJECTION!)
Follow Five Dollar Feminist on Twitter RIGHT HERE.
Money us, please! LAWZ IS HAAAAARRRRD!
[ Hawaii v. Trump, Travel Ban Order / Atlantic / CBS / The Intercept / Open Communities Alliance v. Carson / NYTimes / ACLU v. Mattis]
Liz Dye
Liz Dye lives in Baltimore with her wonderful husband and a houseful of teenagers. When she isn't being mad about a thing on the internet, she's hiding in plain sight in the carpool line. She's the one wearing yoga pants glaring at her phone.