These Shrimp & Grits The Best Thing You'll Ever Put In Your Mouth? PROBABLY!
News
April 15, 2017 01:03 PM
Happy Easter, for those who celebrate it, whether as the Festival of Zombie Christ, or in accordance with earlier traditions! For those who don't, Happy Weekend! To those who do neither Easter nor Weekends, uh, Hi? I hope your workday is going as well as possible, I guess?
---
Here in the Deep South, USA, and all across the Northern Hemisphere, spring is breaking out all over the place. Thunder is booming, flowers are blooming, and we have green tree-jizz all over everything. Ew.
Time to pull out our bright, pastel wardrobe, put our Seasonal Affective Disorder away till next fall, and have fun again! Garden parties! Brunch! Potluck dinners! YAY! And I've got something you're gonna want to make.
This quintessential Southern dish is now popular, in myriad variations, all across the USA, but originally was made only in an area I know and love: the Lowcountry of South Carolina. It traces its roots back to the Muskogee Tribe and Gullah Geechee slaves before finding its way to white breakfast tables and, much later, Fine Dining establishments throughout the South and, eventually, the entire country. My version would be perfectly at home in any restaurant on Charleston's East Bay Street, but I've combined the best of several to make something different and, IMNHO, better than any of them. Thank goodness modern refrigeration means we can enjoy this year round, instead of just June through October! Oh! And for those who like thumbing their noses at Jewish Tradition, because, as Christians, they are no longer subject to Kosher dietary laws, it does that, too, while not being boring ham! Today, Pink is going to tell you how you should make
Shrimpngrits!
Best when made in a crowded kitchen, full of chatter, laughter and love, so invite your friends!
Drinkage: This is Brunching With Friends food, so Brunchy drinks, AKA wine. White, Red, Bubbly - it doesn't matter. They ALL work with this! I suggest one bottle per person. Maybe 2. Feel free to sub pitchers of Bloody Marys, if you prefer. Of course, Sweet Tea for the teetotallers. Because, SOUTHERN, y'all!
Difficulty: 2/10
Time: 2 hours total. PROTIP: Doubling (or more) the recipe adds virtually no time.
Serves 4
WHAT YOU NEED!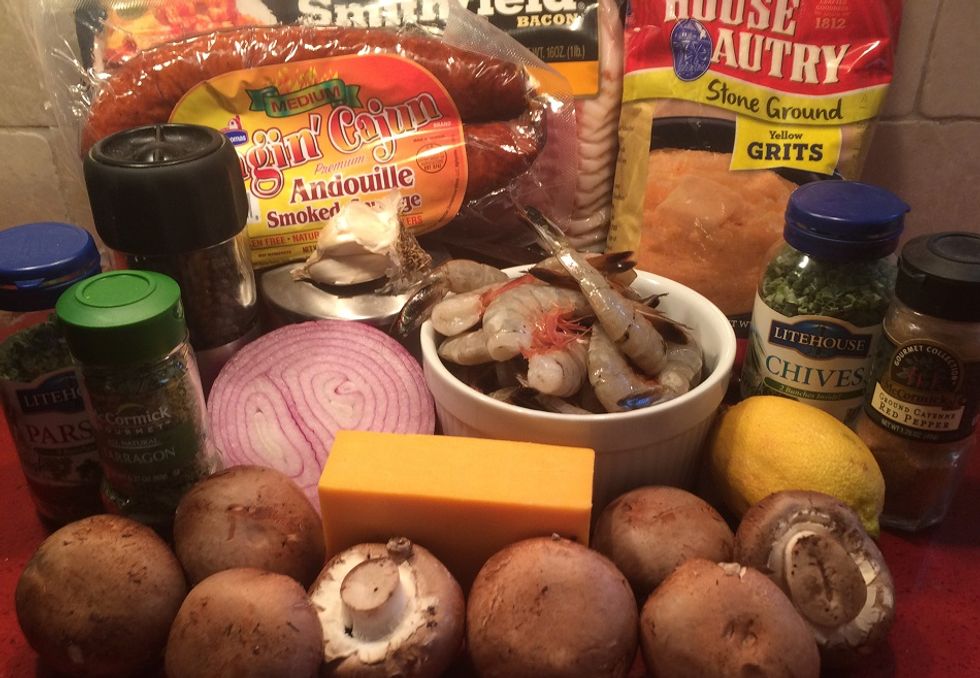 Ingredientses
4 slices bacon

~5 cups chicken stock

1 cup stone-ground yellow grits

1 lb shrimp, peeled, shells reserved

1/2 lb Andouille sausage, coined or diced

1/2 lb mushrooms, sliced thin. I used Baby Bellas.

4 Tbls dehydrated mushrooms

~1 tsp kosher salt

1/2 tsp baking soda

1/2 tsp cornstarch

1 cup (approx 4 ounces) shredded, extra sharp cheddar cheese

1 cup half-n-half

1/3 cup finely diced red onion.

3/4 tsp minced garlic

1/4 tsp cayenne pepper

6 Tbls butter, divided

Fresh juice from one lemon

1 Tbls each, mixed: Parsley, Chives, Tarragon, divided.
WHAT TO DO WITH WHAT YOU NEED!
Put 4 cups of chicken stock in a large (6-8 quart) saucepan, turn to medium high.

Peel the shrimp.

Put the peeled shrimp in a bowl, place in fridge. Put the shells, and 4 Tbls Dehydrated mushrooms, in the stock.

Bring stock to a low boil, cook for 20 minutes.

In large pan, cook bacon until crispy. Drain on paper towels, remove pan from heat. Pour off bacon grease, reserve for later use.

When 20 minutes has passed, pour chicken stock through a strainer into another pot/bowl. Add additional stock to return to 4 cups.

Return stock to saucepan, whisk in grits. Quickly bring to a simmer, adjust heat to hold at LOW simmer.

Stirring occasionally, simmer grits for 1 1/2 hours.

Do your slicing/dicing/chopping. Measure out your seasonings. Set aside in appropriate containers, for later use. This is important. When it's time to use them, it's a pretty rapidfire sequence. You won't have time to chop things later!

After 1 1/2 hours, whisk half and half into grits.

Once half and half is incorporated, whisk in grated cheese until thoroughly melted and mixed in

Return large pan to stove, add 1 Tbls bacon fat. Heat over high heat until barely beginning to smoke.

Add shrimp to pan, stirring continuously, until browned but not cooked through (approximately 1 - 1 1/2 minutes). Transfer to plate.

Reduce heat to medium high, add 3 Tbls bacon fat.

Add mushrooms and cook, stirring, until they release their liquid and become lightly browned (about 10 minutes). If pan becomes too dry, add bacon fat - one tsp at a time - as needed.

Add Andouille sausage. Stirring often, cook until heated through (approx 5 minutes).

Stir in onion, garlic and cayenne pepper. Cook until onion and garlic are soft, about 2 - 3 minutes.

Pour in 3/4 cup of chicken stock, deglaze pan.

Whisk in butter until melted and fully emulsified.

Stirring continuously, add shrimp, turn off heat but leave on burner 1 -2 minutes

Remove from heat. Whisk in 2 Tbls mixed herbs and lemon juice.

Spoon grits into bowls. Top with shrimp mixture and gravy.

Crumble bacon over shrimp, garnish with remaining herb mix.

Serve with fresh cornbread. You DID make cornbread, didn't you?

Ohyeah. THAT's how you make grits! Super smooth, creamy, cheesy, flavor filled. Then, the shrimp! Plump, tender, bringing a bright, clean flavor to balance the sharp touch of heat from the sausage, the deep, rich gravy accented with the bright notes from the herbs.

Look at you, with your pink/dark/red/swarthy skin, your ginger/blond/brown/jet black hair, your Asian/European/African/Mideastern genealogy . . . all cutting up, drinking wine, laughing and enjoying each other's company while also too enjoying something undeniably Southern. You see that, my Stars and Bars waving neighbors? THAT's Heritage, Not Hate. Get with the program, y'all!

Wonkette is ad-free and fully supported by its reader's donations. To help keep Wonkette Toddler Overlord Donna Rose in adorable outfits, just click the link right below this.