Thought Experiment: Do These Two States Exist In The Same Country?
News
February 21, 2014 01:13 PM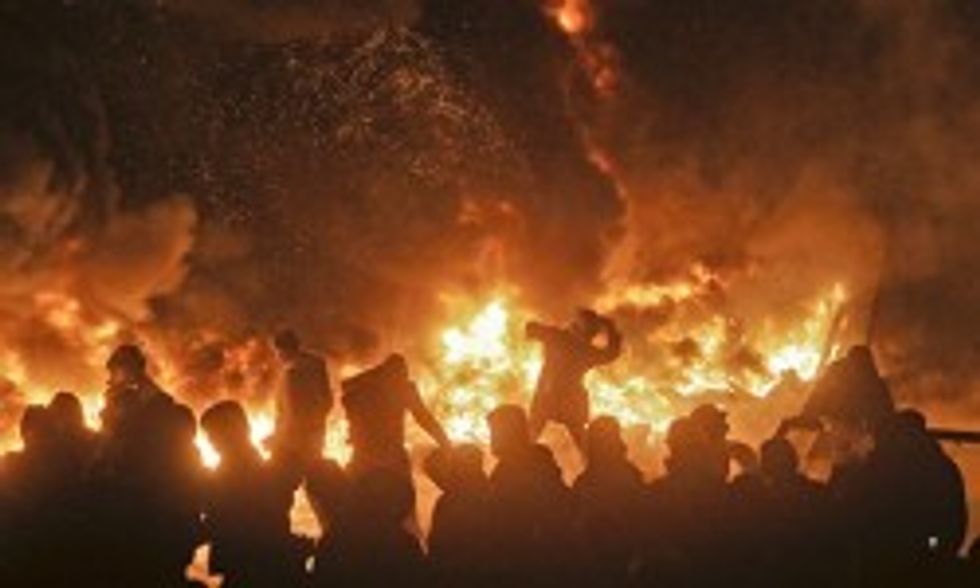 ---
Today, students, I would like you to begin work on an essay titled, "Why Is The United States Not Engaged In A Great Civil War?" You will need to cite the following examples of disparate U.S. American cultural values, and explain why these have not led to flaming barricades of death a la Kiev, Ukraine:
Case Study One: On the University of California - Berkeley campus last week, a touring group of elementary school students encountered a man in a giant penis costume handing out condoms. They also were able to watch UC-Berkeley students playing "pin-the-tail on the anus" and throwing condoms through target holes labeled and illustrated as "vagina" and "anus," as part of the university's celebration of National Condom Week.
"All day long, little kids were prancing by the dental dam demonstrations, sex-themed games of chance, and the guy in the penis suit," student Claire Chiara said in an interview with Campus Reform Thursday.
Discussion Points: Is the fact that the penis man was not allowed to distribute condoms to the children Unfair To Kidz? Should National Condom Week be a federal holiday? P-I-N goes where?
Case Study Two: The South Carolina House of Representatives cut funding from some public universities Wednesday to punish them for requiring students to read books about homosexxicans. Unlike states that let their boards of regents micromanage public college budgets and required-reading lists, South Carolina allows the people's representatives to get right in there and mix it up with the details, in the name of academic freedom.
The Republican lawmaker who pushed the legislature to punish the colleges for their choice of books told the [The (Columbia) State] newspaper that schools shouldn't force one view on students.

"One of the things I learned over the years is that if you want to make a point, you have to make it hurt," state Rep. Garry Smith said. "I understand academic freedom, but this is not academic freedom. ... This was about promoting one side with no academic debate involved."
Discussion Points: Is South Carolina REALLY too small for a republic but too large for an insane asylum? Does the United States need TWO Carolinas? Is Rep. Garry Smith actually brain-damaged?
Please have your papers ready for review by next Friday, printed out in 12-point type, double-spaced with the margins we previously discussed. Use standard footnoting.
EXTRA CREDIT: Write 500 words comparing and contrasting the ethnography of the UC-Berkeley sociology department and the University of South Carolina Gamecock football team. Conclude who would win a "pin-the-tail on the anus" competition.