Today's Hard-Hitting Profile of a Washington Twitter User Features Chuck Todd
News
May 24, 2010 09:01 AM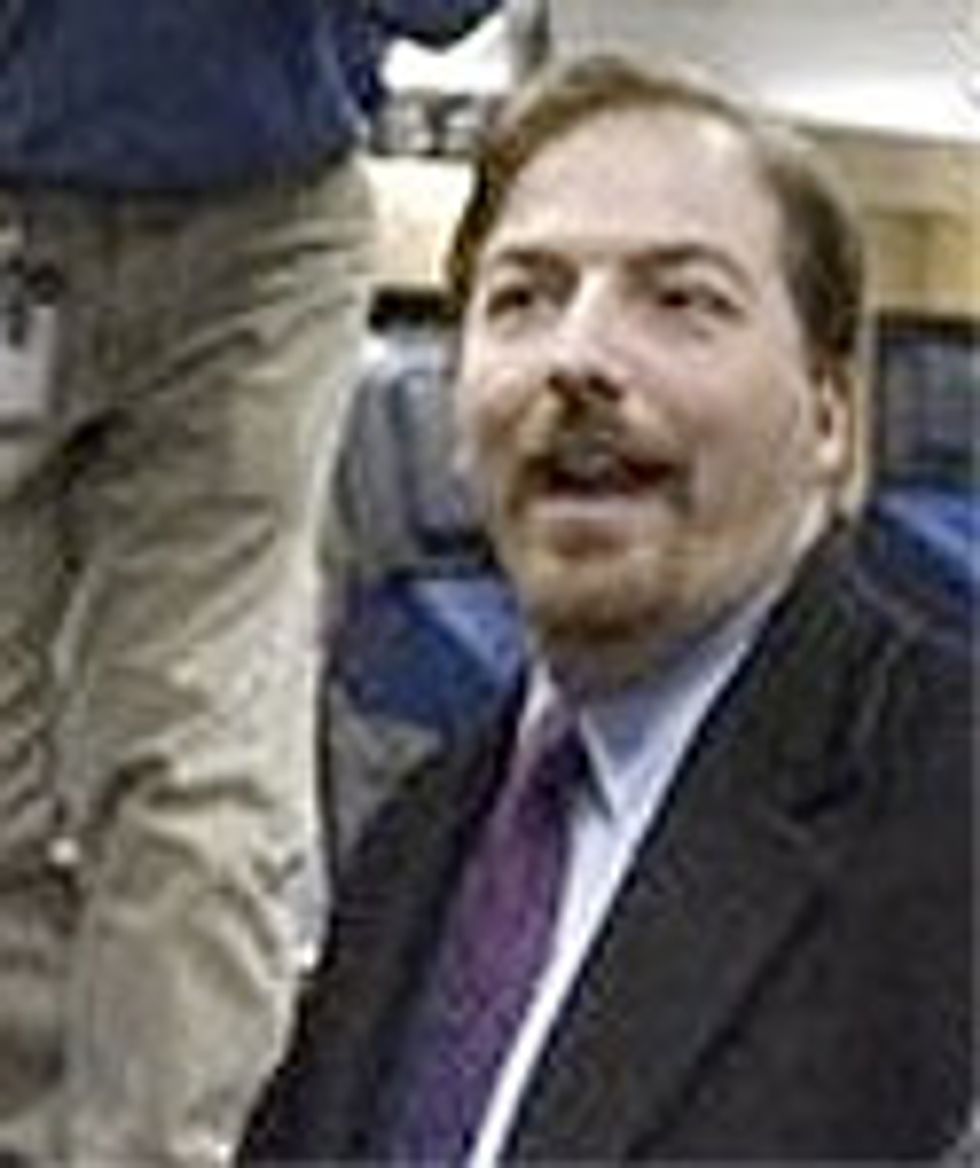 Following the New York Times magazine feature on DC cut-and-paster Mike Allen is no easy job, so Washington Post media typist Howard Kurtz had to do a whole story on Chuck Todd -- even though Todd is not primarily known for forwarding some links to his BCC list. Who is Chuck Todd, anyway, if not Mike Allen? Nobody knows for sure, but the important two points -- he is tired from whatever he does, he is tweeting -- are quickly, savagely nailed by Kurtz in a quick, savage news lede that will soon be known as a classic of the dead form.
---
Chuck Todd began tweeting at 6 a.m. -- "the big race is in WV where another DC incumbent could lose a primary" -- and now, nearly three hours later, he is crashing minutes before airtime. Tapping on a computer in a wrinkled blue shirt, Todd has just finished updating a blog post on Arlen Specter when he asks a producer to find some videotape for his new program, "The Daily Rundown."
Oh can you feel the journalistic tension, the ticking clock, the videotape, the orange glow of sunset over the jungle, the hiss of artillery, the boom of mortar fire? It is all here, in this profile of DC reporter/teevee host Chuck Todd, except for the parts about being outside and covering an actual news story somewhere, like reporters used to do in the "Spanish Civil War" or "BBC World Service" or whatever.
Anyway, what can we learn from this profile of Chuck Todd, who used to be "the guy who does the numbers thing that Nate Silver probably does even today," but now just sends twitters about stupid sports teams while he sits around being tired in his stinky blue shirt?
Well, his co-host on MSNBC is Savannah Guthrie, known to Wonkette loyalists as "that hot reporter who was talking to Obama that one time while Chuck Todd watched," and they do not have "left-right guests" on their show, which apparently comes on right after that terrible racist pigfucker Pat Buchanan's program, Morning Joe. Maybe we will tune in for 10 seconds today, as long as it comes on before In Business on Bloomberg, which is the only cable news show we will admit to watching, and where Lizzie O'Leary can tell us the Washington news in, like, 90 seconds instead of dragging it out for an hour. [Washington Post]