Today's Totally True Story From The New York Post: Hillary Clinton To Huma, 'It's Weiner Or Me'
News
September 23, 2013 11:55 AM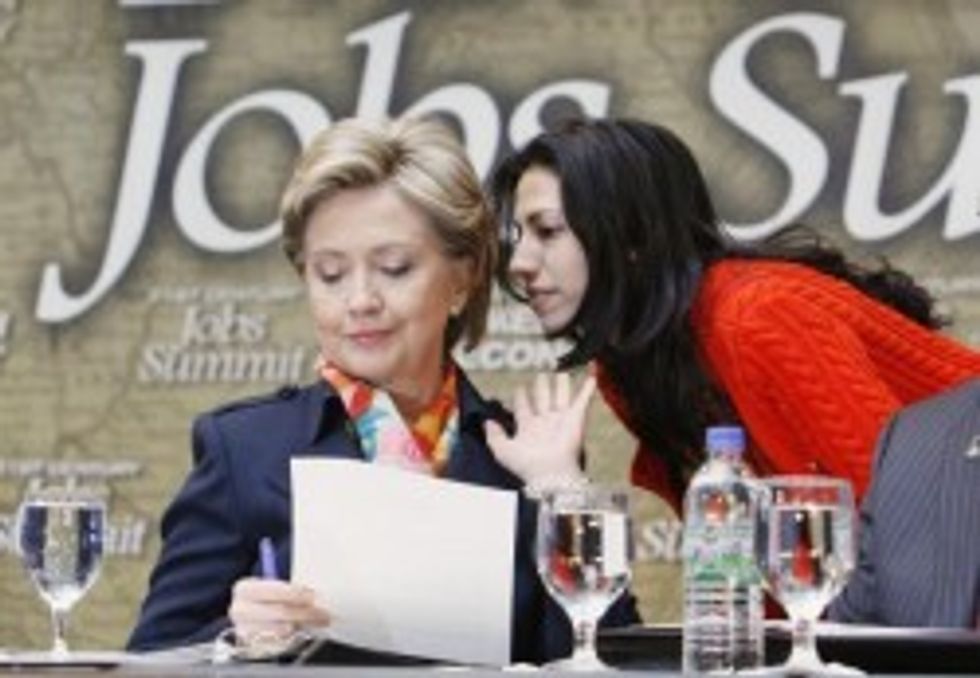 The New York Post, in its continuing quest to out-do its most obvious competition, has the scoop of all scoops from the Hillary '16 killer campaign machine. Huma Abedin has got to get rid of that Weiner she's been dragging around, or else get on up out of Hillary's face. Because if there is one thing Hillary Clinton can't stand, it's some chick standing by a man who has publicly humiliated her with a bunch of other women.
---
Top Hillary Clinton aide Huma Abedin has been given an ultimatum: dump serial-sexting hubby Anthony Weiner, or get out of Clintontown.

Huma has a choice to make," a close associate tells New York magazine. Does she go with Anthony, or does she go with Hillary?
Aha! So the NYPost headline, "Hillary to Huma: Dump Weiner or You're Out," unsupported by the actual NYPost story, is based on an anonymous source in a Cliff's Notes book report of an article from New York Magazine? Journalism at its finest! We believe either article could have better been titled "Hillary Aides Leak Nonsense in Struggle to Overthrow Alpha Aide (and Hillary's obvious lesbian lover) Huma Abedin" But then there's no double entendre Weinerporn, and who the hell wants that?
Amidst the lying lies of ultimatum goodness about how no one would ever associate a Clinton campaign with any kind of infidelity ever ever ever, as long as they get rid of the Huma-Weinery, it seems Hillary Clinton isn't even thinking about any campaigning at all:
While Clinton-backers push her toward a 2016 presidential run, Hillary says she's enjoying her version of kicking back, and running the Clinton family's foundation with Bill and Chelsea.

We get to be at home together a lot more now than we used to in the last few years, Clinton told New York's Joe Hagan, in her first extensive interview since leaving the State Department post. We have a great time; we laugh at our dogs; we watch stupid movies; we take long walks; we go for a swim. You know, just ordinary, everyday pleasures.
Yes, yes, the ordinary pleasures of running multimillion dollar foundations, laughing at dogs, swimming, and telling people who work for her to stop being married to overt perverts. Normal people stuff.
But what about the campaign, Hilz?
I will just continue to weigh what the factors are that would influence me making a decision one way or the other, she said.
Well that sounds reasonable - factors influence stuff. Factors like, getting all the money in the world to be able to finance a campaign and firing Huma Abedin if she doesn't give up her dick-pic obsessed old man. Or maybe that doesn't even matter? Because Hillary Clinton is not the boss of anyone, especially not Hillary Clinton?
[C]onfidantes insisted Hillary has no choice but to enter the race.

She's running, but she doesn't know it yet, one source said. It's just like a force of history. It's inexorable, it's gravitational. I think she actually believes she has more say in it than she actually does.
Gravitational? Because in the Clinton universe, we have Clinton solar systems, in which Clinton planets majestically orbit the Clinton sun, and are in turn orbited by satellites who gossip to New York Magazine writers. It is inexorable physics and Hillary Clinton has no say as to whether Hillary Clinton runs for president, no matter what she believes.
She's doing a very Clintonian thing, another insider said. In her mind, she's running for it, and she's also convinced herself she hasn't made up her mind. She's going to run for president. It's a foregone conclusion.
It's all a "Clintonian thing," see? Hillary is running, her mind is un-made up about it, even though she knows it is true. It is an inevitable, foregone conclusion, just like how you only stay with a guy if he wins his election, Huma. And if you want to stay in Clintontown, you're gonna have to lose the Weiner.