Trump Calls Terrorists 'Losers,' Saves World. Wonkagenda For Fri., Sept. 15, 2017
Elections
September 15, 2017 09:36 AM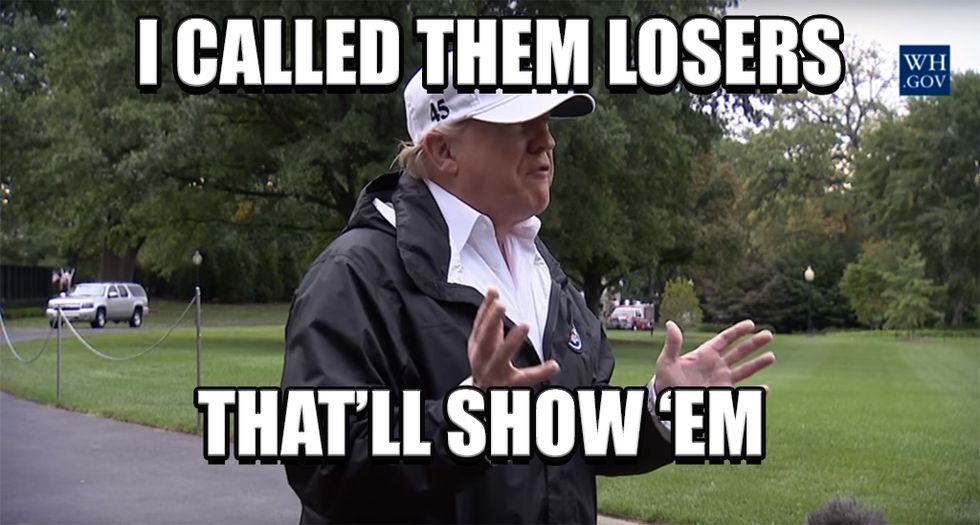 Whoa, Wonketariat! We have many newses for you today! Here's some of the things we may be talking after you watch this silly polar bear video!
---
An improvised explosive was detonated in a London Tube train during rush hour this morning at the Parsons Green station. At this time, 22 people have been hospitalized with non-life threatening injuries. As usual, Trump has shown the leadership we'd expect and called the suspected terrorists "losers."
According to a new report from the CBO, the Trump administration's diddling around with Obamacare is causing insurance companies to jack up premiums by 15%, which is lowering enrollment and competition in marketplaces.
Trump is bitching about killing the filibuster (again) this morning in new tweets that continue to highlight his incompetence to the basics of government. Seriously, it's not that hard.
The CIA is complaining it can't kill enough people with robots in Not America; now the Pentagon is worried that the CIA might try to steal some of it's thunder.
In preparation for the 2018 midterm elections, Democratic Senate incumbents and hopefuls are trying to become the little progressive engines that could.
Steve Mnuchin says that he was worried about the gold in Fort Knox, and getting his "eyes burned out" during the Eclipse. He just wanted to protect the gold from the mean, old sun!
The UN is grinding its teeth in preparation for Donald Trump's visit on Monday, when he's expected to bitch about all the Ameros the UN wastes. While there, he'll finally be able to mean tweet from his gold-plated toilet again.
Donald Trump is the loneliest man in Washington. Take out all the references to "Trump," and it sounds like they profiled a serial killer.
Harvard has decided to pull its Visiting Fellowship from Chelsea Manning after it faced inarticulate yelling from the Internet, the resignation of former CIA Deputy Director Michael Morell, and current CIA director Mike Pompeo canceling a speech there last night.
Trump is pulling that both sides crap again, likening anti-fascist activists to neo-Nazis. In a long, rambling statement aboard Air Force One, Trump reminisced, "Now because of what's happened since then, with Antifa, you look at really what's happened since Charlottesville — a lot of people are saying — in fact, a lot of people have actually written, 'Gee, Trump might have a point."
We should finally hear a verdict in the case against former St. Louis police officer Jason Stockley, accused of first-degree murder in the death of Anthony Lamar Smith. Police and activists have been preparing for violent clashes worse than Ferguson in 2014. There's no jokes here; I am personally telling you that this could get very bad, very fast.
Those Motel 6s in Phoenix that were calling ICE have decided to stop calling immigration cops on all the brown folks after being slut-shamed all over the Interwebs.
The House has decided to fuck with DC again, striking down several new laws, including its Death With Dignity rule.
This weekend a bunch of Juggalos (fans of the Insane Clown Posse) will "march" on Washington in protest of being classified by the Justice Department as a "loosely organized hybrid gang." Coincidentally, there's a Trump rally scheduled at the same time on the other side of The Mall. With all the face paint, Faygo, tiki torches, and a DSA endorsement, things should be interesting.
The International Atomic Energy Agency says that Iran continues to comply with the terms in the Iranian nuclear deal, so of course Trump keeps searching in vain to find something to bitch about, like elements and spirits.
If you use stupid default passwords like, "admin," you're asking for trouble. Just ask Equifax.
Facebook made it SUPER EASY for hate groups to find targets and sponsor "ads" (for only $30) that would pop up in news feeds to harass people, or attract another like-minded "Jew hater" or "Nazi party" enthusiast.
ESPN tried to boot Jemele Hill off the air on Wednesday, but their backup hosts gave ESPN the finger, forcing them to keep Hill on the air. (ESPN president flatly denies, but nobody believes him.)
Anthony Weiner is super sorry for thinking with his dick (again) and ruining his wife's career, and YOU KNOW, JUST THE ENTIRE WORLD.
If Steve Bannon makes his western movie, would you drunkenly hate-watch a bootleg with your friends, or would you skip it altogether?
Ann Coulter is full of sadz that "loser" Donald Trump dumped her for all the LIBERALS and their Messican children. Poor white trash barbie!
And here's your late night wrap-up! Jimmy Kimmel had some AMAZING talky time with Stephen Colbert; Seth Meyers took A Closer Look at DACA; The Daily Show doesn't get why Trump is suddenly being hailed as a "bipartisan"; James Corden thinks it's funny how Trumpkins forget all the people Trump has "You're fired"; oh, and Rachel Maddow had a little lady named "Hillary Clinton," whoever that might be, on for the whole hour, so enjoy!
And here's your morning Nice Time! A kitty who learns that the best way to make friends is not on Facebook.
Nice people like you give us money to keep the lights on and the coffee pouring. DO YOUR PART!
Dominic Gwinn
Dominic is a broke journalist in Chicago. You can find him in a dirty bar talking to weirdos, or in a gutter taking photos.