Trump Goes Nuclear On LIBERAL Media. Wonkagenda For Tuesday, November 22, 2016
Science
November 22, 2016 09:09 AM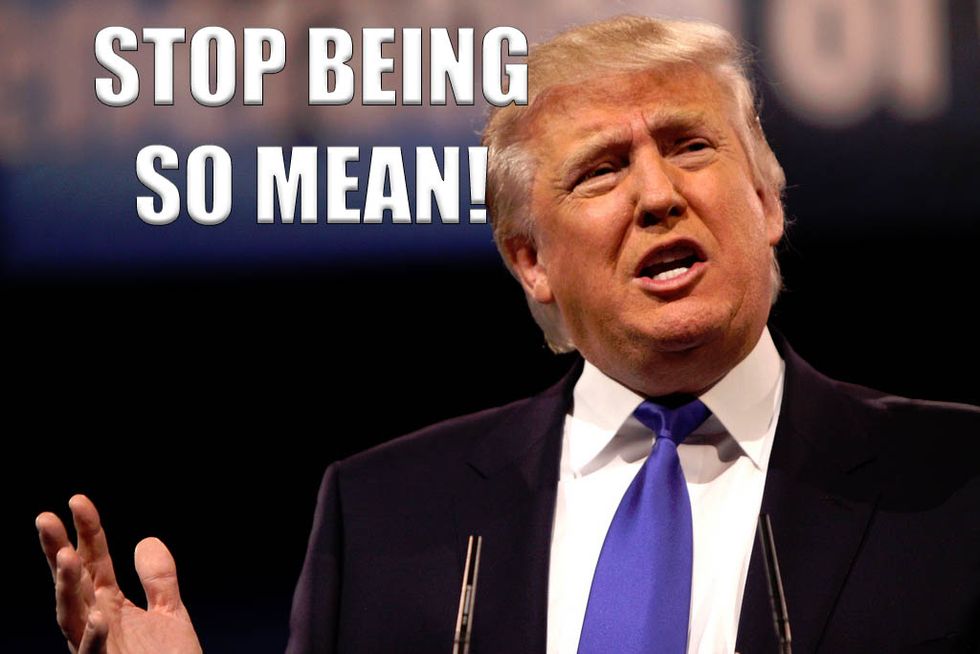 Morning Wonkers! Here's some things to read while you guzzle coffee and thank Crom that Donald Trump hasn't initiated some apocalyptic catastrophe. Yet! (Remember Dok and Evan are still "vacationing," so posting will continue to be light and NEVER!)
---
Donald Trump hasn't even taken office and he's already wiping his ass with the First Amendment. Yesterday, Trump invited a bunch of LIBERAL media types up to his office and bitched them out for being gosh darn mean, unlike the FOX News talking heads desperately seeking cabinet positions. "It was like a firing squad," the New York Post breathlessly reported, no doubt with info from "John Barron." And this morning, Trump canceled a meeting with the New York Times because they're "Not Nice."

"I keep telling them to believe me! Why won't they just believe me?"

Instead of talking to the LIBERAL media gatekeepers, Trump has decided to release his own messages via the Interwebz, like this Youtube video where he reiterated his hollow campaign promises he'll inevitably break, just like how Trump no longer wants to investigate and imprison Hillary Clinton.
Oh thank goodness! We can all settle down now that it turns out Trump actually doesn't like his neo-Nazi supporters.Wink. Wink. Nudge. Nudge.
Republicans fucking love their fancy weapon systems, even if they become white elephants. After we bomb the shit out of ISIS, Republicans want to weaponize space with lasers and bullshit like Ronald Reagan you know, just in case aliens invade (again) and start a space war with the secret lizard cabal that runs all of Not-America (again).
A judge in Wisconsin found that the state legislature's 2011 redrawing of the state Assembly districts is unconstitutional gerrymandering in favor of Republicans. We'll just throw that one onto the pile along with the hundreds of thousands of people purged from voter registries, the broken unions, and the past and future victims of David Clarke.
As Trump tries to figure out how to make government very bigly not bad one more time, or whatever, federal employees are wondering whether or not they should quit their jobs, since Trump's plan on freezing the federal work force is likely to make "the government" a very unhappy place under Trump Administration. Don't worry though, those good old fashioned Republicans are watching to see which Obama appointees move to civil service jobs so that they can blow their whistles on the whistle blowers who report illegal and unethical activities.
Exxon-Mobil has FINALLY found out who's behind that darn climate change conspiracy! It's those darn Rockefellers and no-good muckracking journalism students! Glad we can finally close the case on that mystery, right gang?
For the last time, PizzaGate is not a thing, and it never was. Of course, as a members of the LIBERAL MEDIA ELITE, that's just what we WOULD want you to think, isn't it?
Canadians are mad that Conservative MP Michelle Rempel said "fart" in an impassioned criticism over the treatment of Alberta. Rempel's language triggered Green Party leader Elizabeth May to request that the MP retract her statement, to which the MP replied that the Green Party leader had smelt it, thus dealt it.
And now your morning Nice Time, a critter feast! Watch otters, giraffes and bears go to town on pumpkins!
Dominic Gwinn
Dominic is a broke journalist in Chicago. You can find him in a dirty bar talking to weirdos, or in a gutter taking photos.