Trump Letting Strangers Finger Your Internet Porn. Happy Now, Republican Closet Cases?
News
April 04, 2017 05:00 PM
They see you.
---
Last week, we told you about a bill Preznit Pussgrab was about to sign, what said it's UNFAIR for companies like Comcast to not be allowed to sell all your personal information, without your permission, including your browser history, to companies that might be interested in that information. Trump has, of course, now signed that bill, because just like the Republicans in Congress who voted for it overwhelmingly, he's more concerned about doing giveaways to corporations than he is about your privacy. Plus, as an Art Of The Deal-er conman, he knows you can't sell people shit they don't want if you can't advertise to them. The Russian pee hooker porn in your browser history will apparently help companies do that. (Not your browser history, of course. We are just trying to 'splain this in terms the president might understand, not that he'd know anything about Russian pee hookers.)
But! Want to know a funny thing? It turns out that BIPARTISANLY, literally everybody hates this bill, including the great majority of the Republican idiots who elected these fuckers. From a HuffPost/YouGov poll conducted before the bill was signed: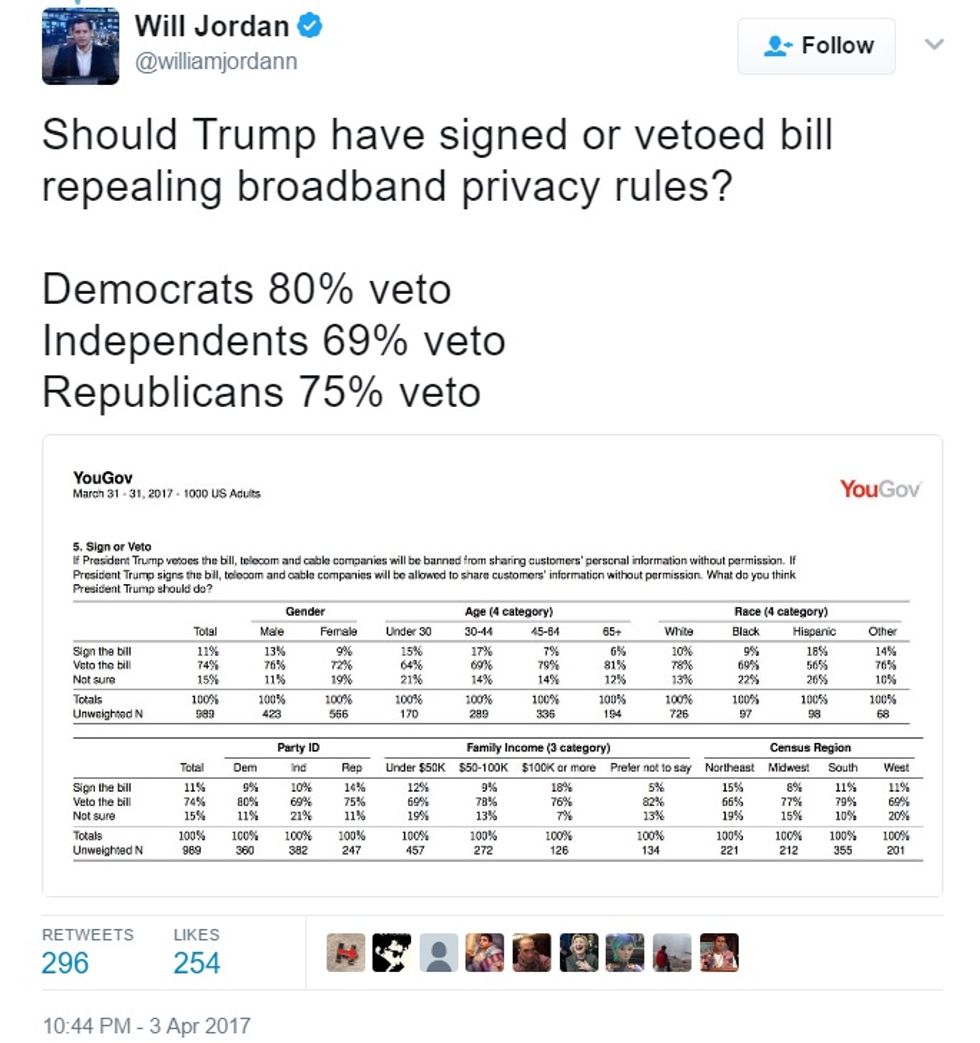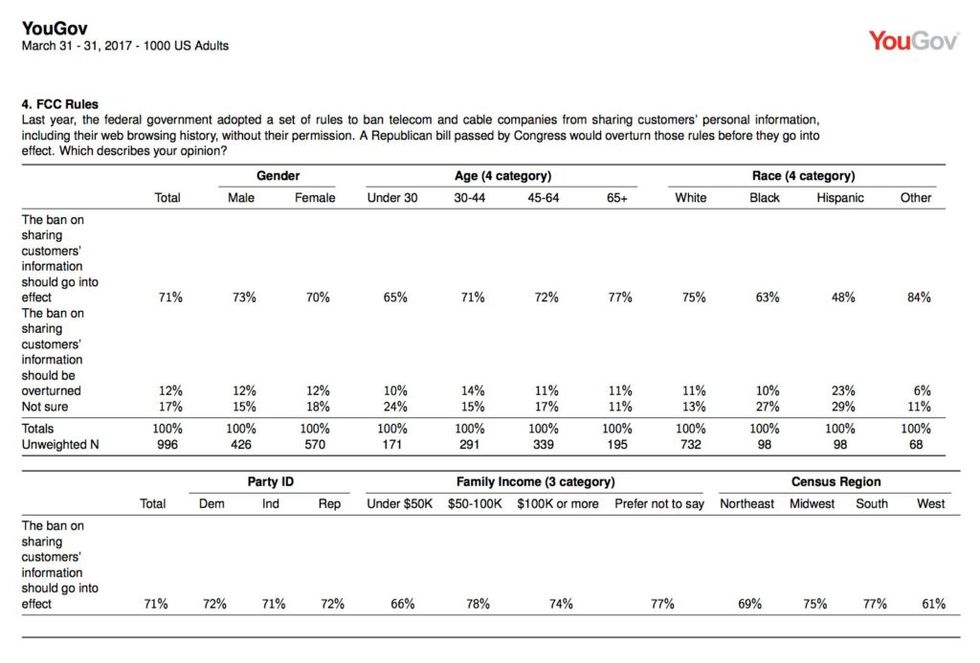 OK, if you are dumb and Not A Scientist and don't know how to read polls, the point is that enormous majorities of people think Trump should not have signed the bill, no matter their age, race, socioeconomic status, or any other factor, and again, no matter what political party they identify with. As Huffington Post notes, the top line on this poll is that 83% of all Americans oppose companies sharing "sensitive" stuff without asking your permission, whereas a whopping 6% are for it.
So that's weird. It's like the GOP doesn't really care about what its own voters want -- remember how only 17% of people really wanted to see Obamacare replaced with the AHCA, and only 41% OF REPUBLICANS supported the replacement? -- and instead is just focused on cramming through its own extremist agenda, because they're a bunch of effing extremists, and also because fuck you.
So YAY, America is united again, and they are going to take to the streets holding signs with the hairy paws they got from masturbating to internet porn, because GET OUT OF AMERICA'S INTERNET PORN, PLEASE.
[wonkbar]<a href="http://www.wonkette.com/572034/if-your-husbands-not-gay-he-was-the-other-night-tlc-teevee-review"></a>[/wonkbar]We understand why Americans are against this, obviously. But we really understand why Republican conservatives are against it, because we've all seen those hilarious studies what say red states (lookin' at you, Utah!) eat the most porn on the internet, because they are sexually repressed and lots of them are in the closet, pretending not to be gay. So whereas the most common porn searches in liberal states are like "consensual naked arugula lesbian-ing," in red states it's like "WEIRDEST GAY FURRY FETISH PORN YOU CAN FIND." Or it's just a bunch of "straight" pastors and youth group leaders furiously masturbating to Broke Straight Boys Dot Com. (We may have made up those two internet searches, but we didn't make up that website.)
We are just fooling with the conservatives, we know they don't look at porning like that, JUST KIDDING YES THEY DO, and now because of the bill Donald Trump just signed, Comcast is going to tell everybody how gay they are. SUCKERS.
Wonkette is fully funded by readers like you! If you liked this post, click below, to fund us! Also, it's your open thread!
Evan Hurst
Evan Hurst is the managing editor of Wonkette, which means he is the boss of you, unless you are Rebecca, who is boss of him. His dog Lula is judging you right now.
Follow him on Twitter RIGHT HERE.