Trump Praises FEMA's Work In Puerto Rico. Wonkagenda For Thurs., June 7, 2018.
Military
June 07, 2018 09:23 AM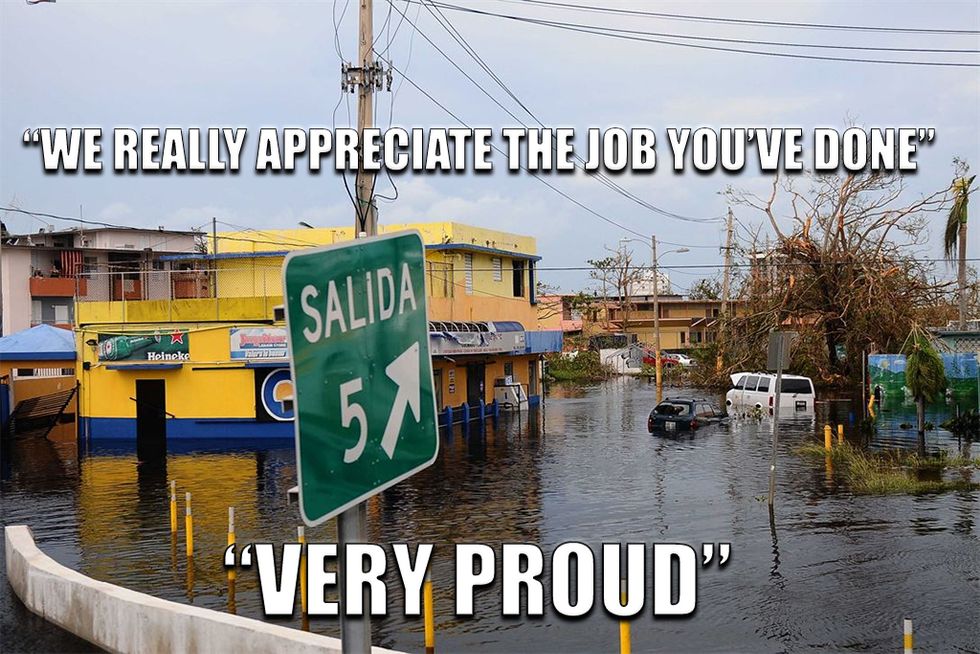 Photo by Sgt. Jose Ahiram Diaz-Ramos via DOD.
---
Morning Wonketariat! Here's some of the things we may be talking about today.
Paul Ryan says there is "no evidence" to Trump's feverish rants about spies in his campaign, telling Fox News, "I think Chairman Gowdy's initial assessment is accurate," then adding that Republicans are going to "run every lead down."
John Fotiadis designed most of Trump's glass palaces in post-Soviet states, but he disappeared just as Robert Mueller tried to ask him some questions.
Last night Sean Hannity encouraged potential witnesses/subjects/targets of Trump-Russia to commit a federal crime and by telling his audience to "delete all your emails, and then acid wash those emails and hard drives on your phones, then take your phones and bash them with a hammer into little itsy bitsy pieces...then take those pieces and hand it over to Robert Mueller and say 'Hillary Rodham Clinton, this is equal justice under the law.'" In a not at all shocking omission, Hannity forgot to tell his audience to turn off cloud backup.
Rudy Giuliani's quest to be a bigger attentionwhore than Donald Trump has him in Israel claiming that Kim Jong Un "got back on his hands and knees and begged" Trump not to cancel their nuclear summit. Giuliani also attacked Stormy Daniels stating, "I don't respect a porn star the way I respect a career woman or a woman of substance or a woman who ... isn't going to sell her body for sexual exploitation." Just a few hours after that, Giuliani was found dancing in a Jerusalem restaurant, swinging his napkin above his head while a woman danced on a table in front of him.
TV talking heads have been ripping Giuliani a news asshole this morning with Mika going on a rant, and CNN's Kirsten Powers calling him a "dinosaur."
Trump held a photo op to talk about what a great job FEMA has done in covering up the thousands of people who died in Puerto Rico. With Mike Pence and Melon at his side, Trump spent the 20 minute briefing heaping praise on federal officials and state legislators, and then stated, "Sixteen thousand people, many of them in Texas, for whatever reason that is. People went out in their boats to watch the hurricane. That didn't work out too well." Leaked recordings show that after the doors were closed, Trump spent 40 minutes rambling about saving money on Air Force One, his dislike for magnetized launch equipment on aircraft carriers, and how popular he is.
Trump DOES NOT want to go to Canada for the G-7 meeting this weekend, viewing it as a distraction from all the preparing he's not doing for his North Korea summit. White House aides say that Trump is bitchy about world leaders being treated as equals, and his preference for being pampered may result in him sending Mike Pence instead.
Your secret Canadian boyfriend Justin Trudeau was livid after Trump rationalized his trade war with Canada by accusing Canada of burning down the White House. Historical note: That was the war of 1812, and it was the British.
Millan Hupp, Scott Pruitt's 26 year-old longtime aide who followed him to the EPA, is stepping down after news broke that Pruitt asked her to find a used and smegma-free mattress from a Trump hotel. When asked to comment, EPA spox Jahan Wilcox responded to The Atlantic's Elaina Plott with, "You have a great day, you're a piece of trash."
Sarah Greenwalt, a senior counselor to Pruitt, is also leaving, but don't worry, Pruitt made sure she was well compensated for her time.
Scott Pruitt is such a parasite that Trump's White House has told Pruitt to stop eating lunch in the White House mess kitchen. No more "Chocolate Freedom" for you. :(
On Tuesday a US District Court ordered the EPA to comply with FOIA request for any "evidence" Pruitt has used in denying climate change. They have until July 2.
New documents show that Bob Murray, the CEO of Murray Energy, an Ohio-based coal company, sent a "wish list" to Trump to scuttle the Paris Climate Accord, and lobbied Scott Pruitt and Rick Perry to roll back regulations on coal.
Mick Mulvaney has fired all 25 members of an advisory board for the Consumer Financial Protection Bureau, although obviously that was for the sake of efficiency, not because advisors regularly disagreed with him. Rather than sit around with a bunch of commie nerds, Mulvaney wants to take the CFPB on a road trip to hold town halls and roundtables.
In signing the the new VA Mission Act yesterday, Trump snubbed Montana Sen. Jon Tester, the ranking member on the Senate Veterans Affairs committee, by not inviting him to the bill signing. Tester may have the last laugh though, since the GAO criticized the plan for its potential to make existing VA problems worse.
US border agents arrested more than 50,000 people last month. That's the third month in a row. We expect Trump to announce children who've been taken from their parents will no longer be fed, then blame Democrats.
The Philadelphia Eagles "fans" touted by Trump at his sing-a-long were actually Republican staffers. Clearly, someone never met Eagles fans.
How easy is it to "hack" your way into state voter rolls? Apparently, it's pretty easy, as Ars Technica was able to gain access to the Republican Party of California's voter data thanks to a contractor loophole and pathetic security protocols.
Berners appear poised to collect the scalps of super delegates as the DNC gets ready to vote on key rule changes in the controversial nominating process for Democratic presidential candidates.
Now that he's walked away from the governor's mansion, Missouri legislators are quietly putting away their pitchforks for Eric Greitens, according to a newly released agreement by St. Louis prosecutor Kim Gardner. The agreement acknowledged there was more than enough evidence to to take the case to a jury. Though he's off the hook for his grifty charity, and his use of encrypted messaging apps to conduct state business, Greitens could still face charges by the special prosecutor looking into his rapey sexcapades.
John Kelly and the NSC have been left out of Trump's White House "planning" ahead of the North Korea summit; that includes John Bolton, who has been increasingly sidelined, with Trump blaming Bolton for the cancellation of the summit two weeks ago.
Trump's point person on North Korea, Joseph Hagin, is expected to leave the White House immediately following the summit. A former Poppy Bush loyalist, Hagin has been the butt of many jokes and bullying from Trump staffers, like red, white and blue banners that read, "Make America Bush Again."
Trump's double dealing has left world leaders exhausted and humiliated even after they go out of their way to kiss his ass. Well, everyone except Bibi.
The American consulate in Guangzhou, China was evacuated after diplomats and their families began reporting the same mystery illnesses as people in Havana, Cuba.
After being accused by gamers for wishy-washy policies blocking games that allow users to engage in simulated school shootings and wife beating, online PC game distribution platform Steam has updated its terms of service to "allow everything...except for things that [they] decide are illegal or straight-up trolling."
Security researchers are saying that new Russian malware is more widespread and serious than initially thought.
Samantha Bee started her show with a cold open apology for contributing to the 24-hour news cycle, then launched into a rebuke of censorship, and of the detention of immigrant children.
And here's your morning Nice Time! BEARS! (Don't try this at home!)
We're ad-free and reader supported, but coffee isn't free! Buy us a cup so we can keep up with this shit show!
Dominic Gwinn
Dominic is a broke journalist in Chicago. You can find him in a dirty bar talking to weirdos, or in a gutter taking photos.