Trump's Favorite Real Billionaires Now Funding Creepy Provocateur Milo Yiannpopoulos
News
July 15, 2017 12:10 PM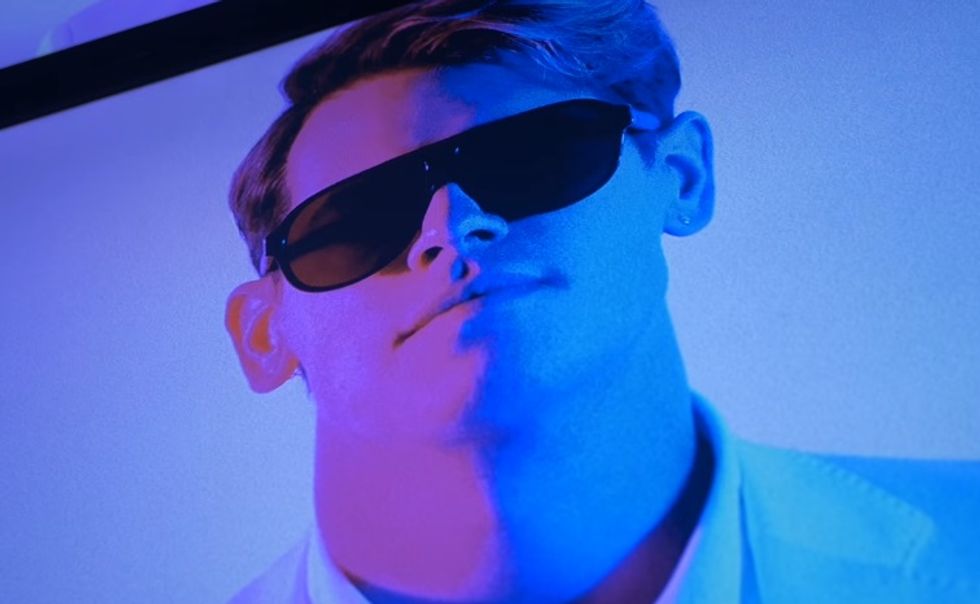 Stylish fascism is always in vogue
---
Robert Mercer and his daughter Rebekah Mercer are the billionaires -- pardon us, that's secretive billionaires -- whose infusions of money financed the rise of Steve Bannon and made Breitbart the central mouthpiece for the far right, and were also among Donald Trump's most enthusiastic big-money funders. Now that they've got a president of their very own, they're apparently working on funding the next generation of far right stars, helping Milo Yiannopoulous, the clownish creeper who thinks neo-Nazi imagery is all just good fun and also sees no big deal with a bit of pedophilia as long as it's friendly (Maybe he was joking! He jokes about everything! Except the existential threats to Western Civilization, of course, which are very real).
BuzzFeed has acquired a bunch of leaked documents that strongly suggest the Mercer family provided a great big cushion of money for Yiannopoulos to land on after being forced to resign from Dead Breitbart's Home Of Anything But Pedophilia Goes in February. Reporter Joseph Bernstein says that the Mercers want to win the next phase of the culture war online by helping Yiannopoulos destroy the left, or at least act like a well-funded asshole. The Mercers appear to have provided seed money for his new venture, Milo, Inc., and have stepped in to help him stay in the country after his Breitbart-sponsored visa expired.
Apart from establishing that the Mercers are Yiannopoulos's new patrons -- and that he is very happy to have such heavy hitters on his side, which proves he's the best -- there's nothing too salacious in the emails, although we do learn he has a penchant for sending all-caps, bolded, underlined emails to his staff, who he doesn't really trust that much. One email is about the absolute urgency of getting the youngsters -- lots of staff aged 20 to 22 -- to sign nondiclosure agreements, and another, to staffers, makes it absolutely clear you little shits better keep Milo informed any time you talk about money, damn it you kids:
"IF YOU HAVE CALLS WITH INVESTORS, I NEED TO BE ON THEM OR I NEED A DEBRIEF EMAIL AS SOON AS YOU HANG UP AND MY PERMISSION NEEDS TO BE SOUGHT AHEAD OF TIME, BEFORE YOU MAKE THESE CALLS. YOU DON'T KNOW WHO ANY OF THESE PEOPLE ARE AND THIS WILL CAUSE ME COLOSSAL PROBLEMS WITH THE MERCERS IF IT CONTINUES."
So he speaks the native language of the young'uns. Oh, and he likes to call the Mercers "mom and dad," eww.
Neither the Mercers nor Yiannopoulos would comment for the story, and the CEO of Milo, Inc., Alexander Macris, would only say "My company has not done a deal with the Mercers and I am not their spokesperson," which is a lovely non-denial denial. But the emails do suggest that Yiannopoulos looked to the Mercers to keep him from becoming one of those illegal immigrants after getting shitcanned at Breitbart, in which case he might have to start screaming incoherently at himself about the threat he poses to civilization. In a February email exchange, Macris asked him about his visa status, noting, "It is a virtual certainty that if you don't have a visa you'll be targeted by the enemy." (Not Immigration and Customs Enforcement, of course. They're the best. Macris clearly meant the DEEP STATE.) Milo wasn't too worried, because God, or at least Mammon, is on his side:
I AM ON AN O-1B [Visa ...] I HAVE 57 DAYS LEFT TO FILE A PETITION TO MOVE 0-1B TO NEW SPONSOR IF IT COMES TO IT THE MERCERS WILL PUT ME ON THE BOOKS AT ONE OF THEIR OTHER COMPANIES TO TAKE CARE OF THIS BUT IDEALLY THE NEW BUSINESS WILL DO THIS.
Ultimately, when DHS notified him his visa was about to be revoked (see? The enemy WAS coming after him!), Milo, Inc. came to his rescue, sponsoring his new visa. Macris explained to BuzzFeed:
"I handled this personally (I am an attorney) in conjunction with an immigration specialist I retained[.]"
That was awfully neighborly of Milo's CEO to help him out like that.
So yes, it looks like the Mercers are delighted to have the chance to fund Milo. They sponsored his "Dangerous Faggot" tour, and a source says "Rebekah Mercer loves Milo," because what rich sponsor of rightwing politics wouldn't be delighted to help out a guy who knows the
secret to making women happy
would be to uninvent the washing machine and the Pill? Oh, sure, maybe Milo wrote the world would be better if
women were banned from the internet,
but
that's satire,
where's your sense of humor? According to one of BuzzFeed's sources, Milo is exactly the ticket to capture the next generation of conservatives, or whatever it is those crazy Nazis with the cartoon frog are:
"The Mercers want to do whatever they can to bring this new style of conservatism to a younger generation. Milo did that for Breitbart with their money and they see no reason to change that."
We imagine the Mercers like to have him come up to their mansion to vomit in the swimming pool for laughs.
Yr Wonktette is supported by readers, not by insane billionaires. Not that we wouldn't say no to insane billions. In the meantime, click the "Donate" linky to send us money.
[Buzzfeed]