Tucker Carlson Running Actual Scam Charitable Foundation, Unlike Hill...OH, FFS!
News
June 02, 2017 11:39 AM
---
You already know that Tucker Carlson is a garbage human and DailyCaller.com is a pile of garbage pixels that will burn your retinas. But today we found out that The Daily Caller is actually a giant tax scam pretending to be a rightwing bullshit factory. Thanks, Center for Media and Democracy! Let's Scamsplore!!!!
DailyCaller.com was founded in 2011 by Tucker Carlson, notorious preppy douchebag, and Neil Patel, a former advisor to Dick Cheney. At the same time, they founded The Daily Caller News Foundation (DCNF) as a "related entity." In 2013, The Daily Caller Foundation received tax-exempt status from the IRS (Thanks, Obama!), and the scammy funtimes really got started.
According to DCNF's annual filing with the IRS,
DAILY CALLER NEWS FOUNDATION WAS FORMED WITH A mission to train up-and-coming reporters and editors, to carry out investigative reporting, and to perform deep policy reporting WITH A PURPOSE OF CONSUMER AWARENESS AND EDUCATION.
IF YOU SHOUT AT THE IRS, THEY WILL NEVER FIGURE OUT THAT YOU ARE RUNNING A GIANT TAX SCAM!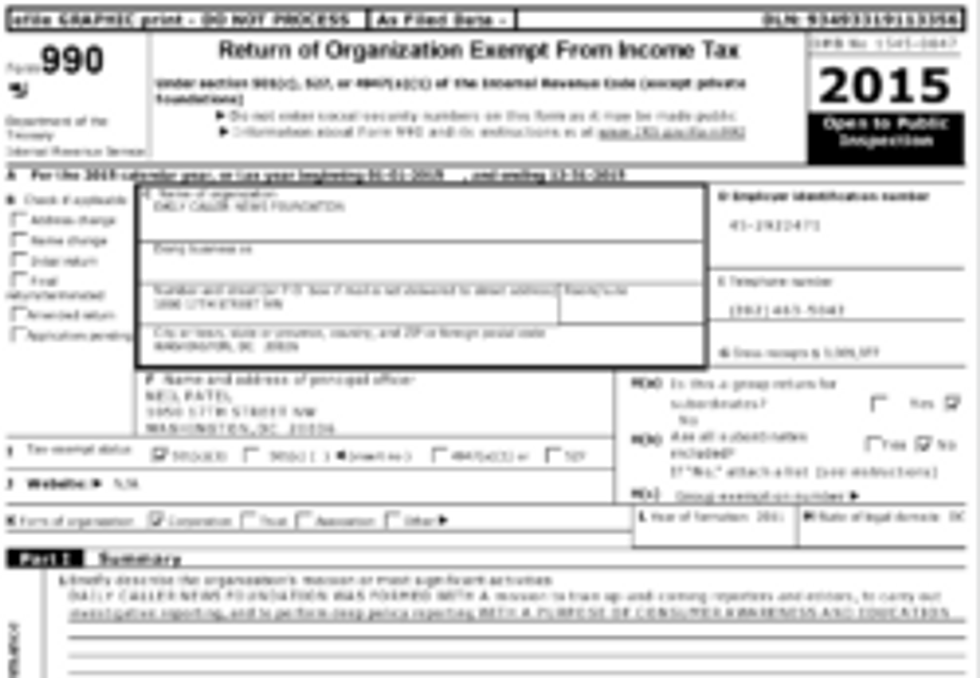 In fact, most of the 50 journalists writing for DailyCaller.com are actually employed by DCNF. How much of the content produced by these reporters-in-training winds up on the for-profit website? 100%.
To quantify the relationship between The Daily Caller's for-profit and non-profit entities, CMD analyzed the organization's media output for two standard work weeks, one in mid-January of 2017 and the other in early-March of 2017.

CMD found that of the 672 articles the non-profit affiliate published during those two weeks, all 672 were immediately cross-posted by the DailyCaller.com – proving that the for-profit's publishing of nonprofit-created content is certainly "automatic."
Speaking to the Washington Post, Neil Patel defended DCNF's role as a wire service catering to DailyCaller.com by pointing out that anyone could use those articles. The fact that no one else wants to republish their lunatic drivel doesn't make DCNF a tax scam, right?
"I'm not doing anything anyone else can't do," he said, referring to the way DailyCaller.com generates ad revenue from foundation stories. "As long as what I'm doing at the nonprofit is available for free to everybody, the fact that the Daily Caller wants to use it more than others is fine. Others could take advantage of the same thing."
See! It's not technically illegal!
CMD filtered out the "click-bait-driven, salacious headlines, (e.g. "This Mexican Weather Woman Is Blowing Up The Internet")" and analyzed the substantive (loosely speaking) articles on DailyCaller.com.
The remaining six categories, including the Politics and US sections–essential to the company's viability as a "24-hour news publication" known for its political coverage–are chock-full of stories created by its non-profit arm. [...]

Throughout those two sampled work weeks, 46% of the content published in DailyCaller.com's Politics section was created by the non-profit affiliate, as was 67% of its US section, 84% of its World section, 95% of its Business section, 44% of its Education section, and 99% percent of its Energy section.
Wow! It's really nice of those interns to send so much content over to DailyCaller.com! Luckily, they don't have far to send it, since the foundation and the website share the same office space. Tucker Carlson must be so grateful that he has all those articles to mine for ad revenue. Sure, Tucker has worked at Fox since November. But he still owns his stake in DailyCaller.com and sits on the board of DCNF with his buddy Neil Patel. So many coincidences!
Also, it's so weird that DCNF baby journalists NEVER cover the same stories as the big boys on the DailyCaller.com side, which would be illegal because a charity cannot be run for the benefit of a private business. Luckily, Patel was able to clear that right up for the Washington Post.
Patel also said there is no coordination of coverage between the nonprofit and for-profit staffs — "not formalized and not that I'm aware of." [...]

Yet the staffs seldom, if ever, duplicate one another.
And since DCNF is a 501(c)(3) charitable organization, people who want to feed the wingnut machine "support up-and-coming reporters and editors" can make tax-deductible donations to it. So the Koch Brothers got a charitable deduction for the $805,512 they donated to DCNF between 2012 and 2015. Because they really, really care about journalism. Articles like this one by Christopher Bedford, then DailyCaller.com's senior editor and DCNF's editor-in-chief, had nothing whatsoever to do with the Koch brothers' largesse.
Charles Koch, the 81-year-old billionaire libertarian philanthropist and American industrialist, has no intention of retiring, he told an audience of top conservative and libertarian donors gathered at a conference in Palm Springs. The fight for opportunity, he said Sunday afternoon, is "eternal," adding, "we can never rest.
This untaxed charity thing is sweet! Unfortunately, the IRS doesn't allow charitable foundations to lobby for specific political candidates. Which is why DCNF was forced to confine its political activity to hit pieces on Hillary Clinton during the last election cycle. But DailyCaller.com, which is a totally separate entity, was able to sell its mailing list to the Trump Campaign and got paid to fire off supportive emails to its 400,000 subscribers. Totally legit!
Surely the Trump Administration will instruct the IRS to investigate this sham immediately! This injustice will not stand, man!
LOLOLOLOLOLOL!!!
[Center for Media and Democracy / DCNF's 990 Form / WaPo / DailyCaller.com]
Wonkette is ad-free and Koch Brothers-free and Tucker Carlson-free and not scamming the IRS and supported only by REAL people LIKE YOU! How much do you love us? Money please!
Liz Dye
Liz Dye lives in Baltimore with her wonderful husband and a houseful of teenagers. When she isn't being mad about a thing on the internet, she's hiding in plain sight in the carpool line. She's the one wearing yoga pants glaring at her phone.