Twitchy Outraged As Dan Savage Literally Throws Virgin Duggar Lady Into Volcano
News
April 18, 2014 01:48 PM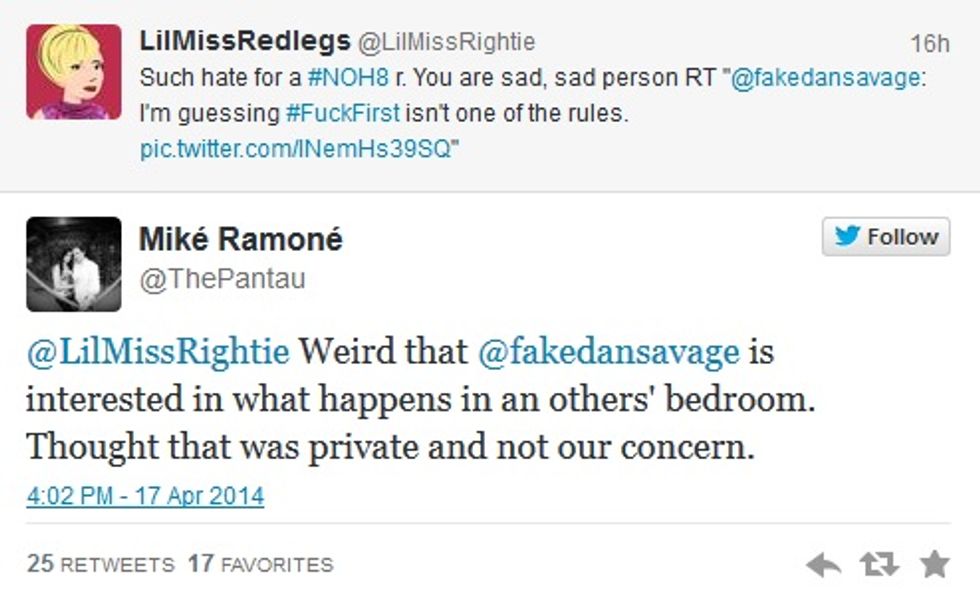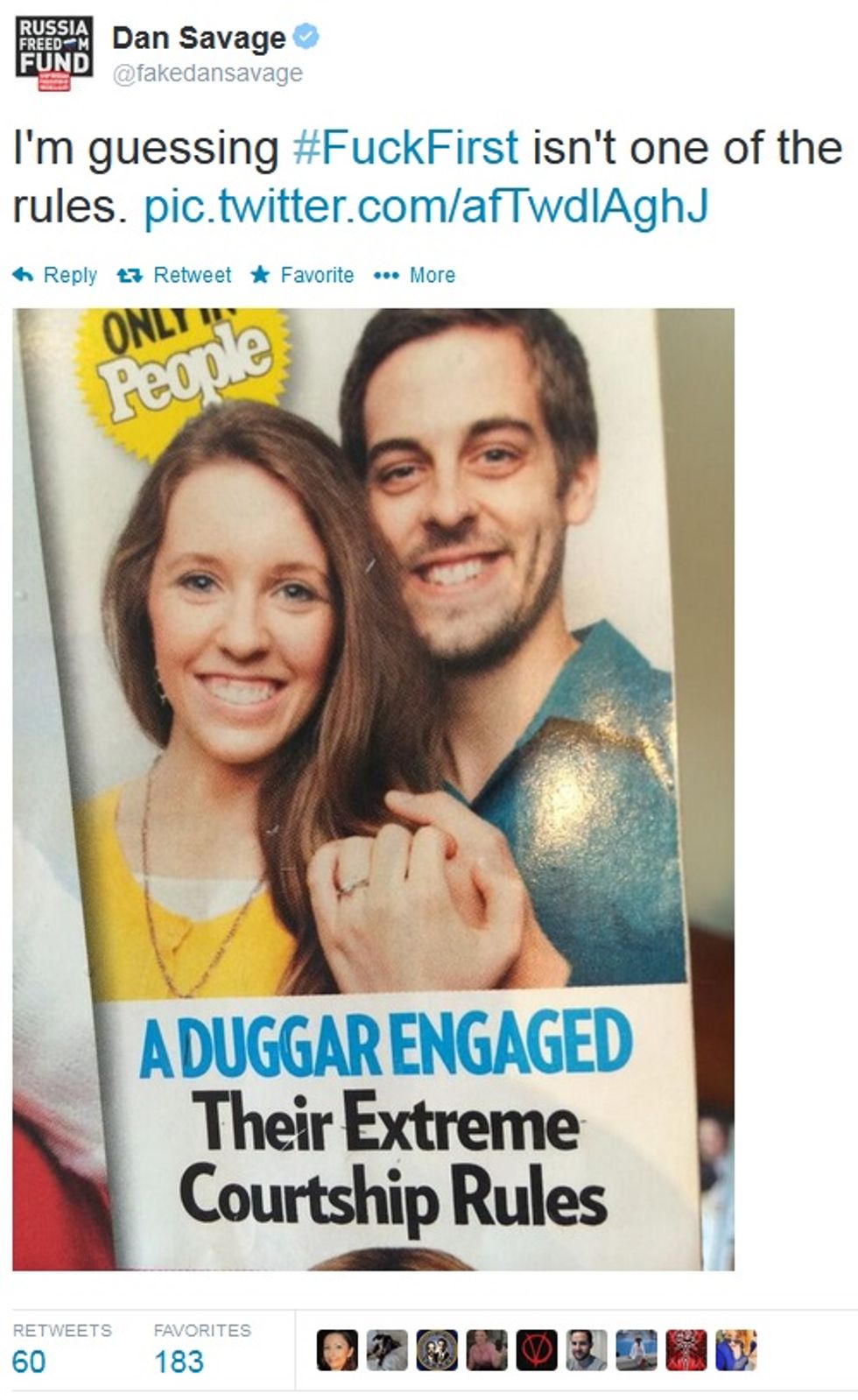 As you can see, terrible no-goodnik and Friend of Wonkette Dan Savage is brutally attacking Christian Purity again, on the Twitters, by making fun of Professional Virgin Jill Duggar. Obviously, this makes him the biggest hypocrite ever, according to the 9 fulltime employees at Twitchy. Hey, Dan Savage! Stop sneering at virginity!
---
You see, since Dan Savage has decried "hate crimes" against "gays," it is obviously the height of hypocrisy for him to make a joke about the Duggars and their full quivers: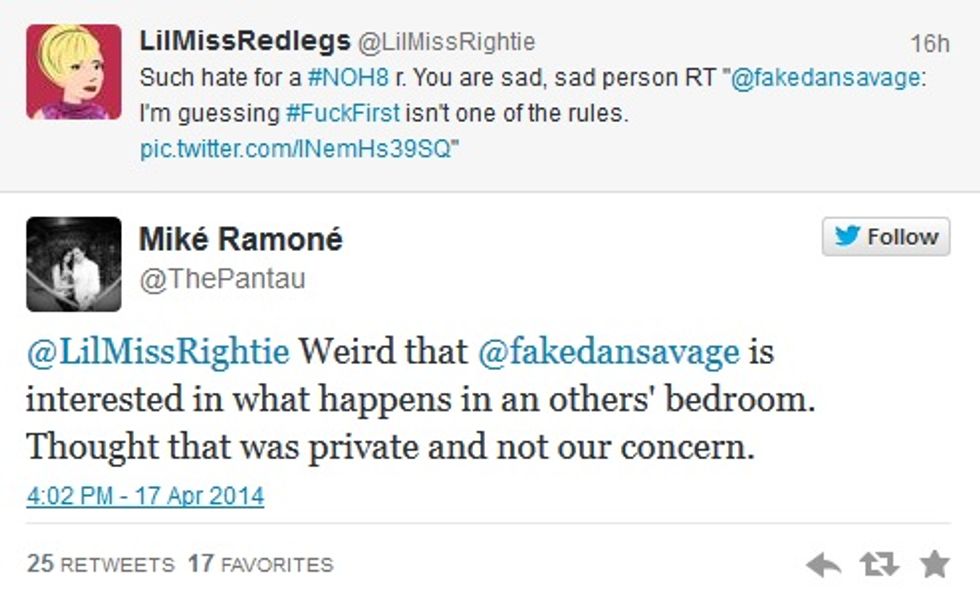 As any sane person recognizes, if you think that anti-sodomy laws are wrong because what you do in your bedroom is none of the government's business, you are banned forever from joking -- hatefully -- about other people's choice to stay pure before marriage, you filthy gaywhore. Didn't you say it's nobody's business? We can smell the hypocrisy from here, dude. Or maybe it's santorum.
Also, since Dan Savage ALLEGEDLY opposes bullying of gay kids, it is utterly beyond the pale for him to write something on Twitter about a woman who is in a reality teevee series watched by many people, because that is exactly the same kind of bullying he claims to be fighting! And worse, his tweet egged on others to join in the abuse! Say the Twitchers, "Other 'anti-bullies' joined Savage in his creepy viciousness:"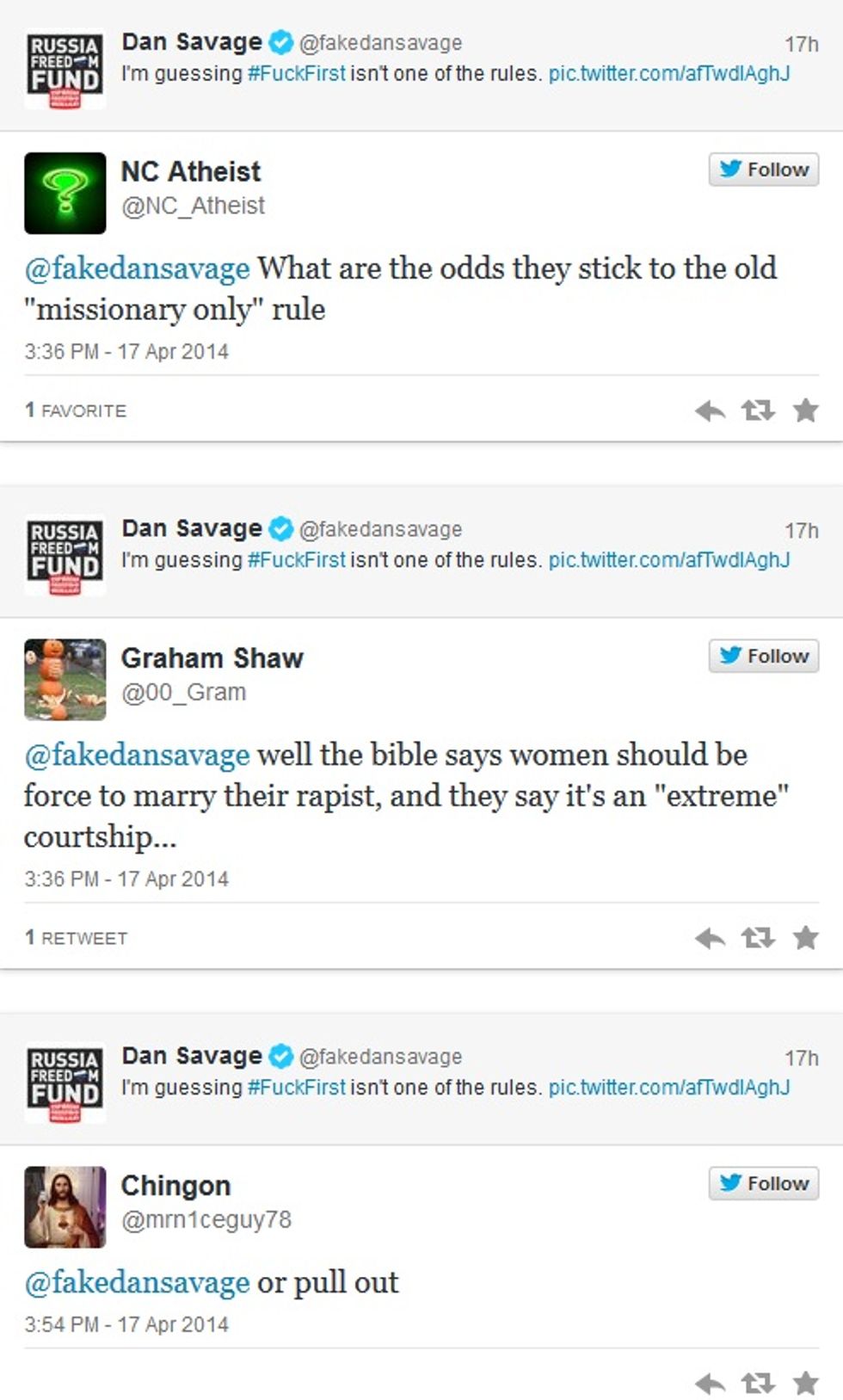 And indeed, some of the follow-ups were far meaner than Savage's tweet, including one that suggested that the sender would allow her to be gangbanged for money since 19 kids are expensive -- that one was pretty bad, and would in fact get deleted were it in Yr. Wonkette's comments, even. And it's all Dan Savage's fault, of course, for setting that crude tone.
"Fortunately," the Twitchers sniffed, "there are still plenty of people out their with their heads screwed on straight, and they called Savage out for his garbage," and we're treated to a whole bunch of Upright Citizens Brigade posts from people who call Savage "all class," an "insufferable douchebag," and an immature dick. They agreed that Dan Savage has "definitely got issues," and that "the angry like him are frequently unhappy." Talk about a trove of insights!
Whatever you do, don't read the comments (Oh, we know you're going to read the comments). In fact, one of the comments is just too lovely not to share with you, dear readers:
I love this family. I love watching their walk, Faith, devotion to the Lord Jesus Christ and to each other. It is amazing when I watch this show, I laugh, Cry, and see a family that has values, morals, and truly loves one another.

I love how the older kids take care of the younger kids.

I love how not one dime of Government assistance goes into this household.

I love how NOT one child was ever aborted by Michelle and Jim Bob

I love how Michelle is a WOMAN.

I love how JIM BOB is a MAN

I love how they show the children that they love each other.

I love that the kids go to their parents, have no issues following the rules, and do everything they can to honor their parents.

I love how you never hear any rap, swearing, calling each other names, and they have fun the old fashioned way.

I love how every child in the Household is HOME SCHOOLED. None are Indoctrinated.

I love how the kids that are old enough HAVE THEIR OWN BUSINESSES.

I love HOW the GIRLS IN THE FAMILY KNOW THAT THEY HAVE VALUE. THAT THEY ARE WORTH SOMETHING, THAT DIGNITY counts, and THEY VALUE THEMSELVES.

I LOVE HOW THE BOYS IN THE FAMILY HAVE THE HIGHEST RESPECT FOR THEIR SISTERS.

MOST IMPORTANTLY THE LORD JESUS CHRIST IS NUMBER 1. Something all families used to put as a top priority. Wonder why our nation has fallen? God Bless this family.

WHAT IS THERE FOR Dan Savage and the Left to Hate about this family.

EVERYTHING.
Yep, if there's one thing that ruins families, it's rap. And nontraditional gender roles. And apparently, abortions.
And gently mocking saving it for marriage is just the same as harassing gay kids until they commit suicide. Sorry, Dan Savage, you have triggered us now. About something. We guess.
[Twitchy]
Follow Doktor Zoom on Twitter. There are days when he does not love the internet.