Uber To Implement New Un-Sexism Once Girls Stop Blabbing And Perioding All The Time!
News
June 14, 2017 03:49 PM
---
"Chicks! They never shut up, amirite?"
Wonkette is only a Mommyblog and Recipe Exchange, but we are almost certain that THIS is not how Uber wanted its board meeting covered on Tuesday.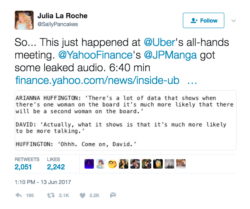 Instead of rolling out their new DON'T BE SO DAMN SEXIST Policies, Uber is #winning with this exchange between board members Arianna Huffington and David Bonderman.
Huffington: There's a lot of data that shows when there's one woman on the board, it's much more likely that there will be a second woman on the board.

Bonderman: Actually what it shows is that it's much likely to be more talking.

Huffington: Oh. Come on, David.
Of course there's audio! Uber shooting itself in the dick is at 6:40.
Yes, even if you are Arianna goddamned Huffington, founder of a media empire, you will get actually-ed at a business meeting. Also, David Bonderman is full of shit. Per the New York Times:
Mr. Bonderman's original comments, according to experts, also lack merit.

Tali Mendelberg, professor of politics at Princeton University, and Christopher Karpowitz, an associate professor of political science at Brigham Young University, conducted a study in 2012 concluding that men talked far more than women did at meetings. The professors convened 94 groups of five people and varied the number of men and women in the groups. Their study is in line with multiple others drawing similar conclusions — men talk more than women, and men interrupt more than women.

"The study shows that men will dominate the conversation if there are more men than women in the group, and they dominate by a lot," Ms. Mendelberg said in an interview. "When you have just two women in the group, those women are much more silent than men are."
Later Uber's head of HR instructed the participants to "stand up and give each other a hug." Because if we all just touch each other, sexual harassment will be solved forever!
Rush Week: Uber or Pike?
Tuesday's meeting was supposed to allow Uber to turn over a new leaf after a disastrous six months. In early February, former Uber employee Susan Fowler's viral blog post detailed years of sexual harassment and retaliation at the company. "Badboy" CEO Travis Kalanick immediately responded that he was shocked and appalled.
I believe in creating a workplace where a deep sense of justice underpins everything we do.
Which was slightly undercut by the release of a 2013 email to all Uber employees instructing them on how to hook up on a business trip. Kalanick was bumming hard that he'd have to stay out of the office hot tub orgy, though.
Do not have sex with another employee UNLESS a) you have asked that person for that privilege and they have responded with an emphatic "YES! I will have sex with you" AND b) the two (or more) of you do not work in the same chain of command. Yes, that means that Travis will be celibate on this trip. #CEOLife #FML
Kalanick further encouraged his employees to behave professionally at the corporate meeting.
Do not throw large kegs off of tall buildings. Please talk to Ryan McKillen and Amos Barreto for specific insights on this topic...

There will be a $200 puke charge for any public displays on the Shore Club premises. Shore Club will be required to send pictures as proof.
Normal advice for a 37-year-old CEO of a multi-national corporation, right?
Catcalling Wonder Woman
With #DeleteUber trending (always), Uber assembled a crisis team including former Attorney General Eric Holder and HuffPo founder Arianna Huffington. Holder's law firm Covington and Burling produced a report and list of recommendations. Agenda Item 1: Get rid of Travis Kalanick! Only, they said it in lawyertalk.
Review and Reallocate the Responsibilities of Travis Kalanick. The Board should evaluate the extent to which some of the responsibilities that Mr. Kalanick has historically possessed should be shared or given outright to other members of senior management. The search for a Chief Operating Officer should address this concern to some extent.
At Tuesday's all-hands meeting, Arianna Huffington announced that Kalanick would indeed be "taking a leave of absence" from the company. Uber will also be revamping its policies to replace "Always Be Hustlin'" with "Don't Proposition Your Supervisees." And if you need a high-priced lawyer to tell you this shit, you're doing it wrong.
Huffington also welcomed a new board member, Wan Ling Martello. Currently the CEO for Nestle in Asia, Martello has held senior executive positions at Walmart and Kraft and sits on the board of China's Alibaba. This woman is a BFD Serious Adult, and still she's the butt of Girls Talk Too Much Har Har jokes.
WHAT THE ACTUAL FUCK IS WRONG WITH PEOPLE?!?!?!
Bonderman has resigned from the board and apologized, more or less.
Today at Uber's all-hands meeting, I directed a comment to my colleague and friend Arianna Huffington that was careless, inappropriate, and inexcusable. The comment came across in a way that was the opposite of what I intended but I understand the destructive effect it had, and I take full responsibility for that.
Well, bless his heart!
And sexism was solved and they all lived happily ever after! HOORAY!
[Vox / New York Times / Yahoo Finance / SusanJFowler.com / Vox, again / Recode]
HE SEEMS NICE! Please contribute to Wonkette - maybe we'll find a NICETIMES story for tomorrow?