Unemployment Drops Again, Trump Has Good Economy To Wreck! Your Wonkagenda For Friday, December 2, 2016
Post-Racial America
December 02, 2016 09:33 AM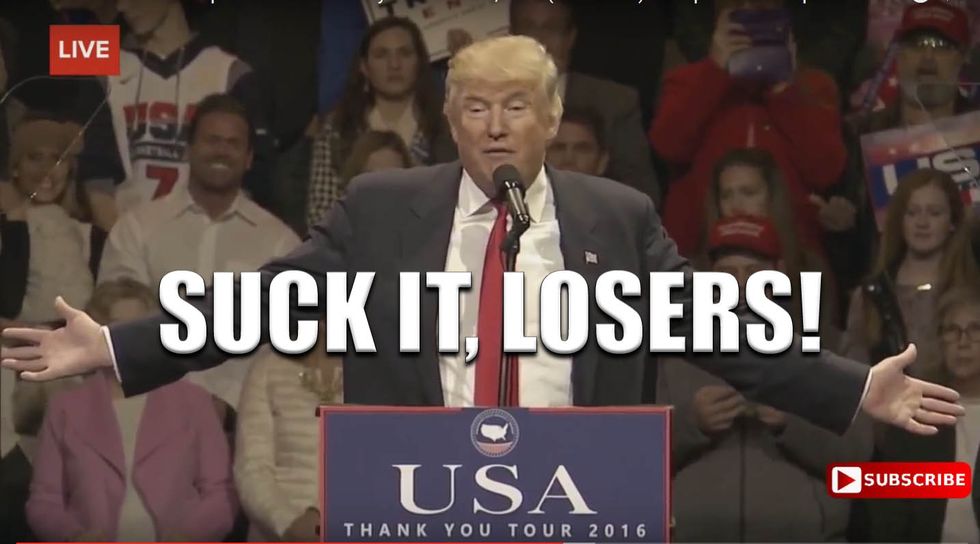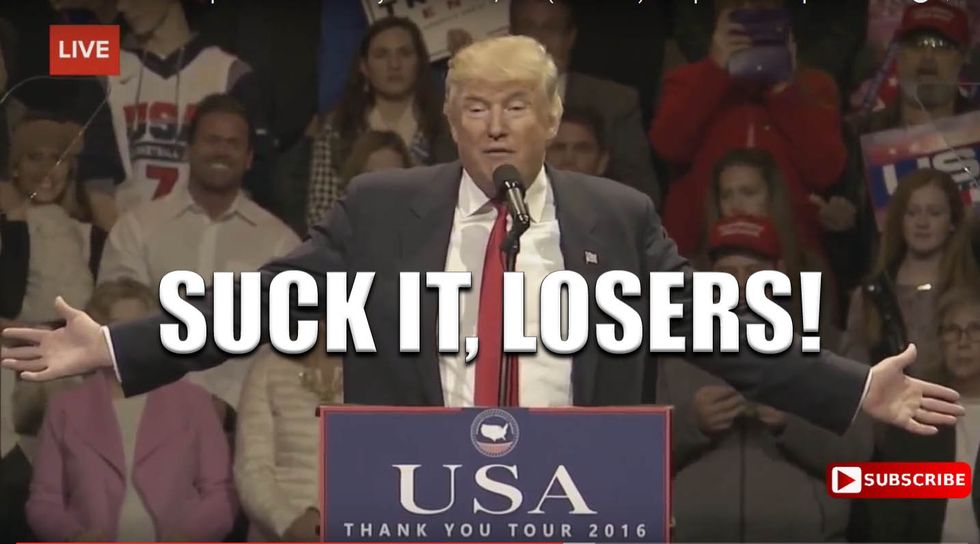 ---
The November jobs report states employers added 178,000 workers, dropping the unemployment rate down to 4.6 percent, and setting the stage for the Federal Reserve to nudge interest rates upwards. If you're keeping score, it's Obama 900, Trump .001.
Donald Trump reiterated his call to end illegal immigration at his Nuremberg Thank You rally in Cincinnati, which he may have a some problems trying to implement seeing as how immigration courts are overflowing with a backlog of 520,000 cases, and as a result, private prisons are being used to detain immigrants.
OMG! Why does everyone have to be so mean to Kellyanne Conway? During an annual post-election conversation between Clinton and Trump campaign staff at Harvard University's Kennedy School of Government, KaC was aghast to be accused of appealing to the lowest common denominator. KaC responded by throwing a beer across the room, upturning tables and chairs while grunting, "Whose house is this?"
Donald Trump's stock portfolio is a big, fat mess of conflicted interests and he stands to profit bigly as president, or at least that's what we'd probably say if we could actually see all the details of how much he's invested in oil and banking stocks.
Trump's army of attorneys have stalled Jill Stein's Michigan recount by filing an objection that questions the evidence of fraud or mistakes, which shouldn't surprise anyone because this is Trump and Jill Stein arguing about who's A Idiot.
Rep. Xavier Becerra has been named as California's first Latino attorney general and has vowed to take a page of out Texas's playbook, only for good: Becerra will delay, delegitimize, harass and destroy any federal policy attempts to deny climate change or harm immigrants.
Rep. Greg Walden will chair the House Energy and Commerce Committee, beating out a bunch of other more senior congress critters because he's a loyal, hard-working Republican who can raise shitloads of money for the NRCC.
Trump is considering Democratic West Virginia Senator Joe Manchin for Energy secretary because nothing says clean, renewable, and economically prosperous fuel like a state that burned out its main source of jobs 20 years ago by gutting natural resources.
Milwaukee County Sheriff David Clarke threatened a county medical examiner after the examiner's office went public with the deaths of inmates in Milwaukee Count Jail. Jeez, it's not like state-sanctioned homicides of bad hombres won't soon be be completely legal anyway.
Scottie Nell Hughes went on NPR's Diane Rehm Show to remind all you silly, tofu-chomping, yoga posers that facts are really just opinions, and "There's no such thing, unfortunately, anymore as facts," and if Trump tweets it, it must be true. Unfortunately, since it was radio, NPR was unable to pan a camera to the other panelists' jaws, which had hit the floor.
Racist Sean Spencer's "charity" to make all the white people better than everyone else again, the "National Policy Institute," has not filed tax returns since 2013, allowing it to avoid analysis from the public and IRS. Just, FYI, while they, party like it's 1933.
Some Fox News talking heads were chit-chatting about how godless liberals are hooked on the pots early through college when they suddenly realized that, according to Fox News, colleges are corrupting people's minds and making them mentally ill and turning them into jihadists." Honestly, that's a bit of a stretch and I think my political violence and terrorism professor would probably only agree to a fraction of that statement.
Merriam-Webster is saying there's still time to change their Word of the Year from "Fascism" to some other word. Just let that sink in for a moment.
The FBI can now hack into your computer after you've been hacked, thanks to a new rule passed under the Federal Rules of Criminal Procedure aimed at combating botnets, thus making you a victim twice because Congress creeps know so much about technology and judicial procedure.
Anthony Weiner (and his peener) will be fined $65,000 for campaign finance violations stemming from his 2013 mayoral campaign. What a dickhead.
And, finally, your morning Nice Time, BABY HEDGEHOGS! Guard yourselves for cute overload!
Dominic Gwinn
Dominic is a broke journalist in Chicago. You can find him in a dirty bar talking to weirdos, or in a gutter taking photos.