Various Complaints Aired At Annenberg School/Politico Event
News
September 02, 2008 07:27 PM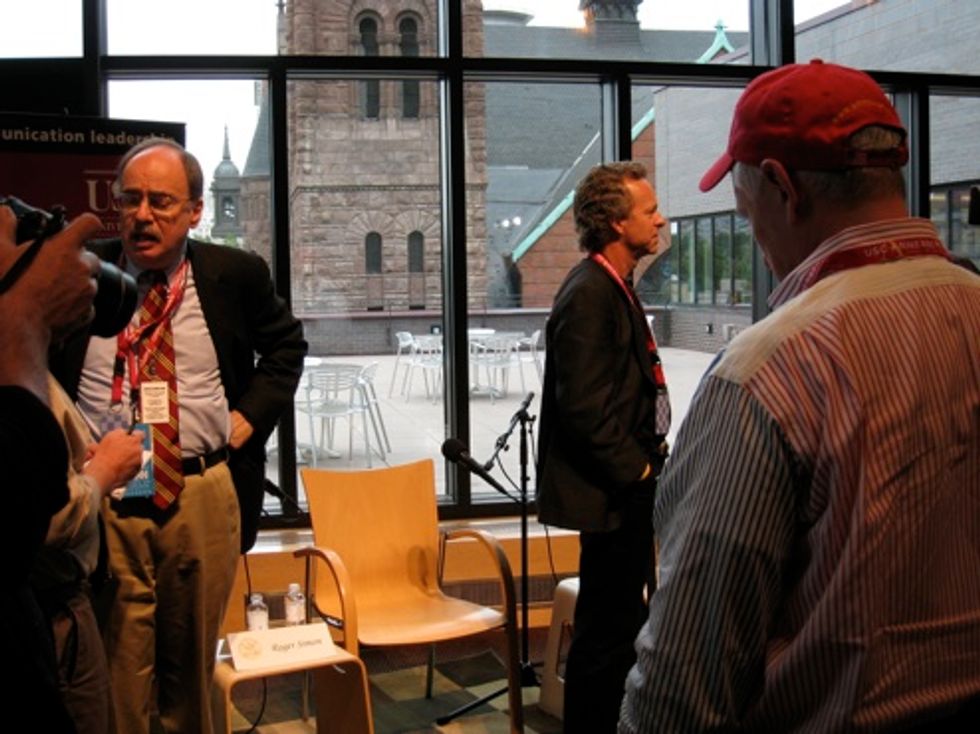 Today your editor decided to "get serious" and go to asober panel discussion, during the day, at the lovely Minnesota Public Radio building in downtown St. Paul. So many "famous" people were there! Jim VandeHei and Roger Simon of Politico, plus Nina Easton of FORTUNE and sometimes Fox News, and also Catalina Camia of USA Today and most famously, Mark McKinnon, who used to work on John McCain's campaign until he quit because of his Loyalty Oath to Barack Obama.
---
They were all like, "Yeah blogs are important," and yet when asked which three news sources each consulted every morning NONE OF THEM CITED WONKETTE, WHICH WAS OFFENSIVE.
We got some crap video of McKinnon blaming the recount of 2000 on Al Gore's innocent robot BlackBerry, and then a nice girl from Clean Water Action asked why all the Corporates control the news media, and a woman asked why the MSM didn't cover the John Edwards scandal until National Enquirer had done all the research, a question that peeved Roger Simon.
Soon it was all over and we ate free cookies and snapped a picture of E.J. Dionne in the lobby. After that we went off for drinks with the sole non-Palin resident of Alaska, who provided all the dirty scoop on America's soon-to-be-ex-vice-presidential nominee, a video which we will upload as soon as we figure out how to work that shit.