coronavirus
It's amazing what competent people can accomplish.
The vaccine rollout is going well. There, I said it. An advisory panel at the Centers for Disease Control and Prevention just unanimously approved a vaccine from Johnson & Johnson, which started shipping four million doses of the easier-to-use, one-shot vaccine.
"We think literally within about the next 24 to 48 hours, Americans should start receiving shots in arms," Alex Gorsky, Johnson & Johnson's CEO and chairman of the board, told NBC's Today.
Johnson & Johnson aims to deliver 100 million doses by June and up to a billion by the end of the year. But doomsaying has abounded about the Johnson & Johnson vaccine's efficacy. The Pfizer and Moderna vaccines are both about 95 percent effective at preventing symptomatic COVID-19. Johnson & Johnson rates 65 percent at preventing moderate to severe/critical symptoms. That's also based on research in South Africa where the coronavirus variant is more prevalent. In the US, the Johnson & Johnson vaccine's effectiveness is around 72 percent.
Infectious disease experts say this is still impressive, and it actually wouldn't matter if the rates were lower.
"It's not just how effective a vaccine is. It's how many people get it," Dr. David Priest, an infectious disease specialist with Novant Health, said.

Priest said a good example of that is the annual flu shot.

"The flu vaccine every year, maybe, is 40% effective, but if every eligible person got it, we'd have almost no flu mortality," Priest said.
None of the vaccines will make you bullet proof or anything. However, no deaths or major hospitalizations have been directly linked to the vaccines themselves. They're so safe even the one-term loser and his wife secretly got their shots on their way out the door.
Now, to Dr. David Priest's point, we just need to make sure as many Americans are vaccinated as possible. We didn't actually have a plan for that until the new administration arrived.
.@VP Harris: "There was no national strategy or plan for vaccinations. … We're starting from scratch." @mikeallen:… https://t.co/Wg7Ew7jNLL

— Axios (@Axios) 1613360760.0
Vice President Kamala Harris caught flak from conservatives when she said a few weeks ago that the Biden administration was left with no "national strategy or plan" for vaccine rollout.
We were leaving it to the states and local leaders to try and figure it out. And so in many ways, we're starting from scratch on something that's been raging for almost an entire year!
The one-term loser's staff cried foul and said there was plenty of strategy written on that crumpled cocktail napkin they left behind. Dr. Anthony Fauci supported Harris's claims because they were true and he was there for the hot mess parade. He told Jim Sciutto at CNN that "the actual plan of getting the vaccine doses into people's arms was really rather vague."
Dr. Anthony Fauci says that the prior administration's vaccination plan was "rather vague" and "not well-coordinate… https://t.co/j8aTp5WY3r

— CNN (@CNN) 1613495700.0
It's not surprising that the twice-impeached thug would confuse a "goal" for a "plan," just like every asshole I've worked with in corporate America. I'm sure while summoning his third or fourth Diet Coke, he waved his arm around and decreed that everyone (who voted for him) would get vaccinated and everything would go back to normal. They'd even build a turd-shaped statue in his honor. That was his idea of leadership, but anyone can have a "goal." The plan is what's important.

FAUCI: It was not a well coordinated plan. Getting the vaccines made, getting them shipped through Operation Warp Speed was okay, but I believe what the vice president is referring to is: What is process of actually getting these doses into people?
Dr. Fauci is so polite he even used the previous administration's dumbass name for the vaccine rollout, Operation Warp Speed. I love "Star Trek" like every other middle-aged man who didn't date in high school, but warp speed refers to travel. We're not visiting the Klingon home world. We're trying to get people vaccinated. Dr. Leonard McCoy or my secret wife, Dr. Beverly Crusher, rarely said "warp speed" while practicing medicine, and they often produced miracle cures in 45 minutes.
The Biden administration had to organize the actual distribution of vaccines. This involved connecting with community vaccine centers, pharmacies, and mobile units. The previous White House occupant could only effectively organize a Klan rally. The United States is currently vaccinating more people than any other country. Although momentum slowed due to inclement weather across the country a few weeks ago, the American Prospect reported that the US quickly made up ground and was averaging about 1.3 million shots per day, far exceeding the Biden administration's daily target of 1 million shots.
Right now the U.S. is shipping about 10-15 million doses per week. That should increase to 20 million per week in March, 25 million in April, and 30 million by June. If distribution ramps up similarly, you could see 4.5 million shots delivered daily by summer.
Dr. Fauci was concerned that demand might overwhelm supply, but we now have three vaccines punching COVID-19 in the face. If this rollout continues at this rate, Biden will easily keep his promise that everyone who wants a vaccine, which should be everyone, will have access to one by the end of July.
Yes, it's possible we might still have to wear masks into 2022, but I've personally enjoyed not having a cold all winter. Right now, let's just appreciate that there's a plan for vaccinating everyone so we can see our extended families again and safely invite them into our homes, even the annoying ones. Get happy! That's an order.
Follow Stephen Robinson on Twitter.

Do your Amazon shopping through this link, because reasons.
Yr Wonkette is 100 percent ad free and supported entirely by reader donations. Please click the clickie, if you are able!
Keep reading...
Show less
joe biden
January 25, 2021 02:59 PM
President Joe Biden reversed today the previous administration's terrible, bigoted, and gross ban on transgender Americans serving openly in the military. Donald Trump, demonstrating his typical contempt for servicemembers, announced the ban on Twitter in 2019 because he's terrible, bigoted, and gross.
Biden's order "sets the policy that all Americans who are qualified to serve in the Armed Forces of the United States should be able to serve." Radical!
"President Biden believes that gender identity should not be a bar to military service, and that America's strength is found in its diversity," the White House said.

Biden's order "immediately prohibits involuntary separations, discharges, and denials of reenlistment or continuation of service on the basis of gender identity or under circumstances relating to gender identity," the White House said
This is great news unless you're a homophobic religious bigot or one of those annoying people on the left who'd rain on even Barbra Streisand's parade. You don't have to support the military's worst actions to oppose senseless discrimination in the armed forces.
Biden signed the executive order with Madam Vice President In Charge Kamala Harris on his right and freshly confirmed Defense Secretary Lloyd Austin on his left. The next four years are gonna be lit!
President Biden signs executive order repealing Trump-era ban on transgender people serving openly in the military:… https://t.co/sP64IUu0uO

— NBC News (@NBC News) 1611596559.0
Texas GOP Senator John Cornyn sneered that Biden's order isn't "unifying," but according to Gallup, 71 percent of Americans support transgender people serving in the military. The past administration's ban was the divisive move, intended to placate the GOP's social conservative base. Those bigoted creeps are in glorious high dudgeon. Good. If you only feel free if your fellow Americans are living in fear and in the shadows, you're a monster.
Our real president didn't wait long to start treating LGBTQ Americans like people who are actual citizens. His first day in office, Biden issued an executive order "preventing and combating discrimination on the Basis of Gender Identity or Sexual Orientation." Slate described the order as "the biggest expansion of LGBTQ equality in American history."
Wipe away the tears and feast on these sweet words of inclusion:
Children should be able to learn without worrying about whether they will be denied access to the restroom, the locker room, or school sports. Adults should be able to earn a living and pursue a vocation knowing that they will not be fired, demoted, or mistreated because of whom they go home to or because how they dress does not conform to sex-based stereotypes. People should be able to access healthcare and secure a roof over their heads without being subjected to sex discrimination. All persons should receive equal treatment under the law, no matter their gender identity or sexual orientation.
This restores Obama-era protections the Legion of Doom administration had rolled back. The Department of Education under Betsy DeVos didn't give a damn about trans kids, and former HUD Secretary Ben Carson was actively hostile to trans people. (Carson even reportedly referred to trans women, who are women, as "big hairy men" in front of his staff.) Former Attorney General and living Confederate monument Jeff Sessions came out swinging against gays in the name of "religious liberty."
Biden cannily based his executive order on the 2020 Supreme Court ruling that determined discrimination "on the basis of sex" includes discrimination based on sexual orientation or gender identity. Justice Neil Gorsuch and Chief Justice John Roberts joined the four (ahh, RBG, we miss you) liberal justices on this landmark decision.
It's been a great six days. Biden has delivered for LGBTQ Americans more quickly than both Barack Obama and Bill Clinton. Those were different times, of course, and we can thank the activists for pushing mainstream Democrats in the right direction over the years. However, Biden has proven a reliable, unshakeable ally. He's the first president from the Silent Generation but he's not quiet about LGBTQ rights. It speaks volumes that Biden doesn't consider these issues "distractions" from his larger agenda or a political liability that Republicans will exploit. It's not 2004 anymore.
I know some conservative queer people (yes, they exist) who supported Trump during the 2016 primaries because they genuinely believed he was more supportive of LGBTQ rights than the other Republicans running, specifically Ted Cruz, who wore his social conservative bonafides like gaudy medals.
We're too petty to ever forget that Maggie Haberman at the New York Times enabled this false narrative of a socially moderate and tolerant Trump. Seriously, can you believe this shit?

The New York Times
Haberman's April 22, 2016, article painted a picture of a Trump who congratulated Elton John on his marriage and was the first private club owner in Palm Beach, Florida, to admit an openly gay couple. Haberman, who was able to spot supposed Clinton corruption at 100 paces, seemed oblivious to Trump's true nature: He was completely transactional and would have no problem selling out LGBTQ people to advance his own ends.
There was quantitatively little difference for LGBTQ Americans between a Trump administration and a Ted Cruz or even a Mike Pence one. Don't let the Times fool you about any other seemingly "nice" Republican in the future, either. Only Democrats will defend the rights and dignity of all Americans.
Thank you, Mr. President.
Follow Stephen Robinson on Twitter.
Do your Amazon shopping through this link, because reasons.
Yr Wonkette is 100 percent ad free and supported entirely by reader donations. Please click the clickie, if you are able!
Keep reading...
Show less
Veep
Ass-kicking, bubble-gum chewing, backwards, high heels.
January 20, 2021 02:46 PM
Kamala Harris is now the vice president of the United States. It's a great day, especially when you consider the fly trap she replaced: Mike Pence, who Democrats spent two years trying to make president (weird, right?), wouldn't even dine alone with a woman, lest Jezebel tempt him from mother's embrace. While some conservatives claimed the "Pence Rule" was the only way a powerful man could avoid sexual harassment charges from vengeful hussies, then-Senator Harris slammed this sexist bullshit.
I disagree with [Pence] when he suggests it's not possible to have meetings with women alone by himself. I think that's ridiculous ― the idea that you would deny a professional woman the opportunity to have a meeting with the vice president of the United States is outrageous.
Harris has famously stated that she "eats 'no' for breakfast," and the dumb "Pence Rule" demonstrates how her words weren't just a catchy slogan for a coffee mug. (Though I'm sure you can buy one somewhere, Wonkette's offering for now remains "I'm Speaking.") It's a governing philosophy in a world where male insecurity erects barriers for women at all levels.
The best mentors are those who've successfully walked the uncertain path in front of you. They won't tell you it's easy, because they aren't as invested in believing it's easy, that anyone could pull it off if they just tried.
During an interview with Jane Pauley on CBS "Sunday Morning," Harris described confronting a world filled with "no."

I was raised to not hear "no," let me be clear about it. So, it wasn't like, "Oh, the possibilities are immense. Whatever you want to do, you can do." No! I was raised to understand many people will tell you, "It is impossible," but don't listen.
This isn't a unique experience for Harris. Michelle Obama faced a torrent of "nos." A college counselor told her, with a "perfunctory, patronizing smile," that she wasn't sure a young Michelle Robinson was "Princeton material." She applied anyway and was accepted because she's Michelle Goddamn Obama.
Harris tells the people she mentors to expect to hear "no." That's their reality, but it's not their destiny.
There will be people who will say, "It's not your turn, it's not your time. No one like you has done it." And I'll tell them, " And don't you listen."

And then I will go on to tell them, "I eat no for breakfast!"
"You must start the marriages immediately." A moment I will never forget, the day love won in California.… https://t.co/Mgv4BWX9eF

— Kamala Harris (@Kamala Harris) 1592161141.0
Pence was an anti-gay bigot, whose wife, Karen, teaches at a "no queers allowed" school. When California voters finally overturned Prop. 8, which said "no" to marriage equality, California Attorney General Harris declared, "You must start the marriages immediately." This is definitely a trade up.

The late, unlamented administration stamped its feet and said "no" to Joe Biden and Harris's clear and decisive victory in the 2020 election. She knocked back those antidemocratic "nos" with some cold milk. Even after the assault on the Capitol and concerns about Biden's and her own safety at the inauguration, she refused to let MAGA-hat wearing domestic terrorists temper her enthusiasm.
CBS News' Jane Pauley asked Harris, "Are you excited about January 20th?"

"I'm not gonna let anyone take my excitement from me," she laughed.
Damn right.
And on January 20, Kamala Devi Harris took the oath of office as the 49th vice president. She was sworn in by Justice Sonia Sotomayor, who ignored her own set of "nos" on the way to the Supreme Court.
This was a tremendous moment. Yes, history was made, but as Harris said during her November 7 victory speech, she "may be the first woman in the office, but she won't be the last." Madame Vice President has her eyes set on the future, one that's more equitable for us all, and she'll continue dining on any "nos" that get in her way.
[CBS News]

Follow Stephen Robinson on Twitter.
Do your Amazon shopping through this link, because reasons.
Yr Wonkette is 100 percent ad free and supported entirely by reader donations. Please click the clickie, if you are able!
Keep reading...
Show less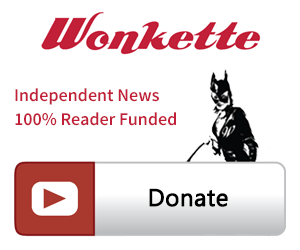 ©2018 by Commie Girl Industries, Inc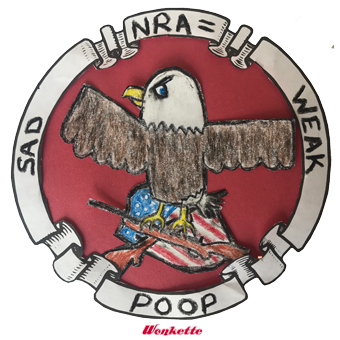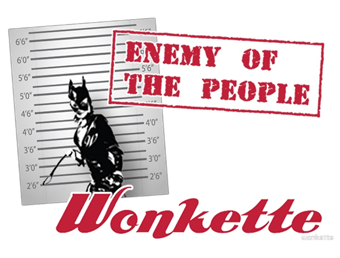 This Is Not An Ad
Privacy