Andrew Giuliani So Gross About Baby Daughter's Junk We Almost Didn't Even Post This Post
State/Local Politics
March 30, 2022 11:05 AM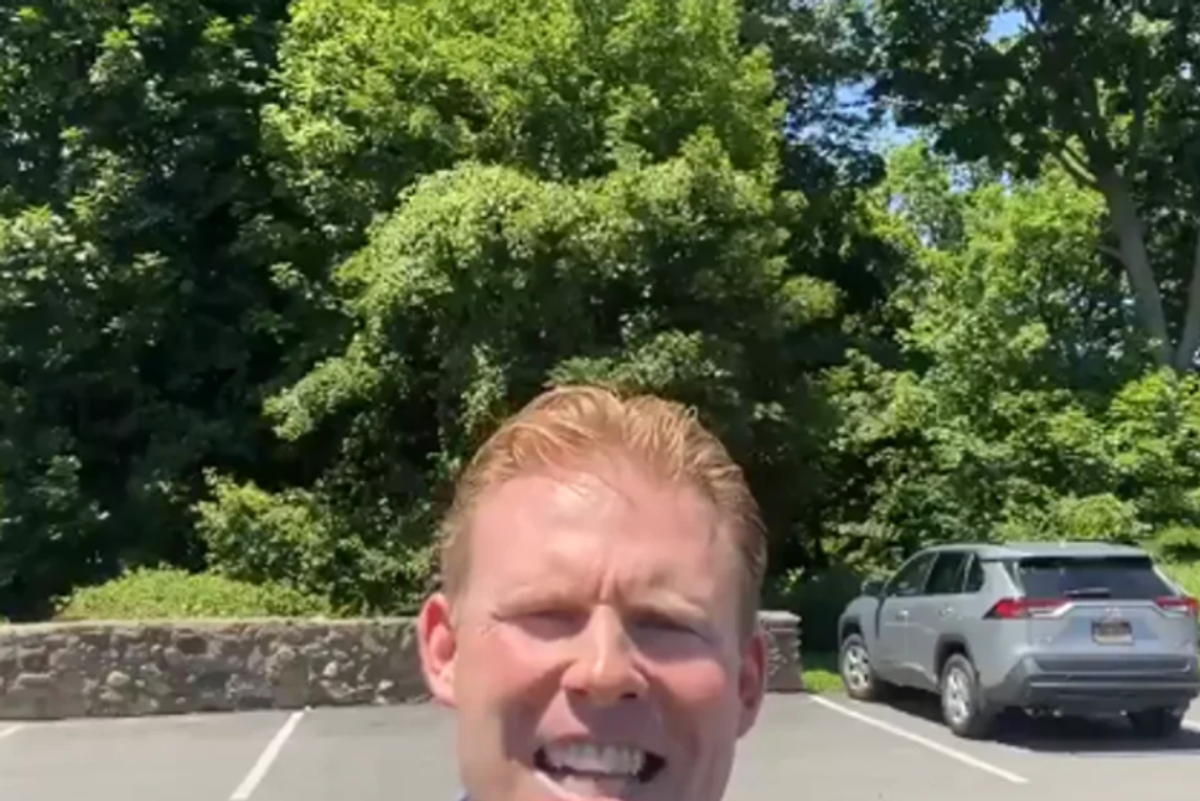 We just spent a solid week listening to Josh Hawley and other Republican senators we'd be equally unlikely to leave alone with our kids/pets/houseplants repeatedly berating the most qualified Supreme Court nominee in history for being somehow soft on child porn offenders. Besides how it was disgusting and untrue, it was a clear dogwhistle to QAnon freaks that "Psssst! Hey! Know how we're always talking about child sex trafficking rings? Psssssst! Pssssssst!"
Against that backdrop, with that fresh on our all minds, who wants to hear Andrew Giuliani, failson of disgraced loser Rudy Giuliani and who's still somehow running for governor of New York, talk about how he's looked up under his four-month-old baby daughter's "hood" and totally approves of what he saw there? Wait, where are you going? No, you don't understand! He was just attacking transgender people, with these comments about his baby daughter's vagina! How is that weird?
HOW IS THAT WEIRD?
---
Andrew Giuliani brought up his young daughter in a weekend rant about gender, stating that he had "looked under the hood" and that she was a woman and "she's gonna stay a woman".
Right, all of this is normal. He's just attacking transgender people, by talking about looking under his infant daughter's "hood." Just a day in the life of a regular Republican guy.
Giuliani's comments, delivered at a Long Island rally by a far-right group, came amid remarks condemning options for transgender people. He spoke about his four-month-old daughter, saying he is "gonna be the last guy in a long time that looks under the hood right there."
Is that supposed to be reassuring?
But listen, because Giuliani said he and his infant daughter had a talk, about her junk.
She "made a promise to me on the first day, right? My wife was sleeping, and I'm holding her [my daughter] in my arms. And I get emotional thinking about it, but she made a promise with me. She shook my hand and I said, 'I'm the only boyfriend till you're 25 years old, shake hands.'
Oh my God. Is this supposed to be cute? Girl dads, weigh in, if you're not busy calling the cops.
"Shook my hand. So I have changed the diapers. I have looked under the hood. She's a woman. I'm gonna be the last guy in a long time that looks under the hood right there. But guess what? She was born a woman and she's gonna stay a woman, it's that simple."
"It's that simple," he said about his plans for his child's genitals.
A spokesperson for Andrew Giuliani told The Daily Beast, "while Andrew does not claim to be a biologist, he can tell the difference between a male and a female."
We can't believe "a spokesperson for Andrew Giuliani" was even willing to open their mouth to try to run interference on this one, much less do so by reminding us of how that fucking freak "can tell the difference."
So what is the creepiest part of all of this? Is it how he called his baby daughter a "woman" while describing how he is her boyfriend now and looking "under the hood"? That's right, the creepiest part of all of this is all of it.
Here's Giuliani's response to all of us thinking he sounds like a stranger danger creep, in case you want to know:
\u201cBoys have a penis and girls have a vagina.\u201d - Fictional Child from Kindergarten Cop\n\nHe must have become a Biologist\u2026or was he canceled?https://twitter.com/tasneemn/status/1508897619921506304\u00a0\u2026

— Andrew H. Giuliani (@Andrew H. Giuliani) 1648593290
Whatever, buddy.
We'd say this should ruin Andrew's chances of becoming governor of New York, but then everybody would be like "what chances?" and they'd be correct, so fuck it.
Follow Evan Hurst on Twitter right here

Wonkette is ad-free and paywall-free and relies on YOU to pay us what you can, please, if you are able!
Evan Hurst
Evan Hurst is the managing editor of Wonkette, which means he is the boss of you, unless you are Rebecca, who is boss of him. His dog Lula is judging you right now.
Follow him on Twitter RIGHT HERE.