War With Mexico? Ai Yi Yi! Wonkagenda For Thurs., Feb. 2, 2017
Post-Racial America
February 02, 2017 09:14 AM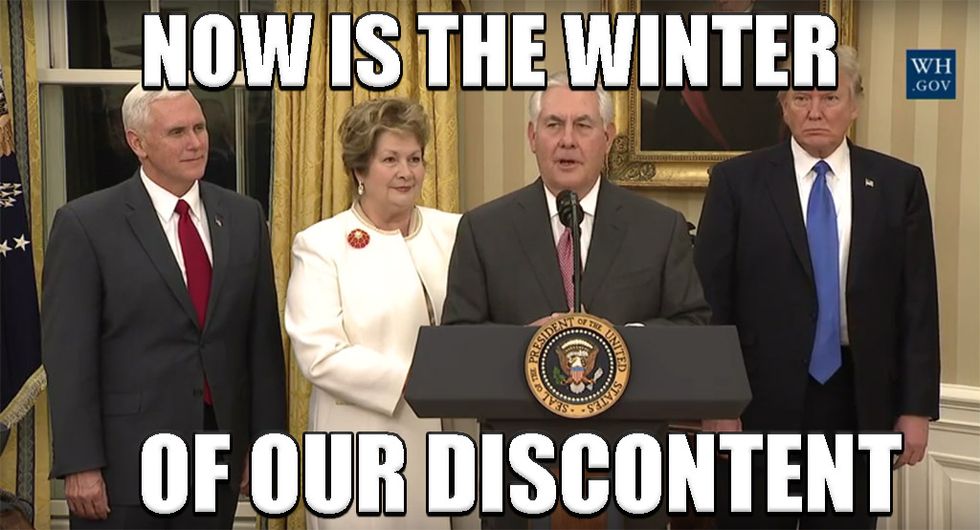 WAKEY WAKEY, Wonkers! It's GROUNDHOG DAY, and you know what that means? Four more years of hell Six more weeks of winter. Here's some of the stories we may be talking about today.
---
Rex Tillerson is your new Secretary of State, and boy oh boy, are you guys going to fucking LOVE oil prices, borscht and government cheese (after we start rationing)!

Besty DeVos's confirmation is up in the air after Susan Collins and Lisa Murkowski announced they'd vote no. LOL, grizzly bears!

Republicans are scheming about how to ram Neil Gorsuch down our throats and are thinking of how to make red state Democrats choke or risk losing the filibuster.

If you love being a racist, sexist, bigoted, gay bashing jerk and hating premarital sexxxy times then you're going to love this draft order that would legalize hate crimes on religious or moral grounds. God forbid you should punch a Nazi, right?

Trump feels real bad (sure!) after launching a disastrous military raid in Yemen, with 30 dead civilians, six injured soldiers, and one KIA Navy SEAL initially reported, but CENTCOM is investigating the possibility of more civilian deaths.

Trump's phone call with Mexican President Enrique Peña Nieto was bad. Really, really bad. But it might be OK, because even though we may not invade Mexico with U.S. troops to steal money for Trump's wall, China is more than happy to step in with pandas and ramen noodles.

Mike Flynn came out and put Iran "on notice" after it test fired some ballistic missiles, and now everyone is losing their shit and talking about war, completely forgetting that Mike Flynn is a xenophobe who sits at home guarding his precious bodily fluids from fluoride.

A phone call with Australian Prime Minister Malcolm Turnbull made Donald Trump so mad that he hung up on him. So ... okay!

Nigel Farage was trying to to cry about racist, Trumpian-Brexit crap on the floor of the European Parliament when an MEP behind him held up a lovely little sign clarifying Farage is some bigoted bullshit. Think of it like real world captioning for "people who do not understand the way of the world."

Some alt-reality Breitbart fashion failure tried to speak at U.C. Berkeley and was greeted by protesters and obnoxious, self-defeating anarchists children who just had to show up and make a firey stink.

FAKE NEWS weenus James O'Keefe's had a dinner in Manhattan for Trumpkins, wingnutz, and other assorted tea party crazies that was infiltrated by progressive activists, so they beat them up and violently dragged them outside because they have no good ideas.

Federal workers are starting to use encrypted messaging platforms and other paperless methods in order to not technically violate laws or President Bannon and Trump's authoritarian agenda. Fight the good fight!

Disillusioned federal workers in the Pentagon, State, and across the federal spectrum might just quit their jobs due to micro-managing, secrecy, and divisiveness coming from President Bannon and Mike Flynn.

Some of the biggest tech companies are drafting a letter in opposition to Trump's Muslim ban because it's bad for business.

Trump's "doctor" Neil Bornstein says Trump takes hair growth formula, and that's all I have to say about that.

GOOD TIMES! The mayor of New Hope, Texas(!) has come out as transgender in a lovely letter posted on the town's website.

Here's some Sam Bee 'splainery time about the Muslim ban, christian superiority edict, immigration suspension order!

Here's your morning Nice Time! Sea Otters!
Dominic Gwinn
Dominic is a broke journalist in Chicago. You can find him in a dirty bar talking to weirdos, or in a gutter taking photos.