Washington Man Shooting Pot Arrows At Jail Was Just Trying To Get The Squirrels Hiiiiiiigh
News
August 29, 2013 01:30 PM
There's no gunshots or stripper poles, and sadly noalligators guarding a stash, but this story from Washington nonetheless warms the cockles of Yr Wonkette's cruel dark heart:
---
A Bellingham man wrapped a baggie of marijuana around an arrow and fired it at the second-floor recreation area of Whatcom County Jail on Tuesday morning, Aug. 27, according to the sheriff's office.

David Wayne Jordan, 36, later claimed he had been aiming at a squirrel.

"He had no explanation as to why squirrel hunting requires attaching marijuana to an arrow," said Whatcom County Sheriff Bill Elfo.
Is there anything about this story that is not perfect? Marijuana arrow, insane explanation -- squirrel!! -- Whatcom County, a suspect whose middle name is Wayne, and "Sheriff Bill Elfo," who we suspect may be from The Shire.
Fuck it, we are DONE for the day.
We are informed by our Editrix that we are not actually done for the day.
Mr. Jordan's attempt to play Green Arrow (sorry Hawkeye fans, no love for you here) was seen by a civilian jail employee who noticed Jordan getting out of his pickup with a hunting bow outside of the jail. We'll just let the Bellingham Herald's Caleb Hutton describe the event, because he clearly loves his job as much as we love ours right now:
He fired the marijuana missile upward toward a mesh screen near the top of the second-floor, fresh-air exercise area for inmates, Elfo said. If fired at a perfect angle, the sheriff added, an arrow might squeeze through the screen.

But, apparently, this marksman was no Robin Hood. The arrow -- along with a few grams of marijuana and a yet-to-be-identified substance -- missed its target and landed on the roof. Jordan fled the scene in his Ford, but the civilian employee wrote down its license plate, Elfo said.
The targeted recreation area was empty at the time, so "deputies aren't sure if the arrow had an intended recipient."
Jordan had previously been jailed earlier this month on charges of assault and resisting arrest, and had just gotten out last Friday, August 23. He was arrested and booked Tuesday "on suspicion of introducing contraband to a corrections facility" and other charges. In some of the best local reporting we've seen in a long time, Hutton notes that Jordan's "current cell is on the first floor."
Well played, Mr. Hutton. Well played.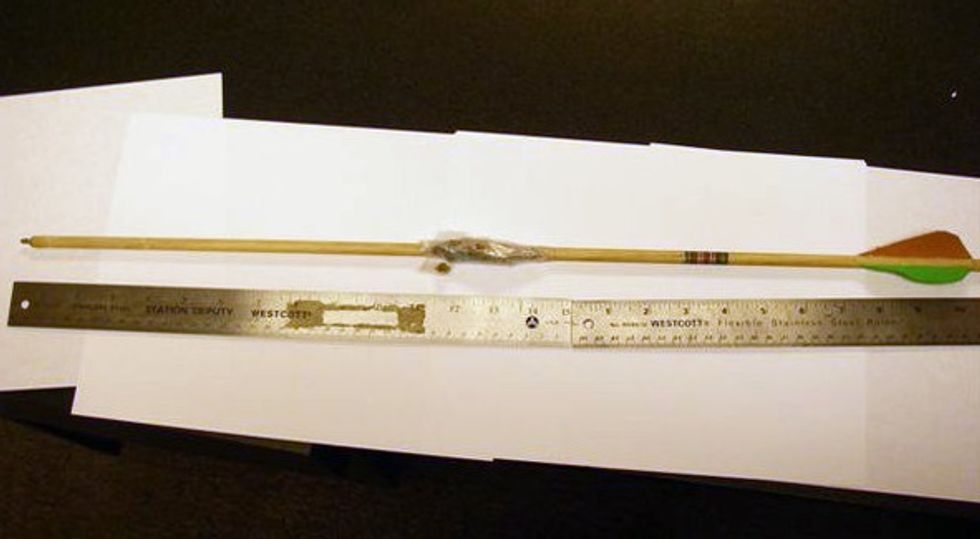 [Bellingham Herald via Yahoo; tip from Wonkette uber-operative chascates]