We Went To A Party At Netroots Nation!
News
July 21, 2008 02:09 PM
Here's the magic secret to throwing a good free party: Have an open bar that will pour actual booze instead of just beer and wine, serve good food, and make sure the attractive people show up. This last hurdle can be pretty difficult to overcome at a blogger party, which was why the geniuses at theHuffington Post and GQ made sure their Netroots Nation party would feature little Zooey Deschanel-lookalike nymphet waitresses and a healthy smattering of cute boys in slim-cut suits straight out of Mad Men. Of course everybody got wasted.
---
Here is what happened: We flew into Austin on Wonkette Air, sponsored by the Slim Slack Girl. On our way to the party we stopped for beers, or, as our pal who used to hang out with Southern sorority girls put it, "a personality drink." (It helps you grow a personality if you don't have one, while ensuring that you will find the people around you personality-rich and highly entertaining.)
So then your brave editor and her two escorts went into Lambert's Barbecue and got a gin gimlet and stood around staring at people for a while.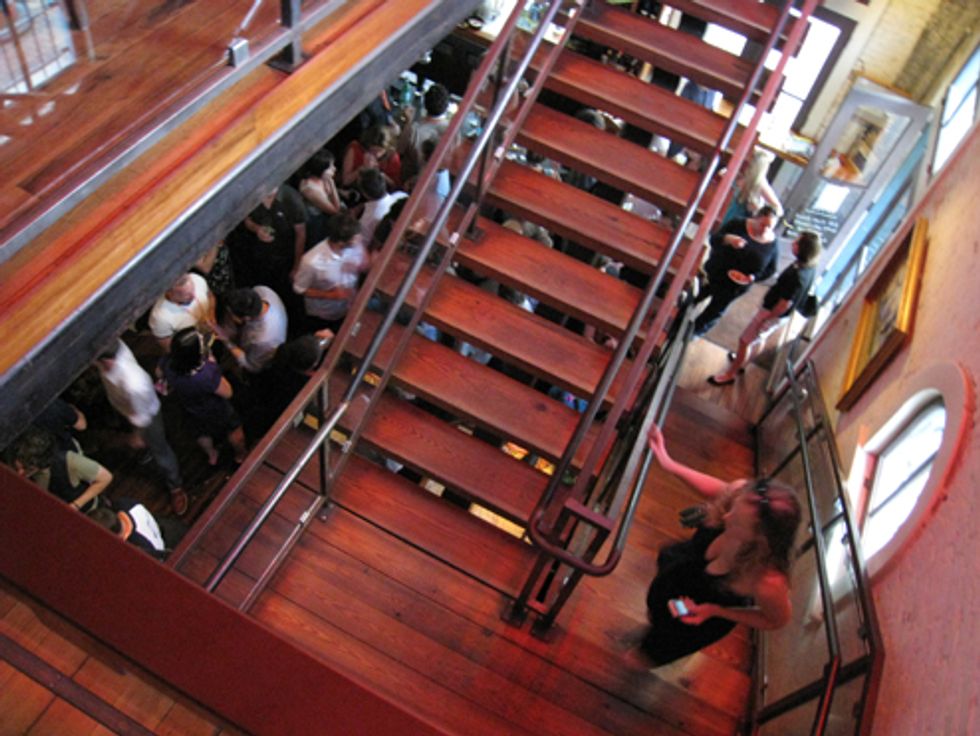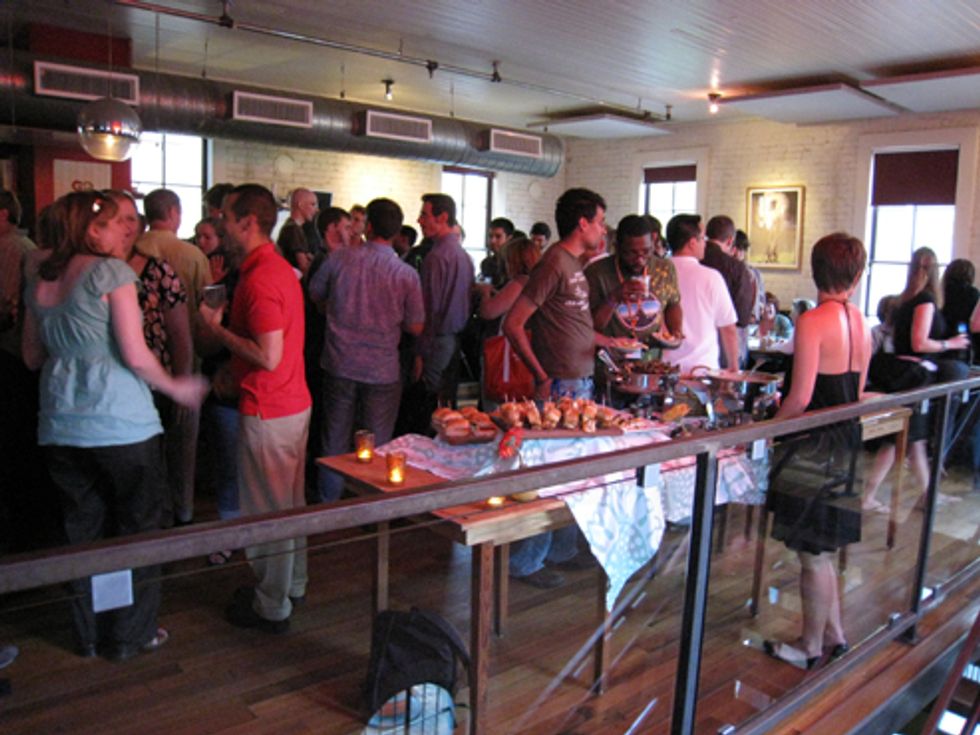 Right there you can see the back of the adorable server at the food table.
Then we met Chris Beam, of Slate fame. Like every other Liberal Blogger, he is about 15 years old. Chris shared many dark secrets about Jim Newell -- for example, Jim has a sister in prison.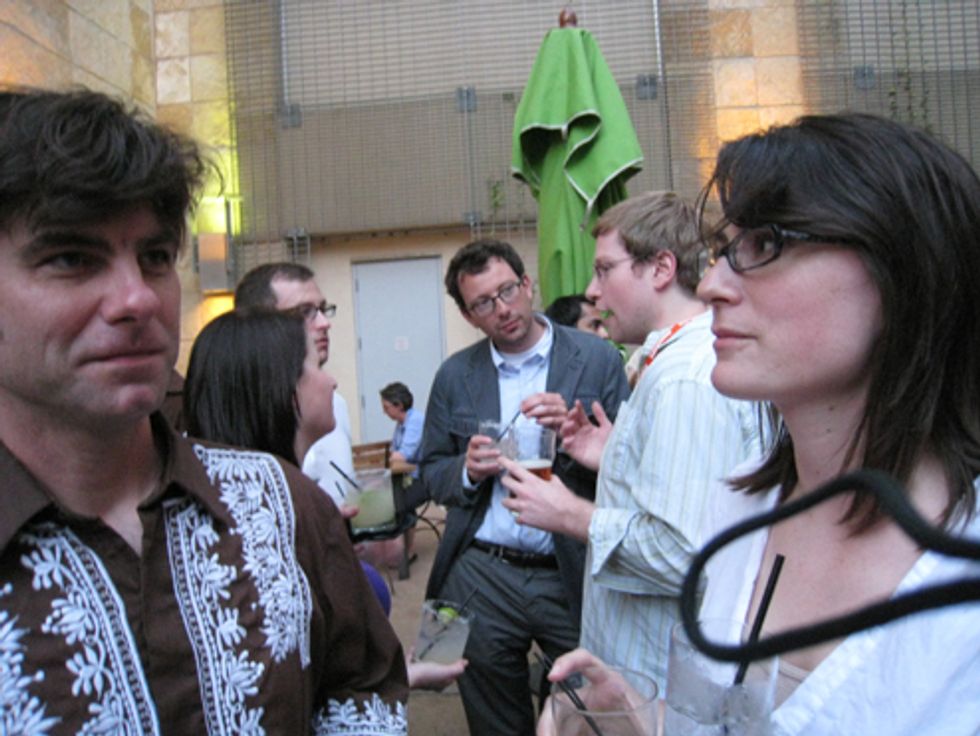 In the above photo, we are listening to Chris Beam (the gentleman adjacent to your editor's nose) as he discloses other shocking facts. That dude in the middle is about the closest we came to one of the be-suited boys, but he probably was from like MyDD.com or something, not GQ. A special shout out to our photographer, who was sure to get the little camera strap into like EVERY PHOTO.
Later on we were introduced to GQ editor Mark Kirby and we insisted that he buy us more free drinks in Denver next month. Mark was the only GQ employee at the party who wasn't wearing a skinny tie, which means he is FIRED.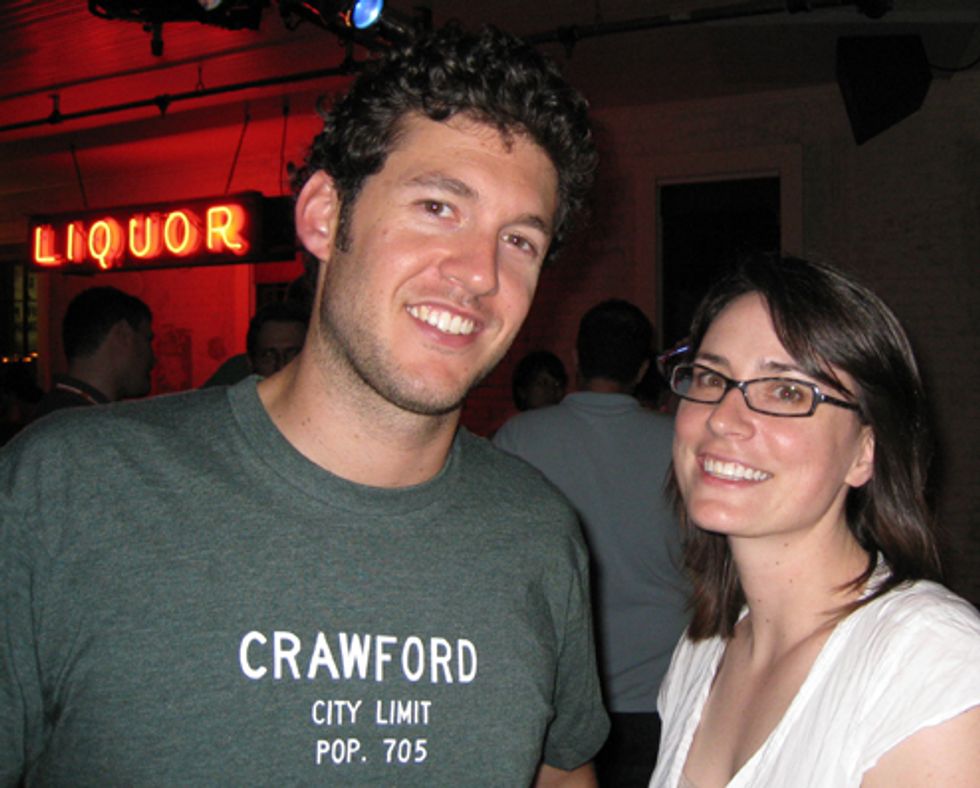 Here is Austin resident and Crawford director David Modigliani. Would you like to buy his movie?
Then a margarita happened. We spoke with a writer for The Economist, who shall not be named as all Economist writers have their names taken away as a condition of employment.
Then a Live Oak IPA, and maybe another Live Oak IPA? Ugh.
All night we were sort of furtively following this guy who was a ringer for the ridiculous British boyfriend from Forgetting Sarah Marshall, and we decided he HAD to be the GQ house photographer or maybe from France. But a supersecret spy talked with him and it turns out he was from the Austinist, which is a thousand times cooler.
We had a plan to take photos of random people and post them with cutlines explaining who they were, for example a dignified white-haired gentleman who we'd say was Jimmy Carter, or a fat guy with a beard who we'd say was Mark Penn, but obviously we did not do that.
At 10:30 all the deviled eggs were gone, and we left, the end. Thank you GQ and Huffington Post for the terrible hangover!