Welcome to Wonkette Happy Hour, With This Week's Cocktail, Late Summer Margaritas!
Recipe Hub
September 02, 2022 04:20 PM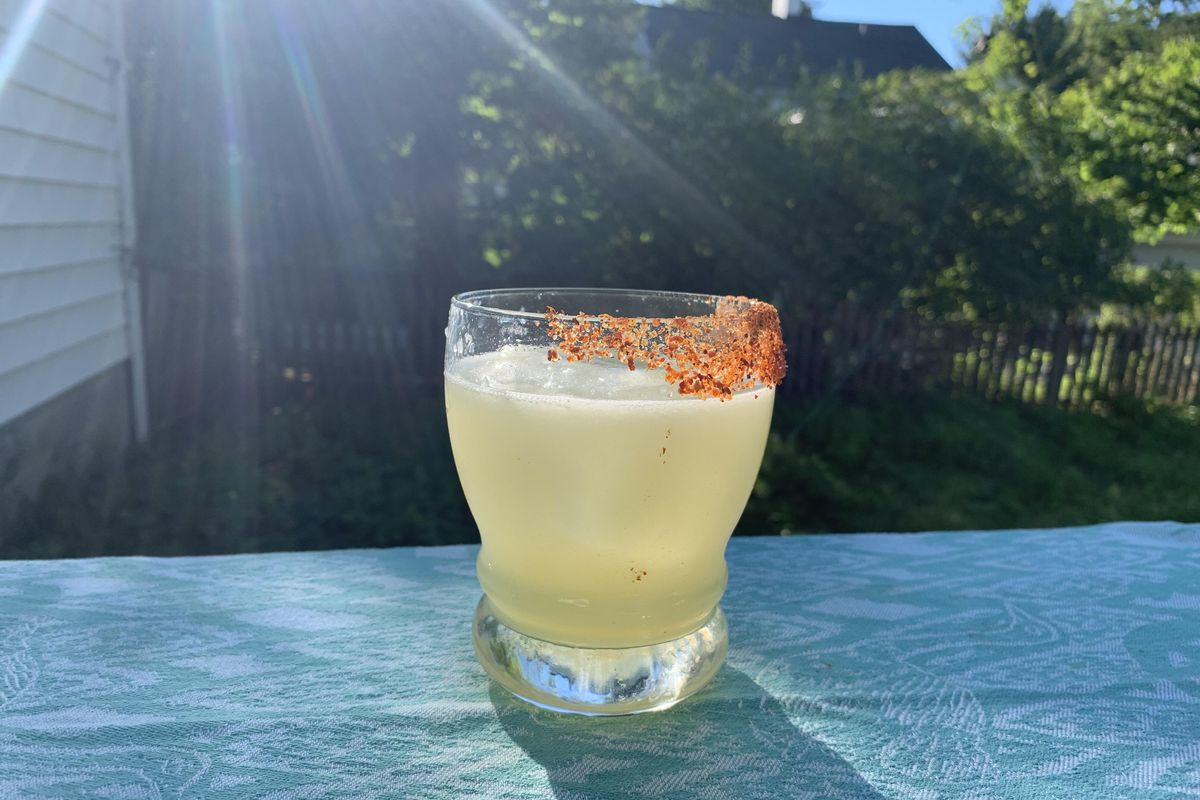 Matthew Hooper
Greetings, Wonketteers! I'm Hooper, your bartender. Summer's drawing to a close, but it's still toasty out. This is a good time to revisit some classic summer drinks. Here's my current take on the classic margarita. I've also got some ideas on how you can tweak the classic and make it your own. Call it a Late Summer Margarita. Here's the recipe.
---
Late Summer Margarita
2 oz El Jimador Blanco Tequila
1 oz fresh lime juice
¾ oz Montezuma Triple Sec
¼ oz orange blossom water
½ oz wildflower honey
1 oz fresh fruit juice or muddled fruit (optional)
2-3 dashes orange bitters
Sprinkle of sea salt
Wedge of fresh lime
Tajin
Pour a generous amount of Tajin into a plate. Run a lime wedge over half the rim of the glass. Roll the glass in the Tajin at a 45 degree angle to coat the rim.
Shake the rest of the ingredients and strain into a glass. Alternately, pour the rest of the ingredients into a food processor with 2-3 ice cubes and blend until smooth. Serve with a lemon wedge garnish.
I was browsing the shelves of the local liquor store recently, and noticed that Patron decorates each of its bottles with a honey bee. Honey's a very nice complementary flavor for tequila. It also plays nicely with fresh fruit. Around this time of year, every bar has a fresh fruit margarita on the menu. Strawberry margaritas, watermelon margaritas, blackberry margaritas – the possibilities are endless. I decided to revisit the classic margarita recipe and turn it into a sturdier base for add-ins and variations. The end result is extremely tasty in its own right.
Let's talk ingredients. I'm going to do a deep dive here and suggest a lot of variations along the way. Don't let yourself be intimidated. The classic four-ingredient margarita – tequila, lime, triple sec, sugar – is perfect. If you want an easy margarita, make that. No judgments. This recipe meanders through the bar, picks up some complementary flavors, and plays some fun riffs on the theme. Drink what you like, and you can't go wrong.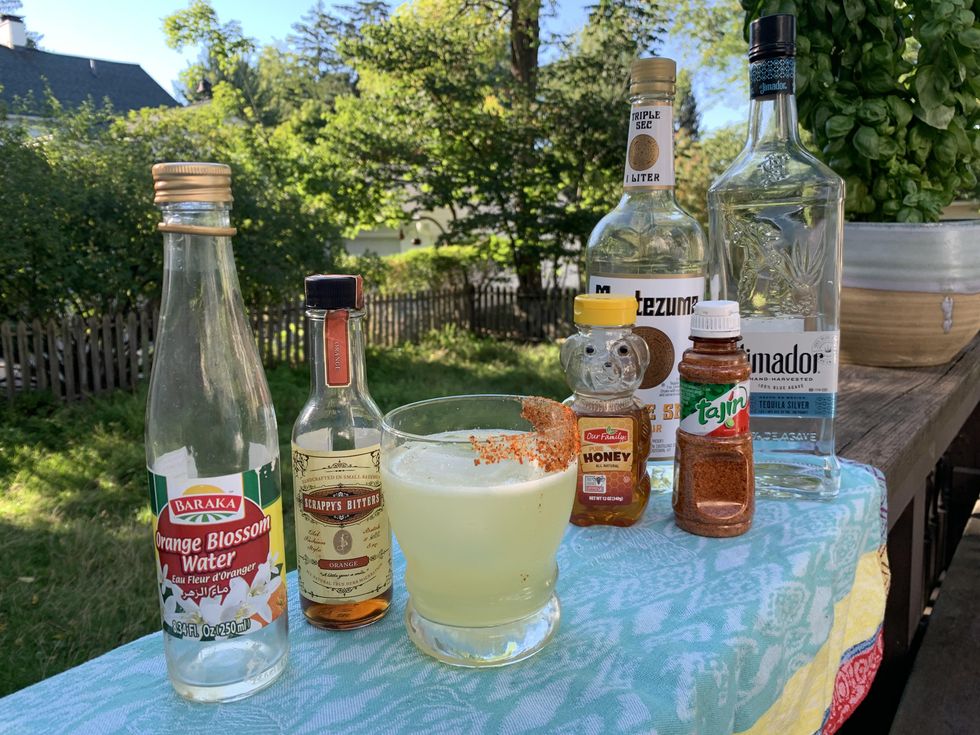 Ingredient shot. The margarita is mysterious disappearing right now, as I am typing this. Its is very tasty. Matthew Hooper
Tequila: I have explained in depth and with great passion that you should never drink anything less than 100 percent blue agave tequila. Eventually, if I keep yelling about it, the Jose Cuervo people will clear their throats and raise their eyebrows at me, so I won't keep beating that dead horse. Suffice to say that if you drink anything less than 100 percent blue agave, you aren't drinking tequila. You're drinking a bottle that's half tequila, half Not Tequila. And what exactly the "Not Tequila" is, we don't know. Best not to find out.
Unaged "blanco" tequila is the baseline for any good margarita. A strong tequila base provides a canvas for the complementary flavors of honey and fruit. El Jimador is my favorite workhorse for margaritas. Lightly aged "reposado" tequila provides vanilla and toast notes. It also rounds off the harsh ethanol and funky agave notes of blanco tequila. A mild fruit that likes those flavors – such as peach or melon – would do well with reposado. Long-aged "anejo" tequila is so good on its own that I'd hesitate to put it in any margarita. Drink something beautiful like that neat.
If you want a little smokiness in your margarita, swap about ½ oz of the tequila for mezcal. Mezcal's made with roasted agave plants, and it carries a wonderful smoky note. Be gentle; too much and you'll have an ashtray flavored cocktail.
Fresh lime juice: Tequila and lime are exceptionally good for each other. I've tried lemon and orange juice, and they just don't work as well. Stick with tequila and fresh lime, and you can't go wrong.
Montezuma Triple Sec: The same people who make that dodgy "Some tequila, some Not Tequila" have been making their own triple sec lately. I tried some, and I don't hate it, but it's not great. On its own, Montezuma triple sec tastes like corn syrup, cheap orange candy, bergamot, and booze. Cointreau or Stirrings triple sec are much better, but they're three or four times as expensive … and I kind of like cheap orange candy. Taste, experiment, and drink what you like.
Orange blossom water: This ingredient corrects the cheap triple sec. Adding orange floral notes makes the triple sec more complex and blended. If you're using Cointreau, it might not be needed. I would like it for any fruit that craves spice for complexity. Blackberries or blueberries would love the orange blossom water.
Wildflower honey: Honey and fruit play together very well. In small quantities, honey also cooperates with tequila. Too much, and you'll have a honey margarita, which isn't as good as it sounds. Be sparing. The triple sec is extremely sweet in its own right. You don't need much extra sugar. If you want a more neutral sweet note, try agave syrup or simple syrup. Buckwheat honey brings some molasses notes to the table that might work with early fall fruit, but I'd be cautious. The honey bear from the grocery store is perfectly fine. But there are all sorts of interesting honey options at the local farmer's market worth exploring. Try something you haven't tasted before. It'll be worth it.
Fresh fruit: By "fresh fruit," I mean just about any summer harvest flavor. Seriously. Go nuts. Just about anything works. Strawberries? Heck yeah. Blackberries and blueberries? Sure. Watermelon? A layup. Peaches? Why not? I have even muddled an ear of roasted corn and added it to this recipe, and it's wonderful. Use your imagination. Nothing is off limits.
Orange bitters: Any complex cocktail benefits from some bitters to smooth out the drink. Orange bitters are my first choice here, but cocoa bitters run a close second. Give them a try and see what you think.
Sea salt: Tequila loves salt. A little saline brightens and improves all the flavors in this cocktail. Try to avoid salt with iodine. It can produce some unwanted flavors.
Tajin: I'm obsessed with this Mexican condiment. The spice, salt, and dehydrated lime are fantastic with any fruit. Tajin sprinkled on watermelon is a revelation. It's a great way to provide spice and saltiness to this cocktail without making the beverage fiery or salty. I always rim only half the cocktail, instead of coating the entire rim. I want to let the drinker decide how much salt or spice they taste.

In summary and conclusion, happy Labor Day weekend, drink well, drink often, and tip your bartender — donate to Wonkette at the link below! And if you'd like to buy some bar gear or books from Amazon, please click here!
OPEN THREAD!
Matthew Hooper
Matthew Hooper, aka Samurai Grog, turned 50 in 2021 and decided to have a midlife crisis by leaving a boring sales and marketing job to tend bar at the local country club. He's never been happier. He's also a fencer, a dad, a husband, and a punk music fan. Overall, he's way cooler than he ever thought he could be when he was 16.