Welcome To Wonkette Happy Hour, With This Week's Cocktail, The Tijuana Breakfast!
Recipe Hub
January 28, 2022 04:30 PM
Matthew Hooper
Greetings, Wonketeers! I'm Hooper, your bartender. It's ugly cold out here in Ohio. It's time for another warm cocktail. This time, we're making a killer non-alcoholic beverage, adding some tequila with some odds and ends, and dreaming of warmer days. Let's make a Tijuana Breakfast. Here's the recipe.
---
Tijuana Breakfast
6-8 oz. House horchata (recipe follows)
1.5 oz. El Jimador anejo tequila
1 barspoon El Silencio mezcal
Cinnamon stick garnish
Fill the large tin of a two-part cocktail shaker with boiling water. Float the smaller tin in the large tin. Add horchata, tequila, and mezcal to the small tin and stir, 10-15 seconds. Lightly char one end of the cinnamon stick with a kitchen match. Pour the cocktail into a rocks glass and serve with the cinnamon stick garnish.

Horchata
1 cup cooked long grain white rice
½ cup white sugar
3 cups cold water
1 cinnamon stick
Break the cinnamon stick into small pieces. Place the rice, cinnamon, sugar, and water into a small container and let sit for 24 hours. Puree all ingredients in a blender. Filter well and refrigerate.

This recipe was inspired by Smoked Horchata from Death & Co. I've been getting into a rut with rum cocktails. I don't work with tequila often. Finding something that wasn't fruit-forward like a margarita intrigued me. I found this horchata and tequila combination, and we were off to the races. For the record, I am not advocating drinking tequila for breakfast. But the toasty, creamy, cinnamon notes of this cocktail remind me of a warm sweet tamale first thing in the morning. It sure beats a Bloody Mary on a cold winter's day.
Tequila behaves like different liquors as it ages. Blanco tequila — the clear stuff — needs to be treated like rum or gin. Lime and salt are blanco tequila's best friends. Reposado tequila has been aged two to 12 months in oak barrels. It's probably the best expression of what "real" tequila can be, and is my shot of choice. Anejo tequila has been aged at least one year. Tequila that's been aged that long starts to behave like bourbon or whisky. Warm blanco tequila isn't much fun, but hot anejo tequila works perfectly well.

I have called Jose Cuervo "the devil's armpit squeezings" before, mostly because it's barely tequila. To further drive home the point, Jose Cuervo doesn't sell blanco or reposado tequila. Instead, they sell "silver tequila" and "gold tequila." What do those terms mean? Who knows? Marketing made them up? My guess is that the difference between "silver" and "gold" tequila is artificial caramel color. Don't drink Jose Cuervo. Life's too short for bad tequila.

On to the ingredients: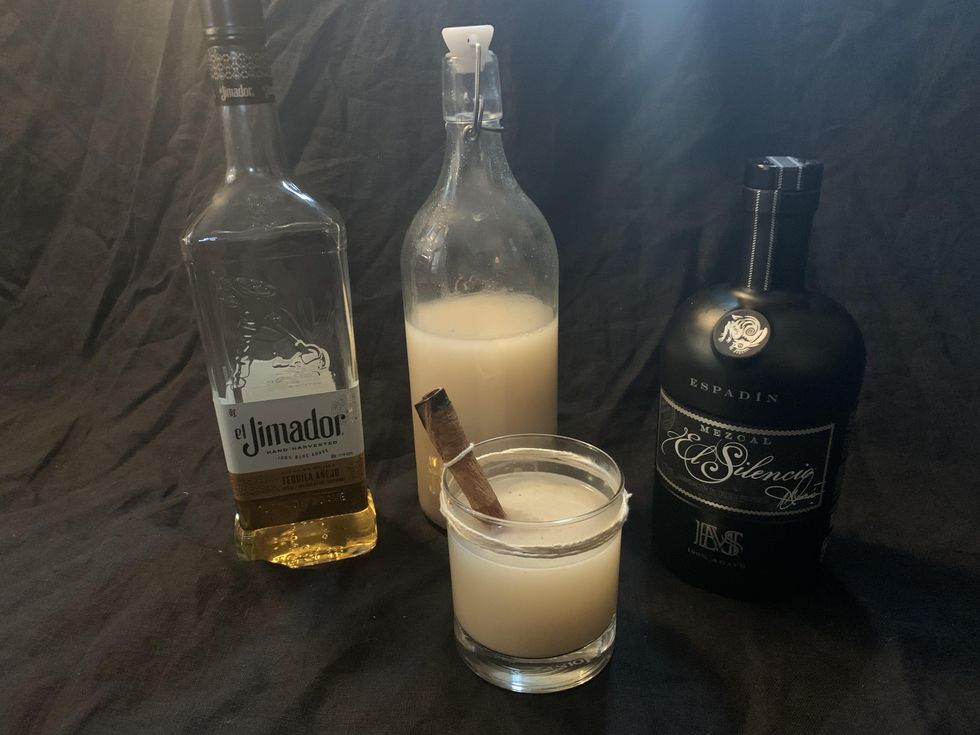 Ingredient shot. The Tijuana Breakfast vanished mysteriously, but comfortably, shortly after this photo was taken.Matthew Hooper
Horchata: Honestly, the horchata's the star of the show here. It's great to drink all by itself — a creamy, cinnamon-laden vegan dairy alternative. Filtering it properly is tricky. If you don't use a fine enough strainer, you'll end up with a slightly sludgy beverage. I use a nut bag. (It's important to gently squeeze your nut bag when finishing this process, to get all the fluids out. If you squeeze the nut bag too hard, you might break it. I wrote both of those sentences with a straight face, and I am very proud of myself.)
Homemade horchata will settle and separate quickly in the fridge. If you're making extra for home use (and please do), give it a good shake before drinking. I used long grain rice for this version, but short grain would work very well. Feel free to experiment. I did try brown rice, and the results were very disappointing. It tasted like thin, cold oatmeal. Some recipes I've seen call for almonds or coconut. I wouldn't say no to either of those.

El Jimador Anejo Tequila: This is a very nice anejo for the money — sweet, oakey, with a clear cooked agave note. I'd hesitate to call it "smooth" poured neat, but it does the job very well here. That being said, you can find better anejo tequilas for more cash. I'd recommend Casadores or Olmec anejo. I've made old-fashioneds with Olmec anejo tequila. The spirit holds up great with just a little agave syrup and cocoa bitters.

El Silencio Mezcal: Go very light on this spirit. Just a little will bring some needed smokiness to the cocktail. Too much, and you'll get some unwelcome iodine notes. Mezcal's an excellent agave spirit worth exploring, with tons of smoke flavor. Just remember, a little goes a long way.

Cinnamon stick garnish: Don't go overboard with charring the cinnamon stick. Blackening the end will give you all the flavor you need. The smoke and cinnamon flavors of the garnish boost the core flavor profile of the cocktail. However, it does tend to rattle around awkwardly in the glass. I decided to get a little fancy and lash the cinnamon stick to the lip of the glass with some kitchen twine. For everyday drinking, I'd suggest swirling the cinnamon stick in the warm drink and then discarding.

For the NA cocktail today … well, that horchata is really, really good. I'm making a second batch for my daughter to drink. It's a terrific dairy alternative all on its own, and tastes great on ice or served hot. It's much less expensive than store bought dairy alternatives as well. Feel free to try it, tweak the recipe to make it your own, and enjoy it regularly.

In summary and conclusion, drink well, drink often, and tip your bartender — donate to Wonkette at the link below! And if you'd like to buy some bar gear or books from Amazon, please click here!

Open Thread!
Matthew Hooper
Matthew Hooper, aka Samurai Grog, turned 50 in 2021 and decided to have a midlife crisis by leaving a boring sales and marketing job to tend bar at the local country club. He's never been happier. He's also a fencer, a dad, a husband, and a punk music fan. Overall, he's way cooler than he ever thought he could be when he was 16.