What 'Better Deal' Have Dumbstupid Democrats Ever Given You, HENGHHH???
News
July 24, 2017 11:36 AM
Oh no! It's the existing leadership! Please panic!
---
The Democrats are trying out a new slogan for the 2018 midterm elections -- "A Better Deal," which plays off both the New Deal and that guy who claims he knows the art of the deal -- in hopes of putting the emphasis on a positive agenda focused around economic populism. Senate Minority Leader Chuck Schumer outlined some of the key planks in a New York Times op-ed today, calling for a $15 minimum wage, child care and sick leave, and a big boost in infrastructure spending. Among the first initiatives the "Better Deal" will focus on will be rules aimed at slowing down job-killing corporate mergers, preventing price gouging by pharmaceutical companies (hello, public outrage over Martin Shkreli and also EpiPens!), and authorizing Medicare to negotiate for lower drug prices.
The details will be announced by Schumer and House Minority Leader Nancy Pelosi at an event today in Virginia, where Dems are hoping to win the House seat currently held by Republican Barbara Comstock; the new slogan and emphasis on everyday economic issues is intended to overcome the perception that Democrats don't have an agenda beyond opposing Donald Trump, which while it's a worthy thing to do, doesn't say a lot about what Democrats would do differently. Schumer told the Washington Post,
When you lose to somebody who has 40 percent popularity, you don't blame other things — Comey, Russia — you blame yourself. [...] So what did we do wrong? People didn't know what we stood for, just that we were against Trump. And still believe that.
So, hey, it seems like a good emphasis, because it focuses on bread-and-butter issues that Dems have always pushed for, and gets at some of the economic inequality issues that Trump made lots of promises about and then completely reversed course on once he took office. Screw the little guy, all the plum jobs in his administration went to alumni of Goldman Sachs. Also, too bad you believed that stuff about replacing the Affordable Care Act with cheaper, better insurance that will cover everyone, you dopes.
Of course, since the current Democratic leadership is floating the slogan -- the full line is "A Better Deal: Better Jobs, Better Wages, Better Future" -- it's obviously time to refight the 2016 primary election, because Jesus Christ we are Democrats and even an agenda emphasizing economic issues -- and which had input from Bernie Sanders's economic advisers -- is not lefty enough. Why aren't you resigning instead, Chuck Schumer and Nancy Pelosi? We don't need party unity if it includes you people.
Also too, there's this burning dumb question from NBC political editor Mark Murray: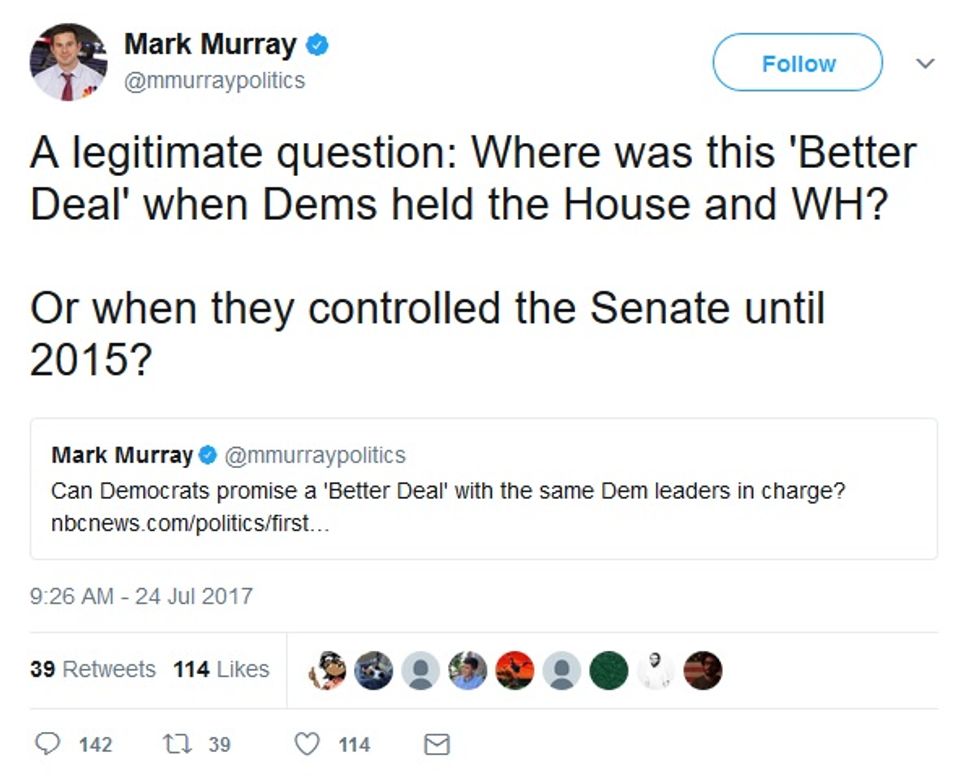 That is one excellent question! Why didn't the Dems pursue a progressive agenda when they had the chance? Why, they could have come up with some kind of plan that would have resulted in the largest reduction in Americans without healthcare in history, for instance, and maybe passed a bill to ensure women could more easily sue after experiencing employment discrimination.
If Democrats had really wanted to be progressive during the Obama administration, they could have changed the way student loans worked, so they were issued by the government instead of private banks, with more options to repay based on students' actual income, and maybe a rule that would forgive loans for students becoming doctors or teachers or social workers in under-served areas (of course, Trump will reverse that last one, so it doesn't count). And maybe Obama could have cracked down on scammy for-profit colleges, if Dems had only cared about ordinary Americans getting ripped off.
You know, if Dems actually had wanted to push a Better Deal for ordinary Americans, maybe they would have put in place some kind of Consumer Financial Protection Bureau that would have had the power to protect people from predatory lending practices and scammy credit card companies, and which -- at least until Trump nixed it -- was in the process of cracking down on ripoff payday and car-title lenders? Heck, maybe they could have instituted -- even in the face of enormous obstruction and pushback -- some kind of system to regulate big banks to prevent another economic collapse like the one in 2008.
For that matter, maybe if Democrats had had even the least scintilla of concern for everyday folks, from a progressive perspective, they might have passed some kind of stimulus to head off a second Great Depression, or they could have saved American auto manufacturers and tens of thousands of jobs, instead of letting them collapse like Republicans wanted.
And gosh, if Democrats wanted Americans to have better lives, maybe they would have taken some kind of action against racist police departments, or worked to reform mandatory minimum sentences and sentencing disparities. They might even have tried to protect the planet by committing to the Paris climate agreement or protect sensitive lands by declaring new national monuments.
Damn. That sure was a heck of a legitimate question. Why would anyone think Democrats might have a legitimate economic agenda anyway? They had so many chances but accomplished so little.
Yr Wonkette is supported by reader donations. If only we'd lay out a coherent policy agenda, you could feel secure in clicking the "Donate" linky.