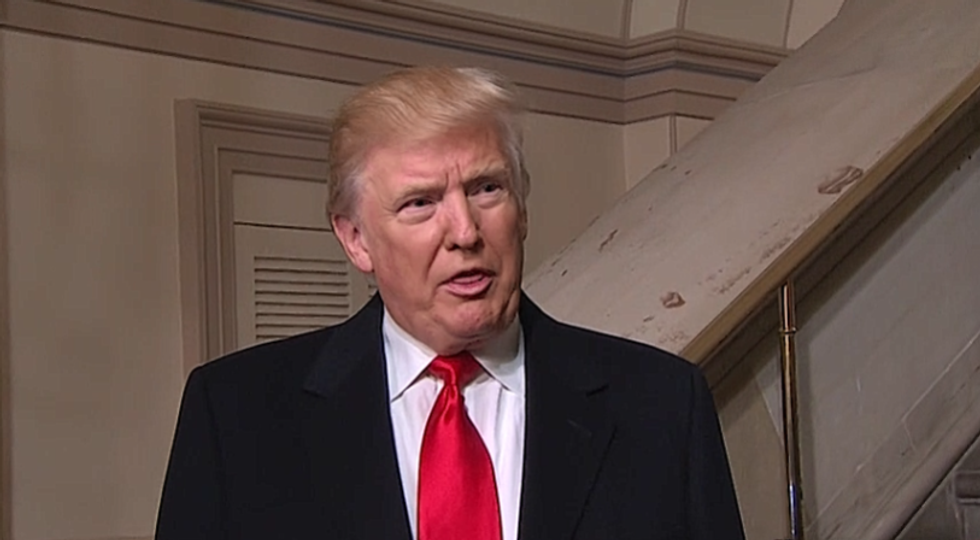 He sure does seem scared!
---
There are portents and omens, and also more than a little foreshadowing, related to Ye Olde Robert Mueller Trump-Russia Investigation! A bunch of weird things are making us say, "HMMMMMMM. Is some really big shit about to drop?" Let's sexsplore and wildly speculate and do whatever other masterful journalism things Wonkette is famous for:
CONSIDER: Robert Mueller is reportedly "going for the kill" in the Russia investigation.
That's what Axios says anyway. In one of its famous "bullet points for people who get distracted by squirrels" news posts, it says special counsel Robert Mueller is "burrowing in hard on the obstruction of justice angle," related to Trump's firing of former FBI director James Comey. Axios notes Steve Bannon's declaration to "60 Minutes" that Trump's decision to fire Comey was the stupidest mistake in "modern political history," and describes a White House that is just generally spooked right now.
Trump offered many conflicting lies for why he fired Comey, including his silly excuse that he agreed with Deputy Attorney General Rod Rosenstein that Comey treated Hillary Clinton so unfairly in the email investigation, as well as his dumbass first draft explanation, dictated to dead-eyed white supremacist poop stain Stephen Miller.
Of course, Trump finally admitted to NBC's Lester Holt that he fired Comey because of the Russia investigation, and then he told the Russians in the Oval Office that "Yippee! I fixed the Russia investigation!" because he fired that "nut job" Comey.
CONSIDER ALSO: Sarah Huckabee Sanders has been hollerin' like a pissed off Arkansas hoot owl all week about how James Comey is bad and James Comey should be investigated and James Comey farts and leaves the room.
Granted, Trump has been raging about Comey for months now, because Comey is the leaker-in-chief who leaked his own (unclassified) personal memos to his pal about how Trump tried to obstruct justice by pushing him to shut down the Russia investigation. Idiot Trump lawyer Marc Kasowitz quite simply nailed Comey for that non-crime, of leaking unclassified information.
Lately, though, the White House's bullshit story has been pounding the narrative that Comey broke America by FULLY EXONERATING Hillary Clinton in the email investigation, before he even had a chance to figure out how many email crimes she had committed. WHOA IF TRUE, except for how it's not. That brings us to Press Secretary Sarah Hucka-Spawn Sanders's behavior this week in the press room.
On Tuesday, responding to Maggie Haberman's question about Bannon's comments on the Comey firing, Sanders READ VERY CAREFULLY from her pre-written talking points about how Trump has been FULLY VINDICATED! YOOGE SUCCESS! for his decision to fire Comey. But she went even further than usual, suggesting that maybe the Department Of Justice should look into prosecuting Comey for committing CRIMES. Like, she's not telling DOJ what to do, but she is just saying, OK?
She did this Monday too. None of this is an accident. Of course, the only appropriate response is "Oh, can it, you asshole," but it's clear Sanders is speaking Donald Trump's mind right now.
Oh BOY, his little bitty paws must be sweating over whatever testimony/evidence Comey has for Robert Mueller!
CONSIDER ALSO TOO: Weird how shit is leaking about how some of Trump's lawyers were trying to get Jared Kushner quit-fired early in the summer, because of his role in the Russia investigation, dontcha think?
Yr Wonkette "Five Dollar Feminist" explored this ably in a post today, so we'll just let you read that, but let's just say it's odd how Trump's lawyers are treading water backwards right now with conflicting stories about how they either think Jared Kushner is an angel, or maybe possibly they wanted him out of the White House back in JUNE, because of the various villains he's played in the Trump-Russia scandal, and because of his knowledge of the meeting he attended at Trump Tower, hosted by Trump firstborn son PicassoFace McWastedSpace Junior, with a buncha fuckin' Russian spies.
Considering that Trump's legal team leaks like a sieve (just like his White House staff and also like his dumb mouth), we sense the possibility that some in the White House want to rent a bus so they can throw Jared under it.
CONSIDER ALSO TOO AS WELL: Errrrrrrrrbody and their mom is lawyering up right now!
Literally everybody near the deliberations over Junior's official first excuse for his Russian spy meeting, which was written by his dad, is lawyering up right now, including Trump's 84th communications director Hope Hicks, as well as White House counsel Don McGahn and former chief of staff Reince Preibus. (Those last two hired the same lawyer, in fact!)
This comes amid reports that Mueller wants to speak to those three, as well as former press secretary Sean Spicer, James Burnham (one of McGahn's boys) and Josh Raffel (one of Kushner's boys).
All these people are tied directly to the obstruction of justice angles on the Russia investigation, the Comey firing, and/or the follow-the-bouncing-ball excuses for Trump Jr.'s Russian spy meeting. WaPo also mentions the day-late, dollar-short firing of literal actual foreign agent Michael Flynn as something Mueller is digging into, like a common animal that digs a lot.
That is just a lot to consider, Wonkette.
We know, but seriously, CONSIDER THEM. We're just curious, because all the players seem crazy scared right now, and they're doing everything they can to smear James Comey, retain expensive lawyers most of the staffers involved probably can't afford, and possibly maybe try to throw J-Kush under the bus.
Is something YOOGE about to drop in the investigation? We aren't sure, but if Benjamin Wittes starts posting "GO BOOM!" on his Twitter, we're definitely going to take credit for being psychic and knowing something really big was about to happen.
Follow Evan Hurst on Twitter RIGHT HERE.
Wonkette salaries, servers, and all of the things are fully funded by readers like you! If you love us, click below to fund us!
[Axios]
Evan Hurst
Evan Hurst is the managing editor of Wonkette, which means he is the boss of you, unless you are Rebecca, who is boss of him. His dog Lula is judging you right now.
Follow him on Twitter RIGHT HERE.