What Taxes? Trump Has No Taxes! Wonkagenda For Tues., April 18, 2017
Elections
April 18, 2017 09:04 AM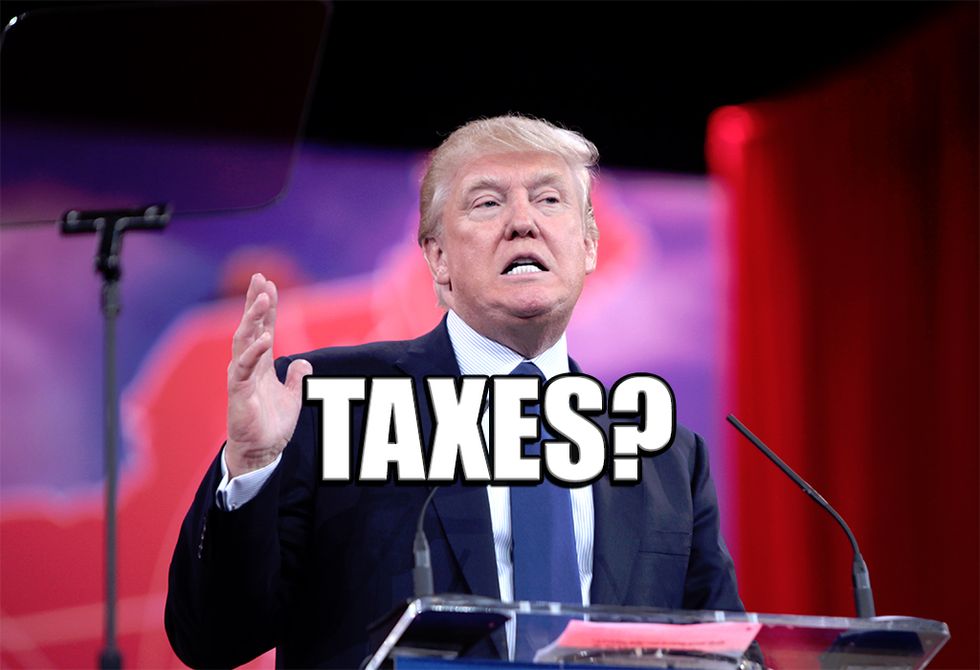 Morning Wonketariat! Here's some of the things we may be talking about today.
---
Recep Tayyip Erdogan received a congratulatory call from Trump for solidifying his rule as a dictator who imprisons journalists, silences the opposition, and rigs elections. You know he's just jealous.
In an E.O. expected to be signed later today, Trump will direct all businesses to hire Americans, and instruct federal agencies to buy American, so don't take any shit from some layabout brat this summer, olds!
Scott Pruitt isn't wasting any time screwing over the environment, and is using the courts to overturn key provisions in the Obama-era Clean Power Plan.
A bunch of whiny LIBERALS are expanding a law suit against Trump alleging that businesses in DC and NYC are losing money because Trump won't divest himself from his businesses, and is a walking violation of the emoluments clause. ADJECTIVE! NOUN! U.S.A! U.SA!
Trump's poll numbers are in the shitter, including the traditionally conservative ones. HAAAAAAAAAA.
Spicey doesn't think Trump will draw any red lines on North Korea, but I can think of a pretty clearly defined one along the 38th parallel.
It's Tax Day, but don't bother to ask Donald Trump about his taxes, he's special, and under audit, and President, and rich, and most importantly he's doesn't have to tell you shit.
Steve Mnuchin said that tax reform is "probably delayed" and "not realistic at this point" because the administration screwed up TrumpCare/RyanCare/WealthCare.
There still hasn't been anyone appointed to the State Department to oversee diplomatic security overseas. But...her emails!
Mike Huckabee has thoughts about his Internet service provider, and they are mean thoughts -- so mean that he'd rather be straddled by B. Barry Bamz for another 8 years (but, so would we).
Is President Bannon Jesus now that he's been cast out of the Kingdom of the God Emperor? (LOL, no, he's just a zombie nightmare.)
A Republican whiz-kid may have scammed presidential and Senate campaigns out of almost a million Ameros and now the RNC is pissed that Trump gave him a job in the White House.
A former Chicago detective is claiming that the he didn't frame dozens of men for murder because somehow a bunch of gangs in Chicago were able to agree put aside their difference for a moment and unite upon on a vast conspiracy against one asshole.
Arkansas Republican Tom Cotton had a disastrous town hall that left his constituents thinking that maybe they should repeal and replace him in 2020.
Georgia has a special election today, and it looks like Democrat Jon Ossoff might actually pull off a win and avoid a run-off.
The US Supreme Court halted the Arkansas kill-a-thon last night, and now all those murder drugs will have to be poured down the drain and fracked back into the soil.
Speaking of gangs, Trump tweeted that multi-state criminal enterprise from El Salvador's MS-13 is all Obama's fault because Bamz taught all the inner city children how to become street pharmacists and slavers.
The U.K. will hold a special election on June 8 in order to negotiate Brexit terms, that way conservatives can divert blame to some more brown-hued boogeyman.
According to Donald Trump, the white nationalist(!) suing Trump(!!) for beating a woman at a Trump rally can't sue him because he won the election.
Jim Bakker descended from the heavens on a cloud of magic angel babies to deliver a message from Jeebus yesterday, "I didn't see any of the so-called right-wing marching against Obama."
Elizabeth Warren is kicking off her 2020 presidential run national book tour today ahead of her reelection bid for the Senate.
And here's your late night wrap-up! Trevor Noah noticed the resurrection of Kellyanne Conway; James Cordon found some photos of Trump with bunnies; Colbertsat down with Chris Hayes, and then had a special message for Alex Jones; and Jimmy Kimmelmixed up his Trump entrance clips
And here's your morning Nice Time! BABY GOATS in PJs!
Hey! YrWonkette is supported by readers like you, so donate/subscribe and we'll keep giving you all the hard-hitting and independent 'splainerings, dick jokes, and mommy blogging you already love!
Dominic Gwinn
Dominic is a broke journalist in Chicago. You can find him in a dirty bar talking to weirdos, or in a gutter taking photos.