Who's The Dick Who's A Sex Machine To All The Chicks? It's Alex Jones And We Are Starting To Worry
News
April 24, 2017 01:41 PM
Radio millionaire, Donald Trump advisor, and Ever-Nude Alex Jones is in the midst of a nasty custody trial. While we honestly have no idea why this trial is open to the media, and we can see that it would be very frustrating for Jones to have a gag order slapped on him while stories are written about how his current wife used to be a massage-sex-worker (yikes!), it seems to be eating what is left of his mind.
---
Thanks to the Austin-American Statesman, we know (without having to have watched it ourselves) that Jones took the opportunity over the weekend to "not brag" that he'd boned 150 ladies by the time he was 16, because he was a MAN dammit. A man with barbecue sauce on his nipples, who fought grown men, most likely shirtless.
Oh, wrong video.
When I was 16, I didn't want to party any more. I didn't want to play games any more.

I grew up. I'd already been in the fights, all the big rituals. I'd already had probably – I hate to brag, but I'm not bragging, it's actually shameful – probably 150 women, or more, that's conservative. I'd already had over 150 women. I'd already been in fights with full-grown men. I was already dating college girls by the time I was 15-years-old. I was already a man at 16.

At 21, I was a leader. At 21, I had a radio show on one of the biggest stations in town, and by 22 I had top ratings. By 23, I was syndicated.

By 24, I had my son.

By 24, I had a son. I had the beginnings of a media empire that was reaching millions of people and everybody couldn't believe it.

Ladies and gentleman, Thomas Jefferson was leading Virginia by the time he was 24. Thomas Jefferson had four college degrees by 22. Thomas Jefferson was designing architecture at 20, building and getting contracts by 22. Thomas Jefferson wrote the Declaration of Independence and the Constitution. Thomas Jefferson was the leader of the Illuminati by 34, worldwide. And I don't mean the modern, devil-worshiper Illuminati, that's the counterfeit of the, quote, Illuminated, and they were Masonic, and they weren't devil-worshipers, and they created the country, and I'm not Masonic, I'm just giving you the historical facts. The rites of passage are all being removed.
This -- and it went on for an hour -- was supposed to illustrate, we don't know, that Millennials suck or something we guess, because Masons and chemtrails and Sandy Hook.
You will want to head over to the Statesman website, because obviously you don't want to watch the video, and they did the public service of transcribing a whole bunch of shit about vampires, and also took screencharts of Alex Jones's charts, which the man with multiple talents did on the fly: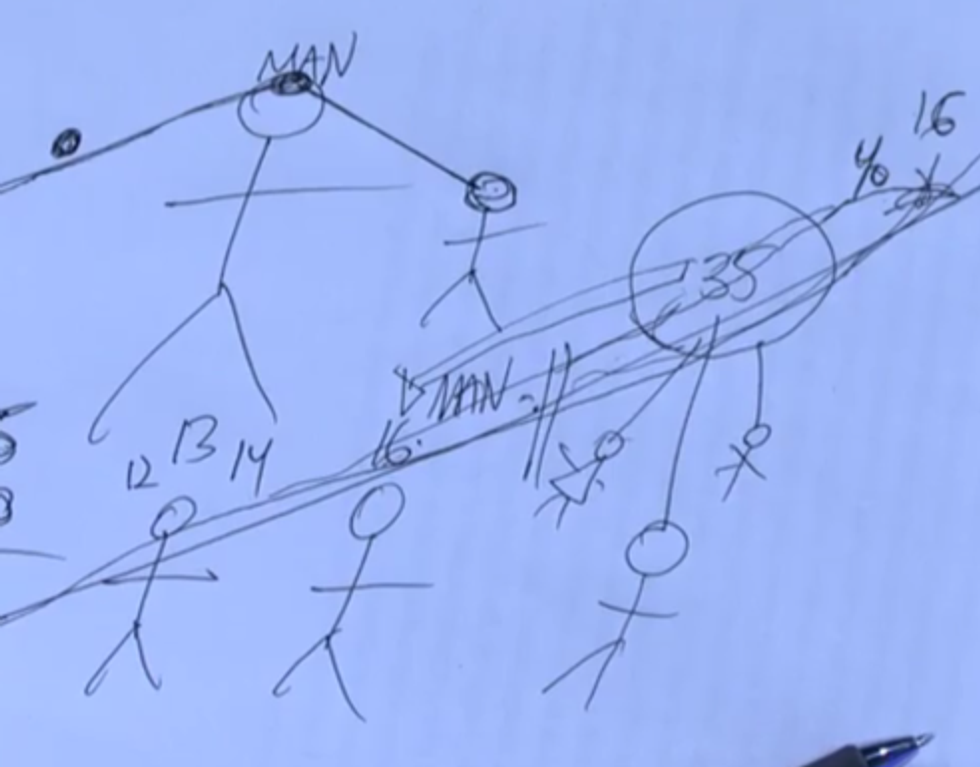 Alex Jones's brain
But buried in there was a tidbit that honestly just makes us feel sad.
By 24, I had my son.
If Alex Jones had a son by 24, that son had not, until now, been a known part of his biography; until now, the only unacknowledged son he's talked about is Bill Clinton's. Sure, you could give him the "benefit" of the doubt and say he probably just didn't know when his acknowledged son was born (14 years ago, when Jones was 30ish). Or you could NOT do that and do the man the honor of believing the words that came out of his own mouth: that Alex Jones has a secret child.
This is all dirty and we feel gross. Thank God I don't think we're cut out to do Real Journalism like Alex Jones.
Rebecca Schoenkopf
Rebecca Schoenkopf is the owner, publisher, and editrix of Wonkette. She is a nice lady, SHUT UP YUH HUH. She is very tired with this fucking nonsense all of the time, and it would be terrific if you sent money to keep this bitch afloat. She is on maternity leave until 2033.