Willow Palin Buys Drugs In Target Parking Lot
News
November 22, 2010 11:13 AM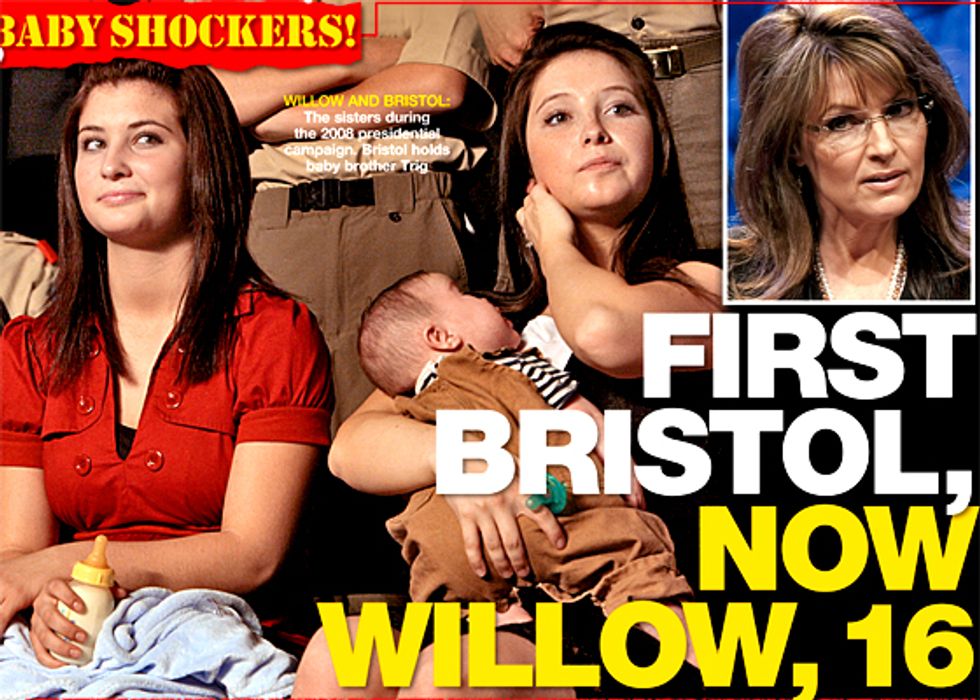 Important political magazineLife & Style (is this that Tina Brown/Newsweek thing?) just sent us a very important news update on Willow Palin, the hot teen sensation of Discovery Channel's new travel video, White Trash On Drugz. According to unimpeachable sources (other white trash kids in Wasilla), Willow is such a piece of trash. Plus she is so dumb, she buys marijuana in Alaska, where it is free and grows everywhere -- except anywhere around a Palin, as the only food that doesn't wilt in the presence of a Palin woman is something assembled by Taco Bell. Let's learn all about parking lot life in Wasilla, at 1 a.m., with your favorite "first family," the Palins!
---
Willow is hot in today's Amurukuh because she is not all worn out like her old babymama sister, what's her name. Let this be a lesson to rural teens nationwide: Get that abortion so you can stay sexxxy and keep partyin' in the parking lot.
Here is what this magazine sent us, in an email, about the newest Palin sensation:
Several former peers of the 16-year-old have gone on-record to exclusively reveal to Life & Style that Willow took part in a 1am drug deal, and that she "chugged" vodka when she was just 15.

Lance Nezaticky, a former classmate of Willow's, tells Life & Style that he watched as Willow took part in a drug transaction in a deserted Target parking lot in her hometown of Wasilla, Alaska, around 1 a.m. on a December night last year. Lance, 18, watched as a male driver pulled up, with Willow riding in the passenger seat. The driver bought $20 worth of marijuana, says Nezaticky, then handed it to Willow. "It was definitely her," Nezaticky tells Life & Style. "There's no question. I had met her before." After buying roughly 2 grams of pot, Willow and her companion drove off. "Willow had been told that the pot was really good stuff," Nezaticky recalls.
You should go check this shit out, we bet! This is probably the main magazine in the check-out aisles wherever you redeem food stamps for Diet Coke and frozen pizzas. [Life & Style]