Wingnut Tennessee Rep Lady Named 'Butt' Has Dick All Over New Campaign Logo
Featured
July 08, 2015 11:40 AM
Tennessee state Rep. Sheila Butt is an asshole, and her new campaign logo looks like a vertically erect cock in the process of opening fire, and she is promoting it with the hashtag #StandWithSheila. IN YOUR PANTS!
---
Butt is one of those state-level idiots currently pushing legislation to "protect pastors" from being FORCED to do gay marriages to the homosexuals, even though the Supreme Court's ruling explicitly protects the right of conscience of any clergy member to refuse to perform a wedding for any reason.*
She's the lady rep who got in all kinds of trouble for Just Suggesting that maybe if we have an NAACP, then maybe, for even-Steven purposes, we should have an NAAWP. Then she said that everybody else is A Idiot for thinking the "W" in that acronym would stand for "white," but she refused to say what it really stood for, but amended her statement to reflect on the fact that there are no organized groups in America which will stand up for white people, or for Christians.
She's also the one who says there shouldn't be exceptions in abortion law for cases of rape and incest, because triflin' bitches usually be lyin' about what had happened was rape, which led to their current pregnancy situations. Are rape and incest, like, even a thing? Not in Rep. Butt's world, and certainly not in Tennessee!
[contextly_sidebar id="caj0b6dlSGsTP2ovaPB8YpuXZqkY0Fwg"]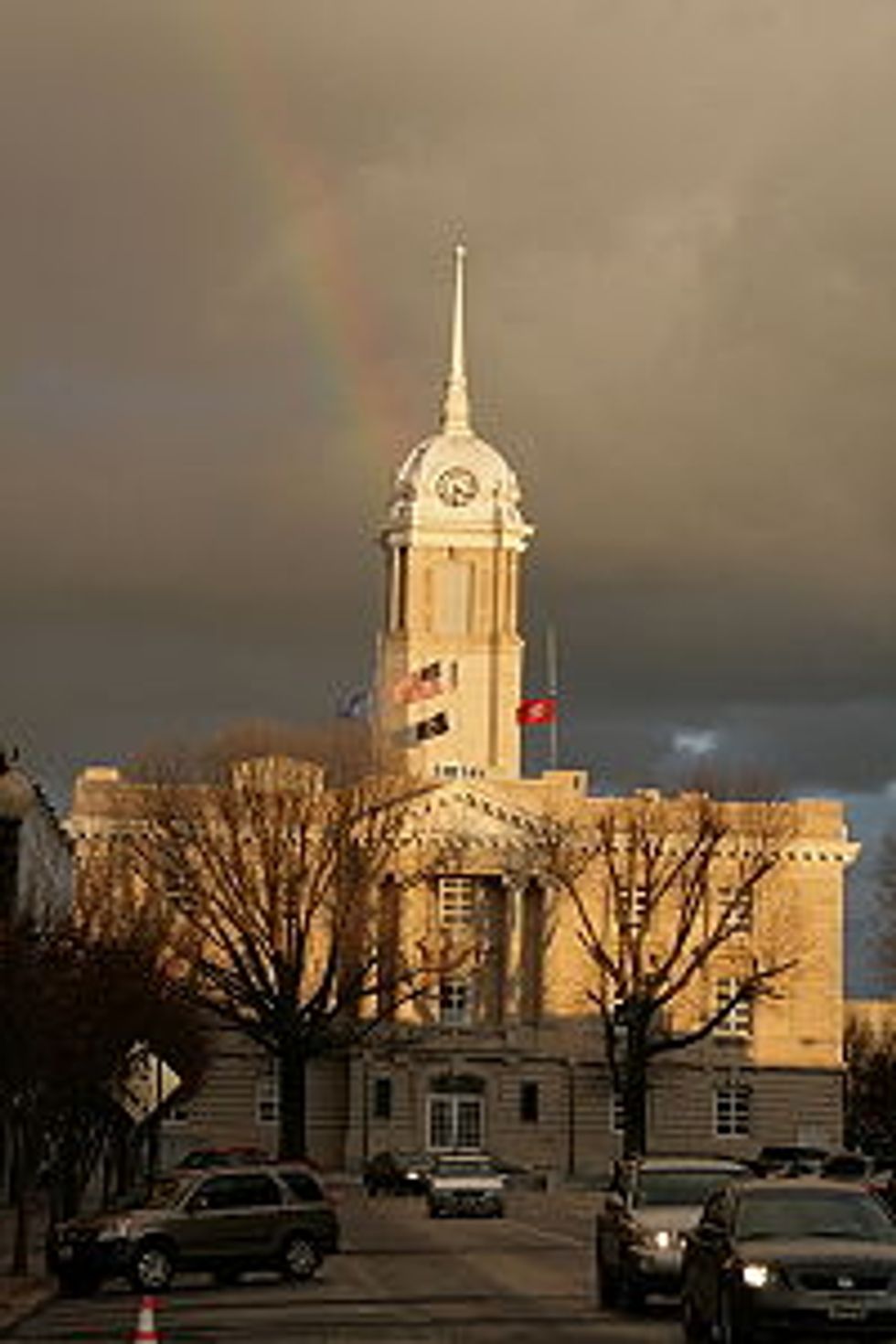 And that up there is her new campaign logo. Oh sure, she SAYS it's the "Maury County Courthouse," and yeah, we see the resemblance we guess. She just decided to use the part of the silhouette she liked best, the part that looks like a giant penis writing "pew, pew, pew!" in the sky with spooge, and she put it right up against her name, which is "Butt."
Now all she needs is a snappy campaign slogan to go with it, like "It'll only hurt for a minute," or "All the cool kids are down with Butt stuff," you know, something memorable. Help her out, Wonkers.
*Of course, this has always been the case. Try it out. Go take your Jewish girlfriend to your Catholic priest and see how into doing your wedding he is. He might be! But he might not be, and that is his right. And really, why do wingnuts think gays are going to be suddenly interested in getting married at the local fire and brimstone God Hates Fags church? First of all, that church is tacky as fuck, and second of all, we don't want our kids exposed to people like that, especially on the best days of our lives. Do we really have to Wonksplain this? 
Evan Hurst
Evan Hurst is the managing editor of Wonkette, which means he is the boss of you, unless you are Rebecca, who is boss of him. His dog Lula is judging you right now.
Follow him on Twitter RIGHT HERE.