'Scientifically' It's A Big Deal. Wonkagenda For Tues., June 12, 2018
Elections
June 12, 2018 08:53 AM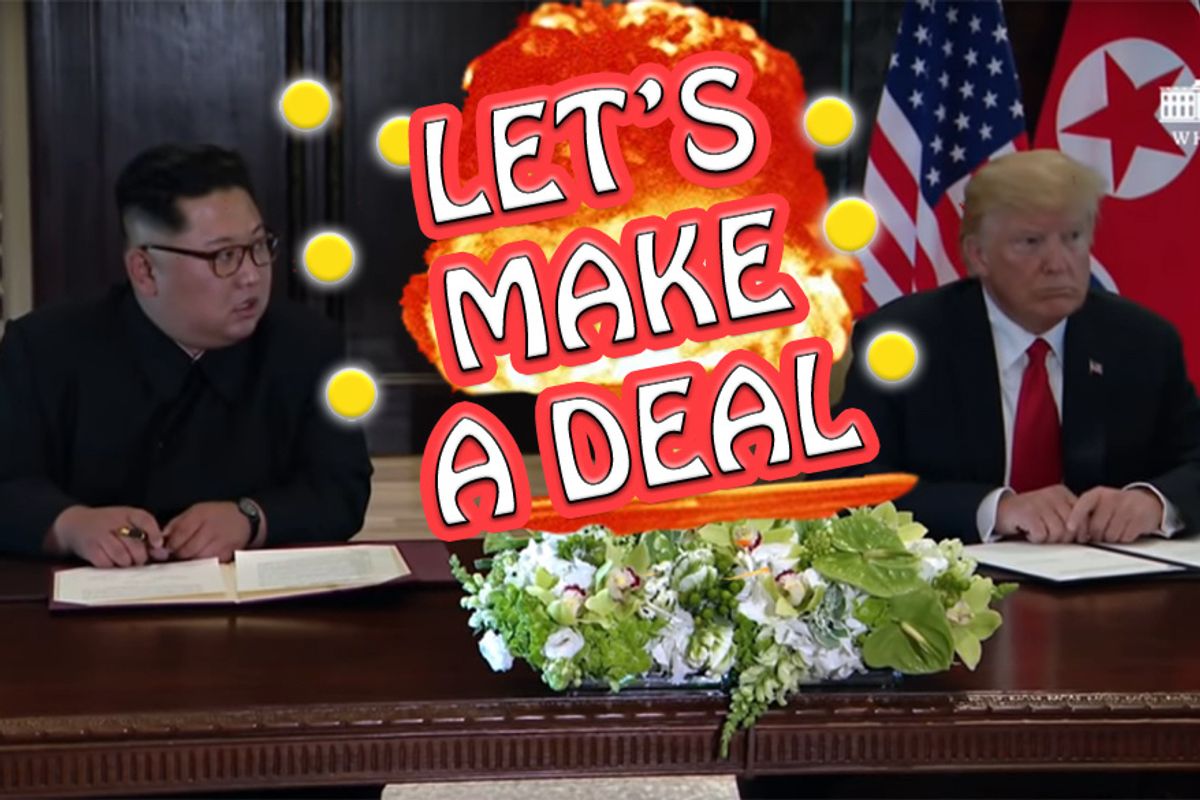 Morning Wonketariat! Here's some of the things we may be talking about today.
---
Trump's Singapore sideshow with North Korean dictator Kim Jong Un ended in a predictable circus that Trump declared a win. Citing a "very special bond" with Kim, Trump announced the end of South Korean "war games" (read: defensive exercises!), and a confidence that North Korea would "deNuke," but declined to offer any specifics. "Scientifically," Trump stated at his first press conference since the beginning of his presidency, "We will do it as fast as it can mechanically and physically be done."
Earlier this morning Trump sat down with George Stephanopoulos for a batshit interview full of sentence fragments and crazy nonsense about North Korea.
Trump's lawyers have started a joint defense agreement with people under investigation by Robert Mueller. This allows them to share information with one another to obstruct construct a more coherent defense strategy.
There's new scrutiny on the NRA over its ties with Russian mobsters and money launderers in Putin's inner circle, and investigators are particularly focused on a $30 million donation from the the mob to the NRA that mirrors a donation the NRA made to Trump's campaign.
In a new move to make America white again, Attorney General Jeff Sessions has essentially made it impossible for refugees seeking asylum from sexual, emotional or physical abuse to enter the US. In making the ruling, Sessions stated, "An alien may suffer threats and violence in a foreign country for any number of reasons relating to her social, economic, family or other personal circumstances. Yet the asylum statute does not provide redress for all misfortune."
The Trump administration is now going to start asking for the papers of naturalized citizens it suspects of "cheating" the immigration system. "Papers, please!"

In a rare show of bipartisanship, the Senate intends to include a measure that will block Trump's bailout of shady Chinese tech company ZTE in the annual defense spending bill. Republican Sen. Tom Cotton grew a spine and said, "Given their repeated violations of U.S. law, we cannot trust them to respect U.S. national security, and so it's vital we hold them accountable and pass this amendment."
In a 5-4 ruling, SCOTUS upheld an Ohio law that purges voters from rolls for missing a single federal election after conservative justices shrugged at the state's use of a narrow loophole to act deaf, dumb and blind about a voter's residency.
New financial disclosures by Jared and Ivanka show them making $82 million in outside income last year. "Unpaid presidential advisers," indeed.
One of the last people with any experience in Trump's White House comms department, Steven Cheung, suddenly resigned on Friday. Nobody knew he was leaving, but yesterday a former Trump campaign aide who worked with Cheung during the 2016 said "[Cheung] deserves a gold watch." ¯\_(ツ)_/¯
One of the dozens of PACs fueled by the Koch Brothers is dropping six-figures on an ad campaign to pressure Chuck Grassley, Orrin Hatch, and 15 Democrats into supporting Jared Kushner's prison bill over the more broad and bipartisan criminal justice reform plan being hammered out in the Senate.
Somebody over at the Hill wrote this unnecessarily glowing piece on Mitch McConnell becoming the longest serving Republican Senate leader, and clearly forgot to breathe while chortling his balls.
Political wonks and nerds will be glued to their screens tonight as election returns roll in from several crucial House races in Virginia.
Several other states are holding primary elections today, including South Carolina, North Dakota, Nevada and Maine, where contentious primaries and open seats have drawn fringe candidates on both the left and the right to bark at incumbents and idealists alike.
North Dakota GOP Senate hopeful Rep. Kevin Cramer has been calling Trump's White House to bitch about Democratic Sen. Heidi Heitkamp, accusing her of receiving special treatment for being a woman.
A debate to rep New York's Staten Island became a cable news shouting match as Rep. Dan Donovan and former Rep. (and convicted felon) Michael Grimm spent more time vying for sound bites than actually discussing policy.
Levi Tillemann is a Colorado Republican running for the Sixth District. He was known as the Bitcoin guy, but today he's the dumbass who released a campaign video that shows him getting pepper sprayed in support of school safety. [Video]
Democrats are turning to Hollywood to create a message that down-ballot candidates can shout in old folks homes the next time somebody screams MAGA.
Obama has secretly been acting as a 2020 Democratic guidance counselor, holding quiet meetings with possible presidential hopefuls, and helping them kick the tires on potential campaign buses.
Voters in Maine will see a new kind of ballot when they head to the polls today. Rather than selecting one candidate, voters will rank their choice of candidates from first to last. Political science nerds call this "ranked choice," and it's kind of neat!

The US added five Russian companies and three people to a growing list of sanctions stemming from the ongoing cyber fuckery in the US and Ukraine. The Treasury specifically cited the NotPetya malware that rapidly spread through the web last year.
A Saudi-led airstrike in Yemen has reportedly hit a Doctors Without Borders cholera treatment center in Yemen.
Daily Show host Trevor Noah opened up about why former host Jon Stewart left, and the advice he offered upon stepping down.
Trump's economic adviser, Larry Kudlow, suffered a "very mild" heart attack last night.
An aging pro-Trump former sportsball player broke down crying on CNN in a desperate bid for attention.
And here's your morning Nice Time!
We're 100% adfree, reader supported, and working 24/7 to keep up with the deluge of craziness. Kick us a couple of bucks to keep the coffee flowing!
Follow Dominic on Twitter and Instagram!
Dominic Gwinn
Dominic is a broke journalist in Chicago. You can find him in a dirty bar talking to weirdos, or in a gutter taking photos.