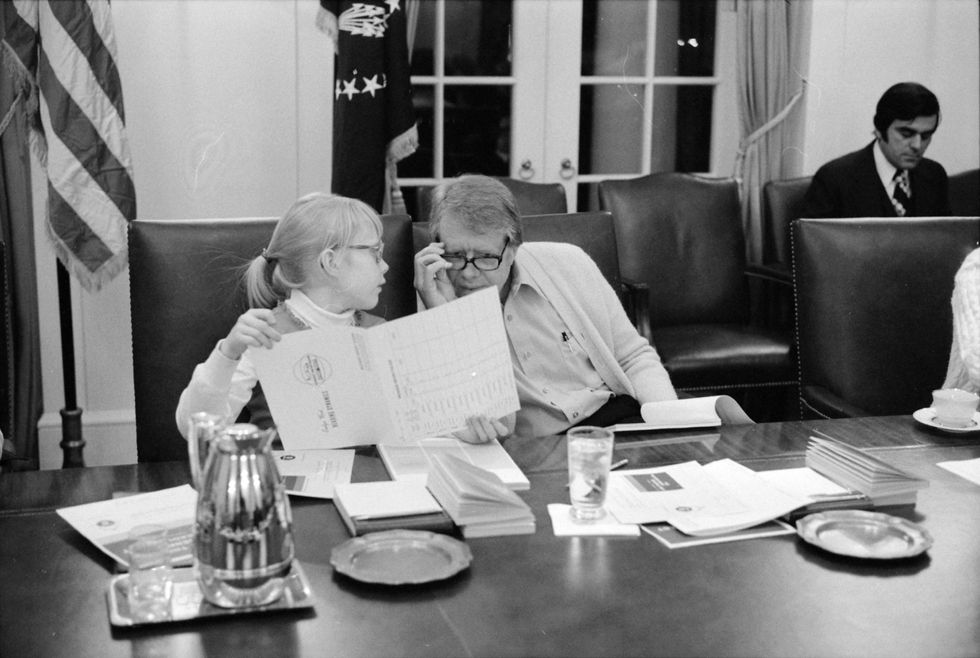 Morning Wonkers! Tonight's the night of the final debate, and we hope you'll join us for liveblogging the pickling of our livers, or by joining Robyn Pennachia, Meredith Kachel, Adam Burke, Rebecca Vipond Brink, and myself in Chicago at @North Bar for one last Drinky Thing! In the meantime, here's some of the stories we might be talking about today!
---
That whole "rigged election" battle cry espoused by Trump has been having the OPPOSITE effect! Rather than volunteer as poll watchers (as Trump might have been trying to suggest) he's left his minions confused, with many Trumpkins admitting that they're already the losers Trump always knew they were.

Pat Smith, better known as TrumpCon's "Benghazi Mom," might be the special guest invited to tonight's debate, but the Clinton-critical judge ruling over Pat Smith's law suit against Hillary Clinton has decided to bail on the suit, either because of an obvious conflict of interest, or because it's a poorly engineered hatchet-job.

Hacked documents show that the DNC wanted to get info on Trump Steaks through public records searches and FOIA requests. Long story short: Trump Steaks, much like the candidate, were shitty, over-priced, and not worth the effort.

Newsrooms are holding fast for election night chaos, not from flip-floppy election returns, but from super cyber hackers who can't leave their moms' basements getting their jollies off by defacing news websites. Dewey beats Huey and Louie!

Cash clown Larry Kudlow is trying to climb back on the Trump train after bailing out with all the other snobby rich kids in bad suits when it turned out he might have put his tiny hands all over ladies' vaginas.

The Center on Privacy and Technology at Georgetown Law has published an extensive report that concludes half of all U.S. adults have their pictures in a law enforcement race recognition network, 25 percent of U.S. police department can access facial recognition tools, and only one of 52 agencies that used facial recognition had actually decided to get permission. So either we're all a bunch of purse snatching gangsters smoking the Devil's Lettuce who mark our drug-dealing street corners by peeing in public, or the long flabby arm of the law is showing show some unnecessary stretch marks.

The Culinary Union is spearheading a wall of taco trucks forming outside the Trump International Las Vegas Hotel while you caffeinate yourself this morning.

Someone that is in all likelihood NOT Donald Trump convinced Donald Trump to issue a decree that, if elected dictator, Congress critters will have term limits, presumably so that they couldn't pose a threat to his reckless abuses of power.

Now that the GOP has more or less acknowledged that Donald Trump is one of the worst mistakes since Olestra, Super PACs supporting Republican candidates are dumping piles of cash on congressional races in the hope that, with enough money, they can smother the raging dumpster fire jeopardizing their choke hold on the House and Senate.

This may come as a shock to you, but Newt Gingrich is trying to stay relevant by whispering into Trump's ear that he should make it easier to fire federal workers if he somehow manages to defy all logic and become president, a proposal that's likely to be dead on arrival as Congress critters rely on federal workers to make it appear as if elected representatives actually do their jobs.

Some traditionally Republican congressional districts are scared that Democrats, like Virginia's LuAnn Bennett, could actually steal long held conservative districts in the House due to Donald Trump being such putrid sack of festering medical waste in a fascinatingly bad hair piece.

The wife of Utah's Democratic gubernatorial candidate, Donna Weinholtz, has pleaded guilty to possession of mary-jawana, however her husband has reiterated his previous calls for medicinal marijuana use for people suffering from chronic (HA!) pain, like his wife, who suffers from a degenerative spinal condition.

Good News! New York Sen. Kristen Gillibrand has signed on to a proposal that would mandate U.S. Merchant Marine Academy cadets be given satellite phones when they go overseas for training so that they can report incidents of sexual harassment and assault. Yes, the Merchant Marines are a thing, and this is important because EVERYONE should be able to serve on a ship without having to worry about being touched Trump-style. So there!

Here's some movie time about the Donald Trump and Hillary Clinton's health care policy that you can share with your grandmas.

And here's your morning Nice Time, black footed ferrets! Rudy Giuliani HATES ferrets!
Dominic Gwinn
Dominic is a broke journalist in Chicago. You can find him in a dirty bar talking to weirdos, or in a gutter taking photos.