WONKETTE EXCLUSIVE SCOOP: CHARLIE CRIST'S LOST PORN 'STACHE YEARS
News
August 07, 2008 01:42 PM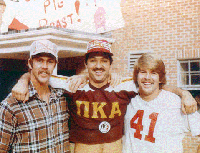 Hey so here is something funny: That Harry Sargeant fellow -- the one who has been raising massive riches for John McCain from a variety of shady, penniless sources -- was in the Delta Lambda chapter of the Pi Kappa Alpha frat at Florida State, where he was the "brother" of Charlie Crist and partook in the straightest activities ever. Would you like to see some old frat pictures of Charlie Crist playing football in what looks like a pair of long white panties? No? What about Charlie Crist in a magical crown and cape? Follow us on a wonderful journey into the land of gay rapist facial hair -- in other words, Florida in the 70s.
---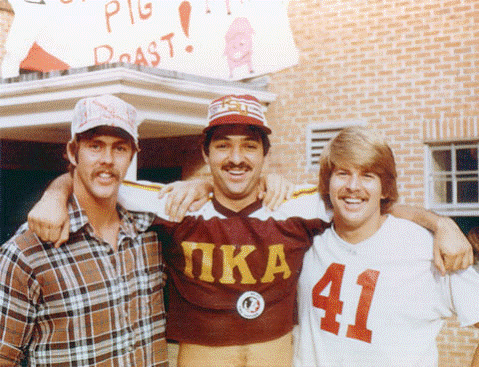 Bros before hos, man. In this photo, Charlie plays the meat in a delicious Bo-Duke-and-John-Denver sandwich. Where are they going? To some sort of pig-humping event, looks like.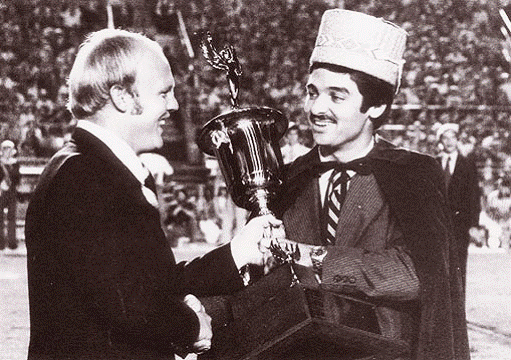 Who can forget that wonderful day when Yasser Arafat was made King of Florida? Ha ha, that is actually Florida governor Charlie Crist, wearing the Fez of Homosexuality.
Here is the future governor of Florida, "quarterbacking" while wearing a pair of shorts he stole off a midget with a diaper fetish. The guy in the overalls in the background is thinking, "Damn, I wish I had those shorts ... with Charlie still in them!" That came later, at the pig roast. Isn't it time America had a vice president who can play football in tiny shorts? Consider this carefully, John McCain.
Family's Donations to McCain Raise Questions [New York Times]