Wonkette's 2009 War On Xmas Gift Guide
News
December 08, 2009 01:11 PM
So sad, this Christmastime. Last year, we could still sort of laugh. That fancy Barack Obama had won the presidency, after all. Maybe we would, uhh, weather the storm? Come back stronger?! Well, sorry about that. But it's the Season of Xmas, and we've got a super special selection of cheap-ass unwanted "America-themed" old-pantyhose stuffers to make your whole holiday a crushing reminder of just how much things suck, in the Year of our Baby Lord Jesus 2009/2010.
---
Everything here is 100% factually correct, meaning you can PURCHASE these products, if you have some money or one of those "credit cards" .... which you don't, not anymore, so just enjoy the color pictures on the public library's 'puter.
TIGER WOODS ACTION FIGURES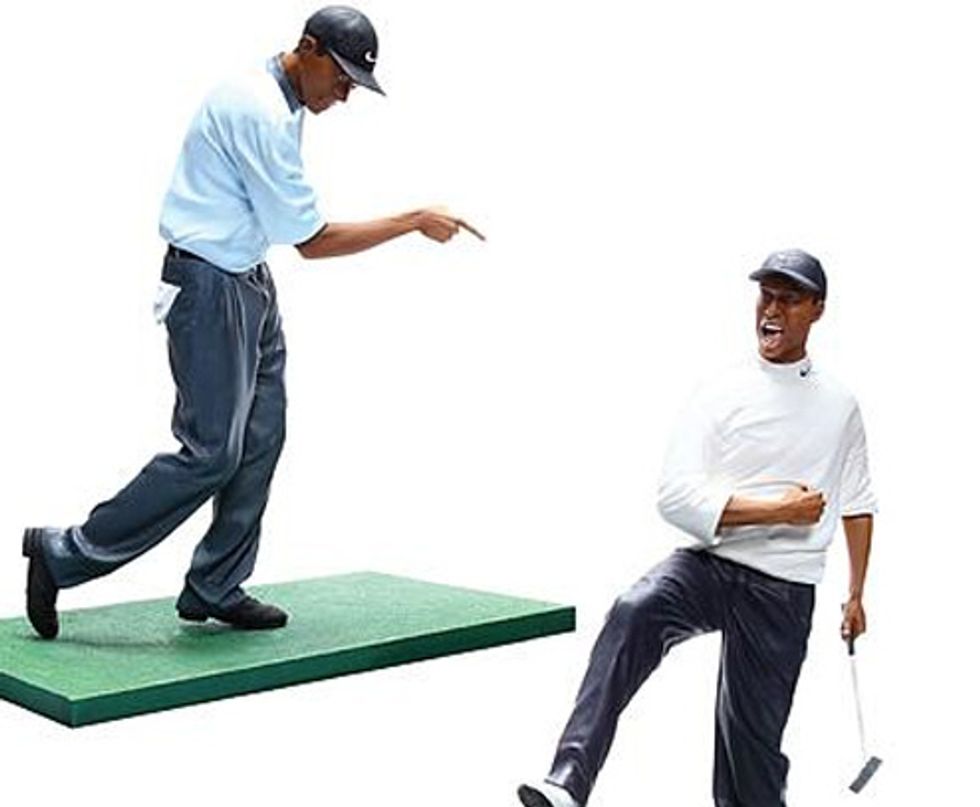 Oh, look at these figures, how they do the golf thing! "I got 10 whores," they seem to say, "and I've done irreparable damage to my accounting-firm advertising contracts. For! For what!? Agghhgh oh hell why didn't I show some basic human decency? Oh right I am a SPORTS PERSONALITY." Man, Barack Obama sure must be having a Blue Christmas, having shamefully cavorted with this golf-star multi-racial athletic version of Rush Limbaugh. Class it up, Obama! And the rest of you people can just buy these hilarious Tiger Woods figures and leave them all over the place: Under the tree, in Mom's bed (!!!), out in the trash, etc. [Tiger Woods Figurines]
75 POUNDS OF FREEDOM FRIES (AND FOUR CUPS OF RANCH DRESSING)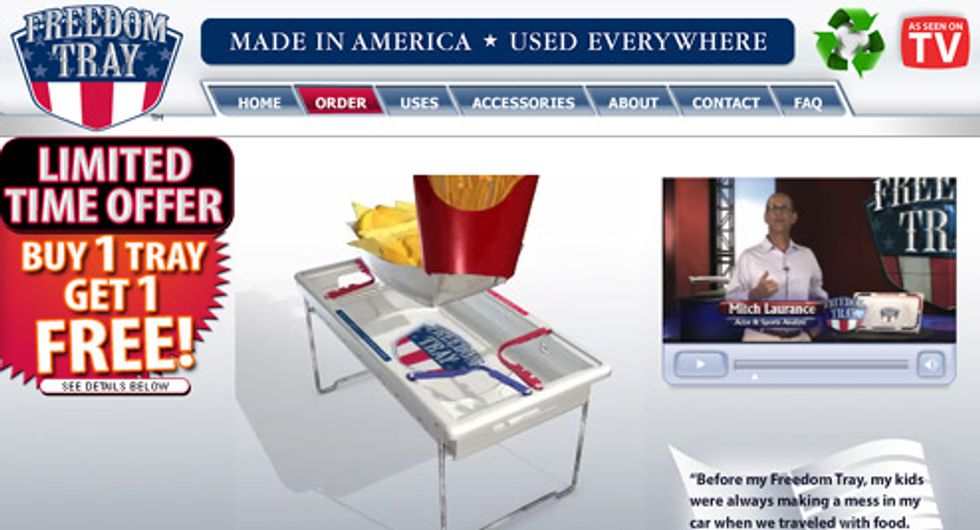 All hail the Freedom Tray. Our nation's obese welfare queens will appreciate this on-the-go mobile hog trough for both its capacity (75 lbs.!) and the "buy one get one free" gimmick Americans love, because they are lazy and always trying to get something for nothing. This is the very last product still manufactured in America, unless you count "Hot Wings," so buy one (or two!) and remember the sad, final days of the USA. $19.95, for two of these things! Just imagine loading 150 LBS. of cheese-steak burgers and carbonated corn syrup on your massive lap. [Freedom Tray]
SUPER-CUTE BABY ONESIE FOR TRIG'S CLONE-BABY ARMY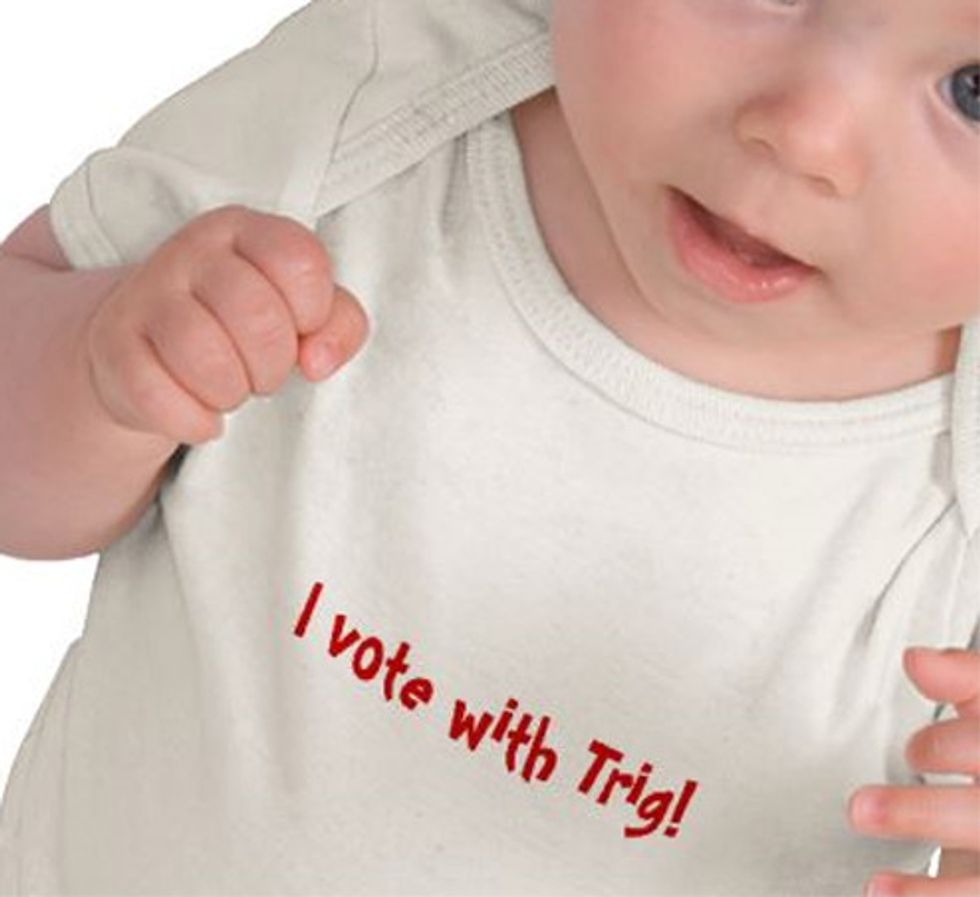 If you live in one of the "red states," where infants are allowed to vote because who cares, your baby child probably "voted with Trig," which means "pooped everywhere." And you, as a Sarah Palin-lovin' single mom out in Real Pro-America Amerikkka, are totally not projecting at all by implying your child also has special needs, like Trig, who will one day lead America in the final War On Xmas, which is called Armageddon. (This is all in Stephen King's book, The Stand, and also probably the "Holy Bible." LOOK IT UP.) [Zazzle.com]
ARTICLE ABOUT ROBOTS KILLING/CLEANING ANIMAL MEAT FOR YOU TO CONSUME

Does someone on your wish list love to eat industrial cow products? Maybe they also love THE FUTURE? Then here is the gift, simple and fun, just $31.50 for the Full Download of Guidelines for designing washdown robots for meat packaging applications. Mmm, industrial robots killing fear-eyed sentient meat-animals raised in hellish meat-animal warehouse abattoirs! In other words, Christmas Pudding! [Science Direct]
CHILDREN'S BOOK FEATURING SARAH PALIN AND HER SACK OF PATRIOTIC DILDOS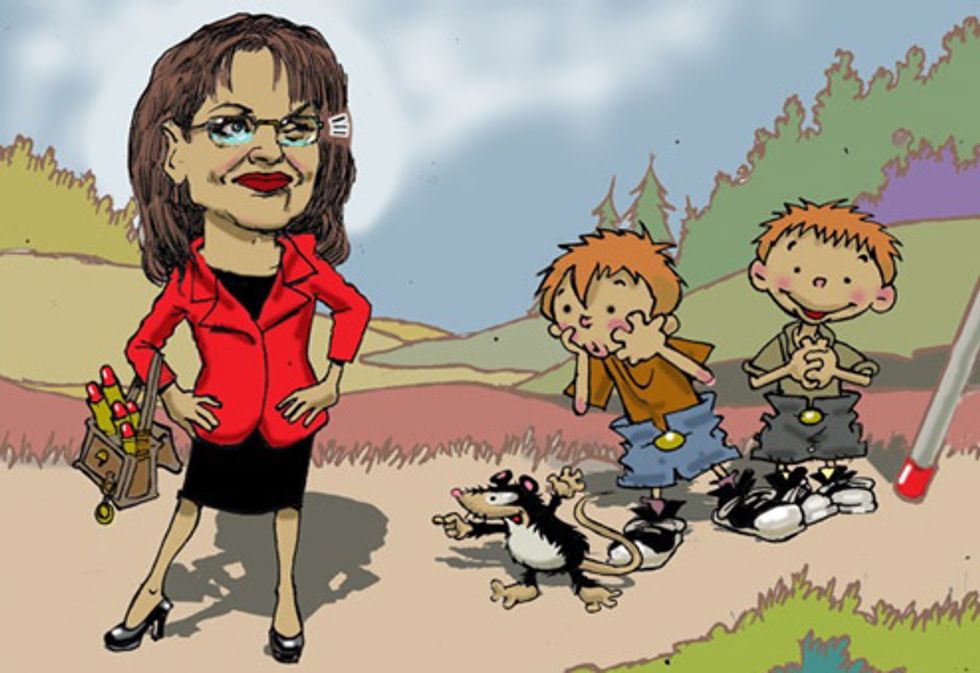 Everybody loves kids, right? WRONG. America's Favorite Mom, Sarah Palin, doesn't even like her own children, except for that one she waves around at book-tour stops as a patriotic anti-abortion prop. If there are children in your family or extended family, you may be expected to "buy them toys." Fuck that shit. Get them this hateful, half-literate illustrated dildo story about Sarah Palin abducting these street urchins. How patriotic are Palin's Dildos? Dude, they're redder than RedState.com! [Book about Sarah Palin, for children]
SEXY OBAMA DILDO IS ACTUAL DILDO!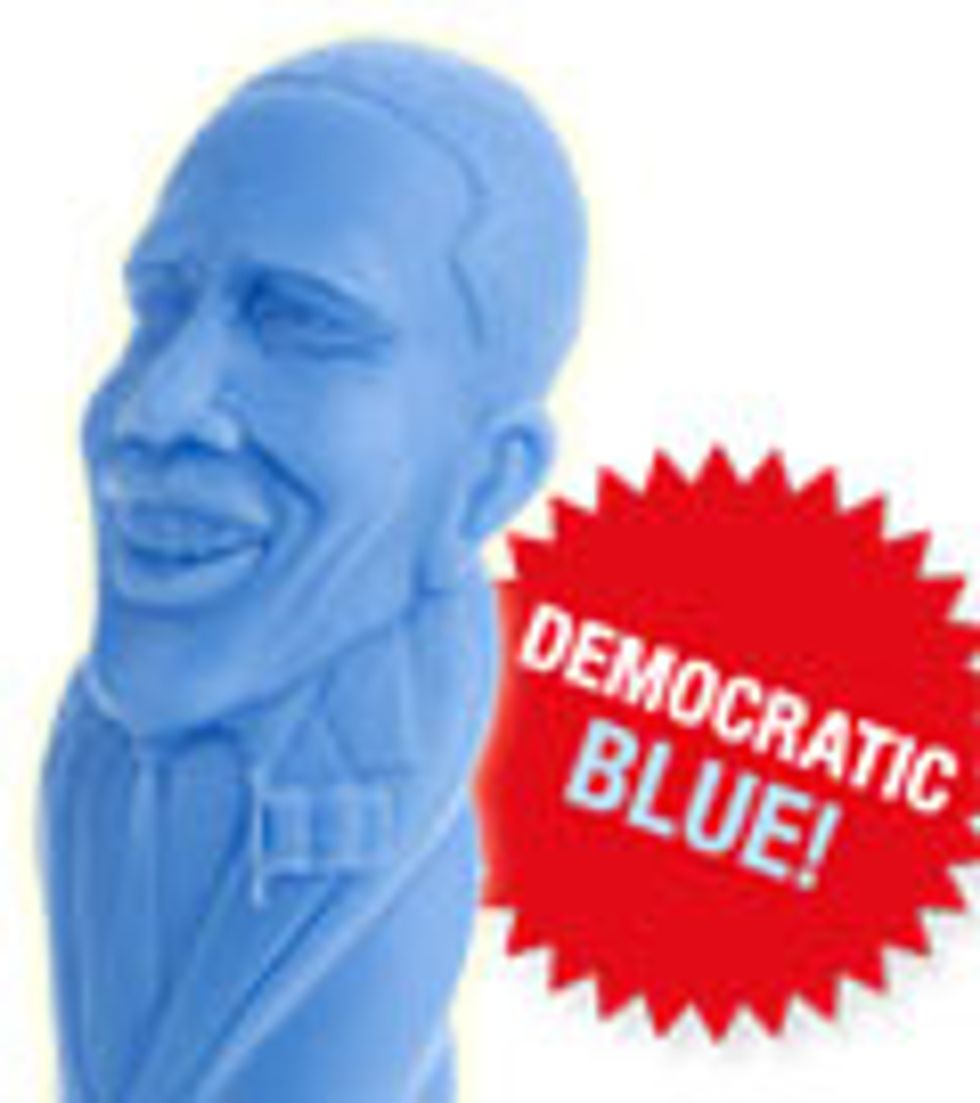 Did Obama fuck you over, with that whole war thing? Well, do what any American would do: Get revenge! Fuck him back! This super-hot Xmas Dildo features Barack Obama as the actual dildo. Put it wherever you'd love to put a dildo! Or just stand in the yard at night, shaking it at carolers and passers-by. It's okay to cry. Lots of people are crying now, all the time! [Barack Obama Dildo]
$53,000 'REAL DOLL' OF HOT UKRAINIAN LADY PRESIDENT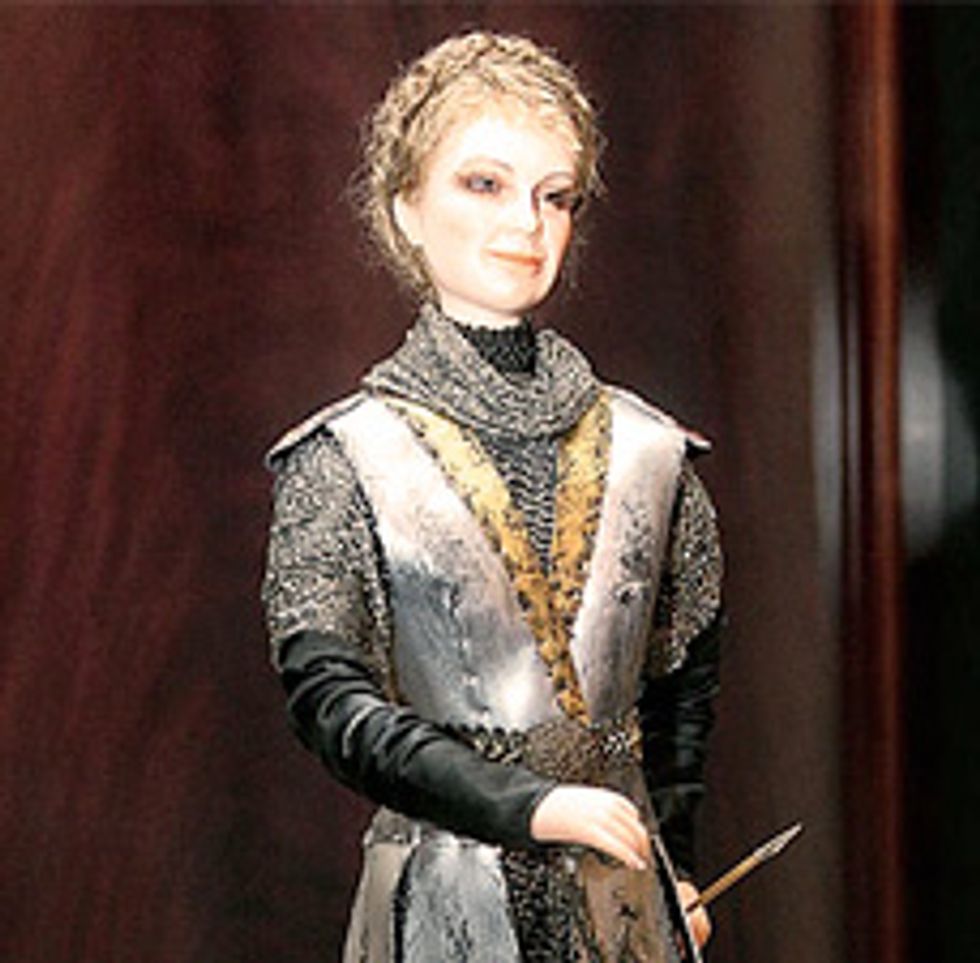 Politicians are generally such hideous subhuman monstrosities that the immediate response to any semi-hot elected leader is a sexy simulacrum such as this crazy porcelain doll of Yulia Tymoshenko, braided-haired Orange Goddess of the Ukraine. While $53K is obviously way out of range of this year's Poorhouse War On Xmas guide, it's still free to masturbate to this picture, of a little doll. It's okay to keep crying, too. Even Jesus wept, before he was killed! [Prime Time Russia/Coilhouse via Wonkette commenter Cranky Little Camperette]
NOSTALGIC WINGNUT NOVELTY GIFT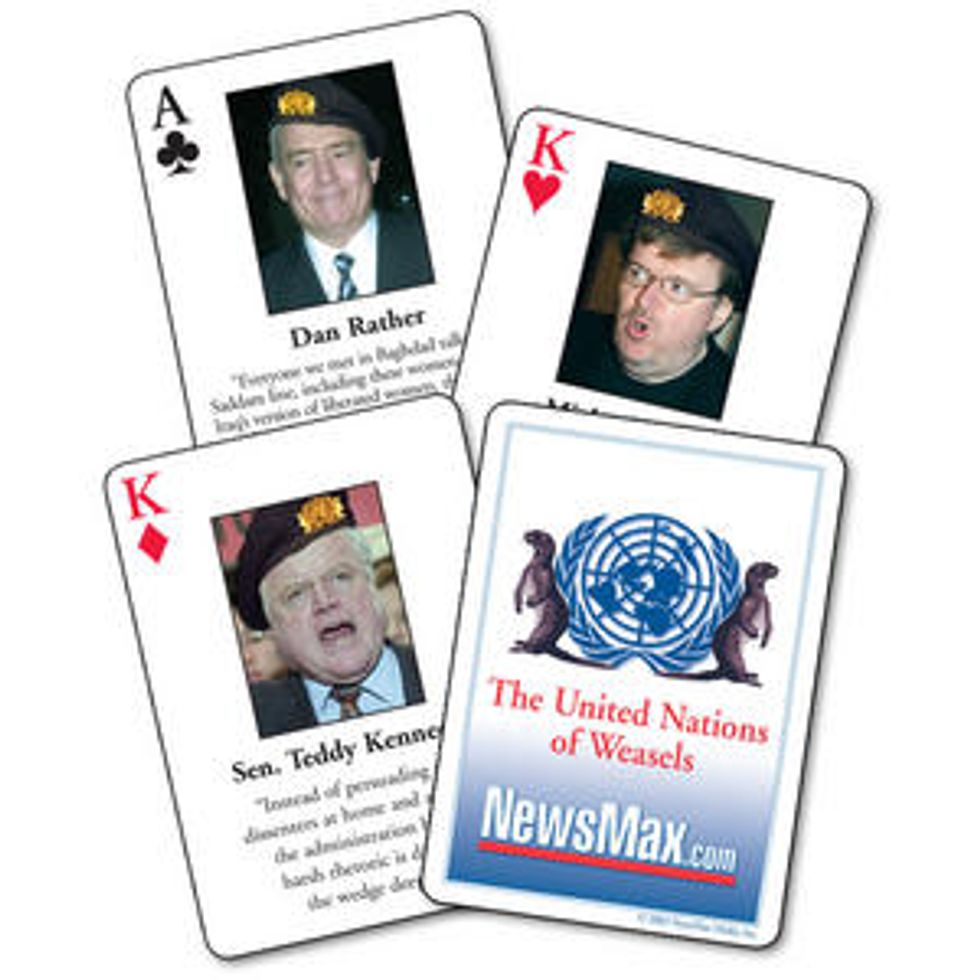 You know what wingnuts used to go crazy about, before they found out a black person could become president of White America? Invading Iraq. Loved it loved it. Well, not so much when George H.W. Bush did it, back in 1991, because he was the New World Order. But when Poppy Bush's Defense Secretary became George W. Bush Junior's Vice President, a decade later, then it was somehow totally cool and great and very, very conservative to invade Iraq. Anyone who questioned this idiocy was branded a member of the "Axis of Weasels," a very funny & clever spin on "Axis of Evil," which was an actual phrase used by the Bush Administration .... oh for fuck's sake, let's not dive all the way into that particular sewage canal, because it's just too painful. And now NewsMax is selling these hilarious "Axis of Weasels" playing cards -- it was a topical joke in 2003, really! -- for 95 cents, because who would fucking want this dumb crap? Also, Ted Kennedy is DEAD, show some respect. [NewsMax]
ALSO: If you're feeling extra nostalgic for the old pro-America America, please enjoy our 2008 War On Xmas Gift Guide, or even our very old 2006 War On Xmas Gift Guide. We used to have "hope," hahahahahah.