Worst Christmas Ever
News
January 08, 2009 10:18 AM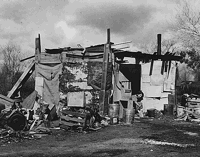 If you're like most Americans, this blessed holiday season the grown-ups in your family agreed to buy presents "just for the kids" while everyone else huddled beneath a single thin quilt like Charlie Bucket's grandparents. As a result, newly released holiday sales figures were unbelievably sucky. Congratulations, consumers! Your failure to continue to borrow and spend as usual has finally ruined even ourdiscount retailers.
---
Analysts said liquidation sales at bankrupt retailers like Mervyns and Linens 'n Things took shoppers away from even low-priced stores like T.J. Maxx and Marshall's. Sales were down 8.1 percent at J.C Penney, 7.3 percent at Sears Holdings Corporation, 5.8 at Bon-Ton, 5 percent at Dillard's, and 1.4 at Kohl's.
And look, all the sellers of cheap cotton henley shirts that retain their shape through exactly two (2) washings and wearings also felt the pinch:
Sales at mall retailers also fell by double-digits, including Abercrombie and Fitch (down 24 percent), American Eagle Outfitters (down 17 percent), Gap (down 14 percent), Wet Seal (down 12.5 percent), Zumiez (down 12.3 percent), and Limited Brands and Pacific Sunwear (both down 10 percent).
You poor slobs couldn't even bother to prop up the preferred discount stores for liberal yuppies, Target and Costco.
Thanks to American consumers and their new-found thrift, Christmas next year has been cancelled.
Holiday Sales Were Dismal, New Retail Figures Show [New York Times]