Yes, It Has Come To This: White House Releases Long-Form Photo Of Obama Firing A Gun
News
February 02, 2013 12:00 PM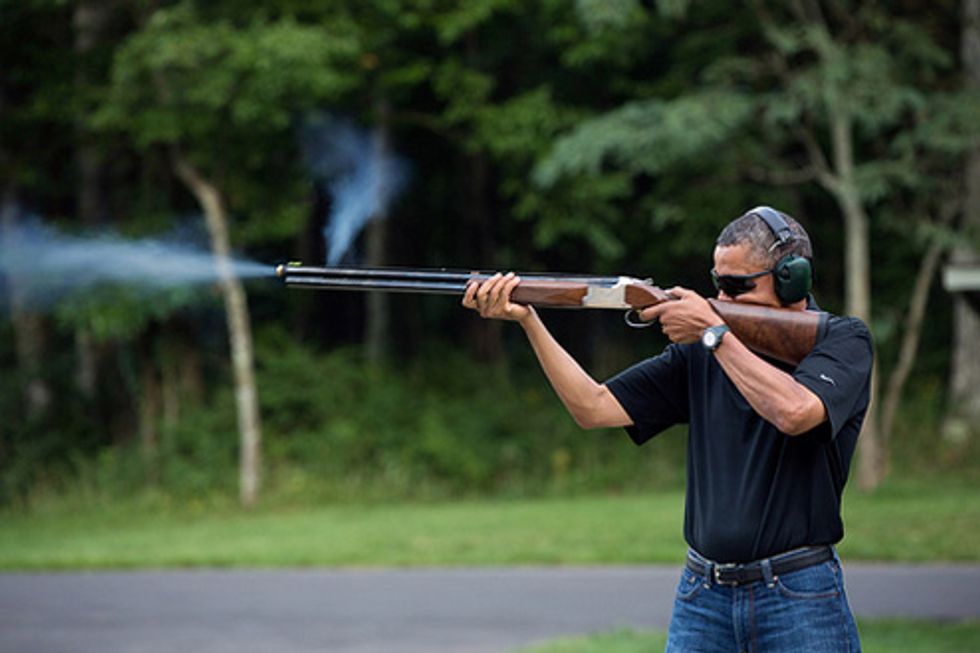 After a bunch of Skeet Truthers totally didn't believe that Obama goes skeet-shooting at Camp David (because of how he is gay), the White House actually released a photo on Saturday of Obama firing a rifle.
---
Yes, they really did that. It even has an official credit and everything: "President Barack Obama shoots clay targets on the range at Camp David, Md., Saturday, Aug. 4, 2012. (Official White House Photo by Pete Souza)"
Of course, Republicans won't truly accept Obama as a real leader, like Dick Cheney, until he shoots an old man in the face.
But wait, there is more, as the Ghost of Andrew Breitbart and Drudge are informing us. Do you know the White House does not want you to photoshop this picture? ("News.")
The White House has released a picture purporting to show President Obama "skeet shooting" at Camp David. An activity he claims he does "all the time."

The White House also warns all you mischievous internet types to not mess around with the picture:

"This official White House photograph is being made available only for publication by news organizations and/or for personal use printing by the subject(s) of the photograph. The photograph may not be manipulated in any way and may not be used in commercial or political materials, advertisements, emails, products, promotions that in any way suggests approval or endorsement of the President, the First Family, or the White House."

Um.... Are you listening, Iowahawk and Ace of Spades?
Very good blog post, Ghost Andrew Breitbart! (And happy late birthday!) Personally, we don't like anything about this photo, from his tucked-in polo to his dad jeans to his terrible Oakley sunglasses or whatever to the GIANT GUN. We are pretty sure you all should photoshop something else into his arms. Like maybe flowers. Or ponies. Something nice like that.
Send your finished 'shops to tips@wonkette.com, and we will award a winner nothing. It is just how we do.